Headlining at Womad: Extinction Rebellion joins the international stage to spread the word on climate
Members of the environmental movement are making themselves known across the UK festival circuit, as Danny Lee discovers
Thursday 01 August 2019 17:38 BST
Comments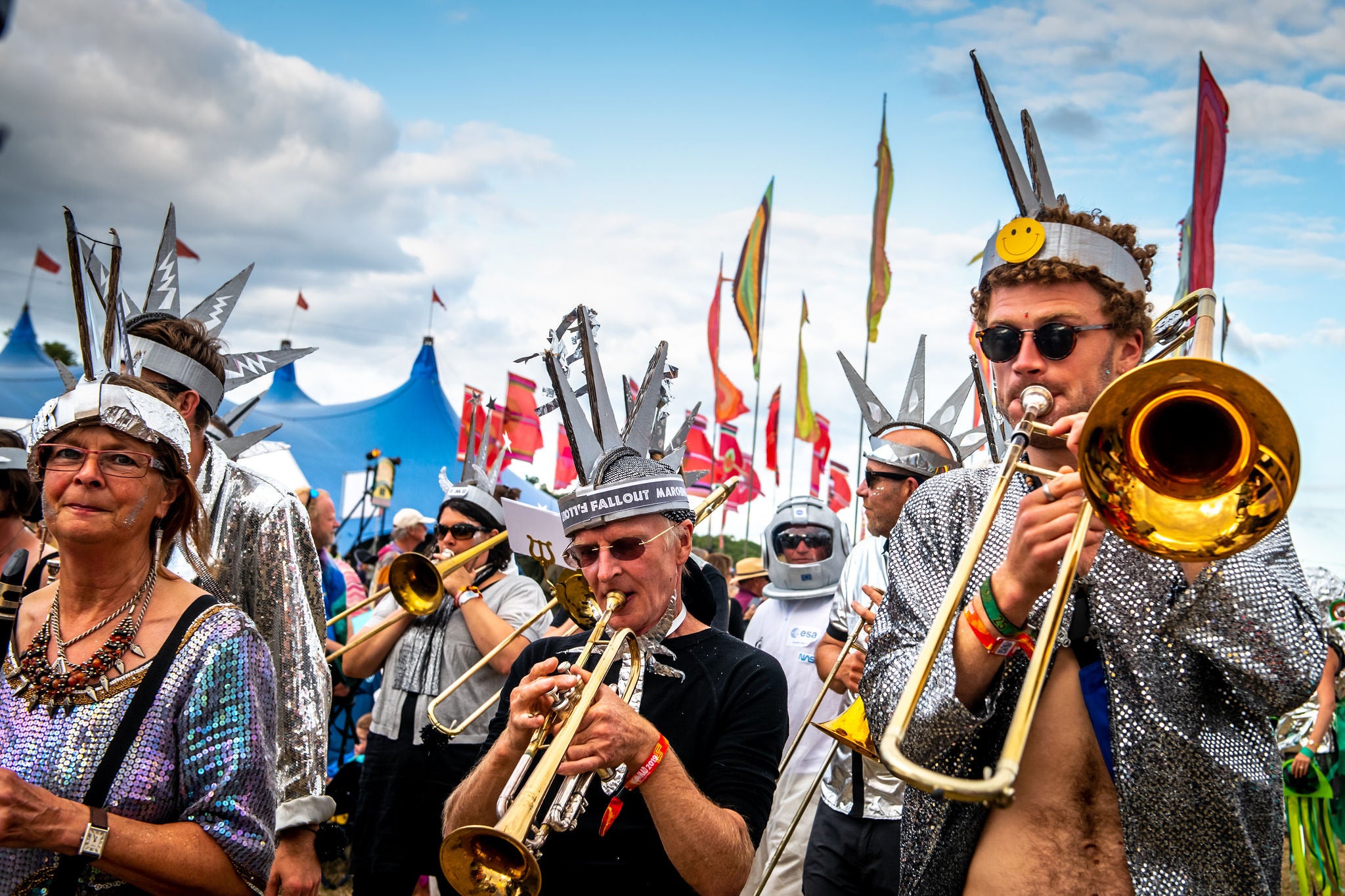 A child stops, fascinated. Sun breaks through cloud swaddling the humid Wiltshire field. A 40-piece marching band, all dressed in silver crowns, marches towards the growing crowd at the Rebel Rebel festival stage at the Womad music, dance and arts festival. A young girl leads the musicians with cartwheels. Behind her an effortlessly exuberant couple dance and conduct the saxophones, trumpets, trombones and oversized drums.
They are celebrating the 300-foot diameter Extinction Rebellion (XR) crop circle created two days earlier to draw "attention to food security issues in the context of climate and ecological collapse". Aerial photographs are needed to show the size of the work, which XR says is the largest extinction symbol ever made. It's the first time XR, Womad and art collective The Circlemakers have worked together.
Small huddles of people eat sandwiches, some drink bear, others read. One by one they look up and make space for an assembly as the band approaches. A group of women dressed from head to toe in blood-red robes follows the musicians to obvious signs of shock among the audience. The outfits symbolise the bloodshed of the environmental crisis. The male speaks: "This is the Fallout Marching Band. The next song is from the days of the Aldermaston anti-nuclear marches, reminding us that the fight goes on." The band was a feature of the Greenham Common demonstrations.
Join our commenting forum
Join thought-provoking conversations, follow other Independent readers and see their replies