World leaders say enough is enough on illegal ivory: Agreement to stop wildlife trade hailed as 'watershed' moment
In a surprise move, the governments of Botswana, Chad, Ethiopia, Gabon and Tanzania were among those to sign the Elephant Protection Initiative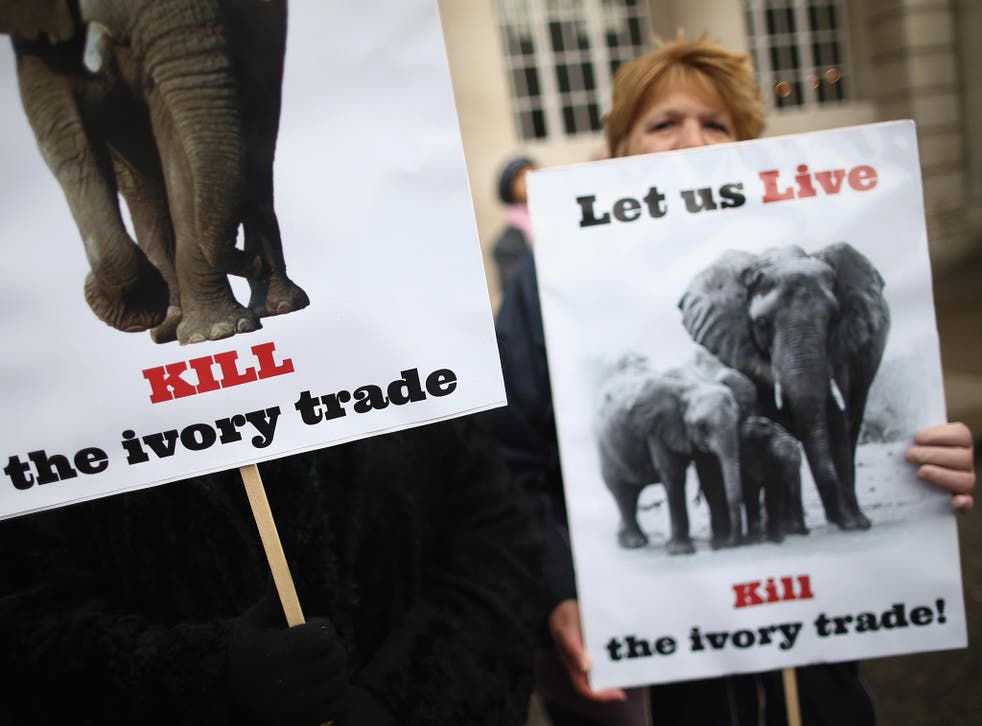 Leaders and delegates from 46 countries have pledged to fight the £12bn illegal wildlife trade together for the first time. In what has been called a "watershed" moment in the battle to save some of the world's most endangered species, the governments have committed to ensure that the poaching of animals such as elephants and rhinos, and the subsequent trafficking of their parts, are classed as "serious crimes".
This will put them in the same category as drugs, arms and people trafficking – receiving a minimum of four years behind bars.
The Foreign Secretary, William Hague, said: "This will show the criminals that there are no weak links – and that they will suffer serious consequences if they continue their crimes."
The commitment came in a declaration signed by some of the world's most powerful people, who had gathered at the largest-ever conference on the illegal wildlife trade, held in central London.
One key focus was the plight of the African elephant: 50,000 are slaughtered each year to fuel the growing ivory trade, driven, in particular, by demand from China.
"I believe the measures agreed today can mark a turning point in our fight to save endangered species and defeat the ruthless criminal gangs that run this trade," Mr Hague said. "The commitment we see manifested here today and the practical steps we have agreed can start to reverse the trend towards extinction, secure the future of vulnerable communities and put an end to a destructive and deadly traffic."
The declaration committed signatories to focus on better law enforcement and stronger legislation to crack down on those poaching Africa's wildlife, to support and step up initiatives to reduce demand, to stamp down on corruption, and to develop sustainable livelihoods for local communities.
The 46 governments also pledged for the first time to renounce the use of any products from species threatened by extinction; to go further than earlier commitments and support the commercial prohibition on the international trade in elephant ivory until the survival of elephants is no longer threatened by poaching; and to encourage countries to destroy their illegal stockpiles of wildlife products, such as rhino horn and ivory.
Heather Sohl, the chief species adviser at WWF-UK, said the signatory nations had "sent a strong message" that "wildlife crime is a serious crime and it must be stopped".
She added: "This trafficking devastates species populations, but also takes the lives of rangers, impedes countries' economic development and destabilises society by driving corruption. This is a crisis, not just at a national or regional scale, but one that demands urgent global attention."
In a surprise move, the governments of Botswana, Chad, Ethiopia, Gabon and Tanzania were among those to sign the Elephant Protection Initiative – which means they will put their ivory stockpiles beyond economic use and observe a moratorium on any future international trade for a minimum of 10 years.
In return they will get access to funds to support elephant protection; $2m was put up by the private sector and the UK Government said it would match that amount.
Mary Rice, the executive director of the Environmental Investigation Agency, which has been documenting the illegal trade for more than three decades, said: "This has been an unprecedented gathering; the first indication that many of the world's governments are really serious about combating organised wildlife crime."
Will Travers, the chief executive of the Born Free Foundation, who has worked with elephants for a quarter of a century, agreed. "This is a watershed moment," he told The Independent. "This could mean far greater co-operation, resource-gathering and sharing from international intelligent agencies and law enforcement agencies." He added that classifying illegal trade in wildlife as "serious crimes" could be a "significant game changer".
"If serious funding commitments follow today's meeting then we might be witnessing a dramatic turnaround in fortune for elephants, rhinos and all the other species that for too long have suffered at the hands of human greed," Mr Travers said.
Prince Charles, who attended the conference with Prince William, congratulated all the stakeholders for "committing to several bold new steps forward". He urged representatives to put an especially sharp focus on the commitments made to reduce demand – and to look for additional ways to address the problem.
The next high-level conference will be held in Botswana in 2015 to review progress. "This is a line in the sand moment," Mr Travers said. "From this moment, every decision made must be incrementally better, not worse."
Register for free to continue reading
Registration is a free and easy way to support our truly independent journalism
By registering, you will also enjoy limited access to Premium articles, exclusive newsletters, commenting, and virtual events with our leading journalists
Already have an account? sign in
Register for free to continue reading
Registration is a free and easy way to support our truly independent journalism
By registering, you will also enjoy limited access to Premium articles, exclusive newsletters, commenting, and virtual events with our leading journalists
Already have an account? sign in
Join our new commenting forum
Join thought-provoking conversations, follow other Independent readers and see their replies