World must hit zero carbon emissions 'well before 2040', scientists warn
New research suggests it will be an 'enormous challenge' to prevent global warming getting out of hand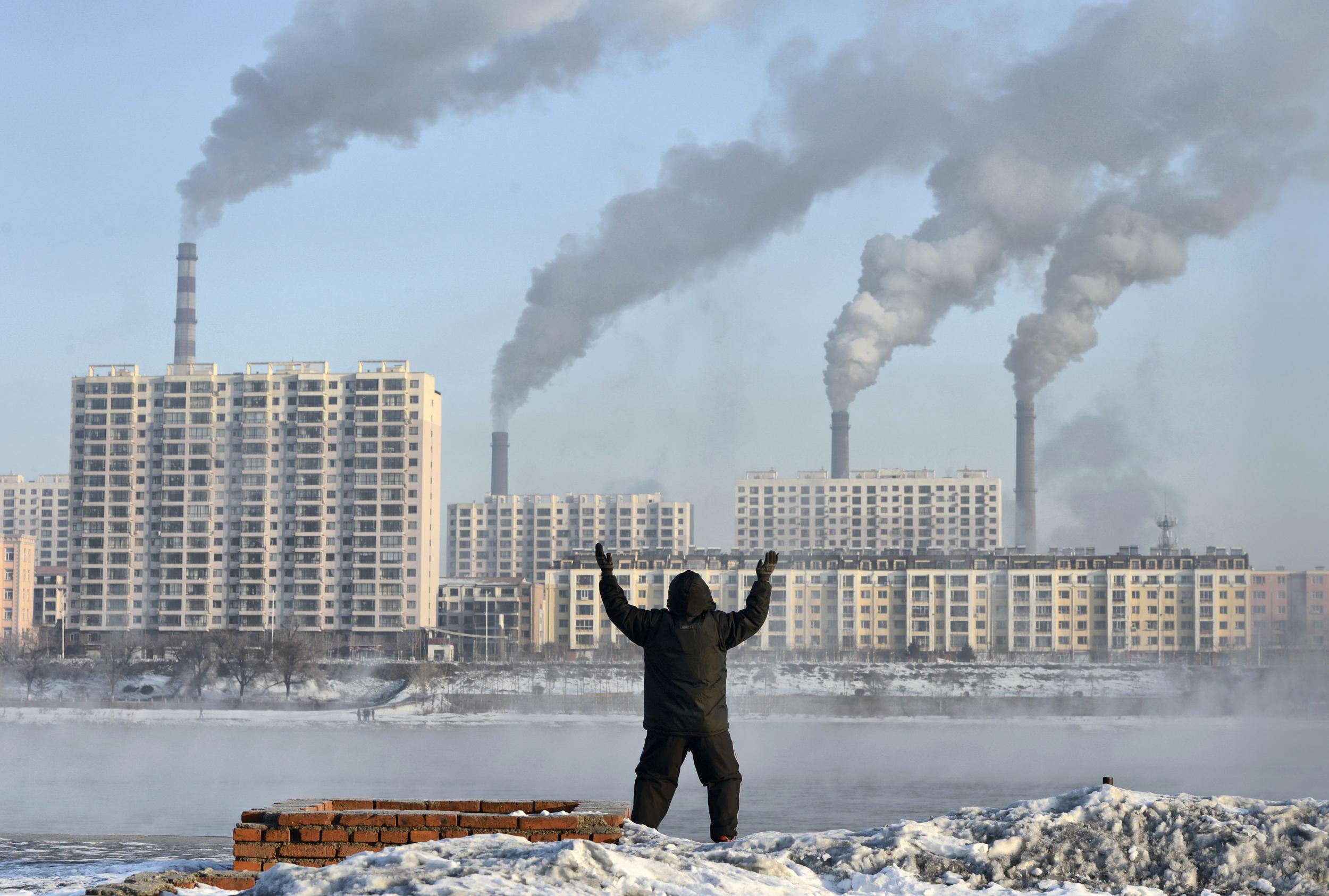 Humans must reduce net greenhouse gases emissions to zero "well before 2040" in order to ensure global warming does not go above 1.5 degrees Celsius by the end of the century, scientists have warned after carrying out a study using a sophisticated new computer model.
The analysis suggests that efforts to prevent temperatures rising to potentially dangerous levels may have to rely heavily on "negative emissions" technology that is still in its infancy.
Commenting on the study, Professor Richard Betts, head of climate impacts at the UK's Met Office Hadley Centre, said the "important" research spelled out the "enormous challenge" ahead.
Under the Paris Agreement on climate change, the world committed to prevent global warming from going above 2C but also attempt to restrict it to as close as 1.5C as possible amid mounting evidence that dangerous effects could kick in sooner than previously thought.
The new study, described in a paper in the journal Nature Communications, is one of the first to use the new FeliX computer model, which includes social and economic factors along with environmental ones.
One of the researchers, Dr Michael Obersteiner, of the International Institute for Applied Systems Analysis near Vienna, said: "The FeliX model ... provides a unique systemic view of the whole carbon cycle, which is vital to our understanding of future climate change and energy.
"The study shows that the combined energy and land-use system should deliver zero net anthropogenic emissions well before 2040 in order to assure the attainability of a 1.5C target by 2100."
This does not necessarily mean that humans would have to stop burning fossil fuels in little over 20 years, as the researchers included natural carbon sinks – such as forests – and the use of carbon-capture technology in their calculations.
So some emissions would be allowed, if enough carbon was taken out of the atmosphere by either natural or artificial processes.
In the Nature Communications paper, the researchers wrote: "Roughly speaking, and based on current technologies, energy sector emissions will need to peak within the next decade.
"By 2100, the market share of fossil fuels will need to fall to less than a fourth of total primary energy demand to preserve the possibility of meeting the [Paris Agreement] targets."
They said "full decarbonisation" would probably have to rely on the combined use of carbon-capture technology, which is still being developed, and the burning of biofuels.
The idea is that trees and other plants would absorb carbon and then be burned in power plants with the emissions prevented from getting back into the atmosphere by carbon-capture, creating a giant machine to suck CO2 from the air.
However some doubt this will be possible on a scale large enough to have a significant effect, given the need to use land to grow crops and raise animals.
And the paper said: "If coupling of [carbon-capture-and-storage] technology with bioenergy production is ultimately found to be unfeasible, uneconomical or unacceptably burdensome on ecosystems, then alternative negative emissions technologies (for example, direct air capture) will need to be substituted.
"In the absence of these fail-safes, fossil fuels will need to be phased out completely and well before 2100."
Professor Betts, of Exeter University, who has played a leading role in the Intergovernmental Panel on Climate Change's work, said the research should help world leaders establish what they have to do.
"This important paper provides much-needed detail on how the countries of the world might meet their commitments under the Paris Agreement," he said.
"It is clear that it is an enormous challenge, especially if we do not develop ways to remove carbon dioxide from the atmosphere and put these into practice."
10 photographs to show to anyone who doesn't believe in climate change
Show all 10
Gareth Redmond-King, head of climate and energy policy at conservation group WWF, said the paper showed just how pressing the need was to take action.
"Once again, climate scientists are sounding an alarm to remind us of the urgent need to act now to tackle climate change," he said.
"Melting ice caps, dying coral reefs, plummeting wildlife populations, rising sea levels and extreme weather – they all get worse and worse as the Earth's temperature rises.
"Similar analysis recently showed that, on current levels of emissions, we'll have reached enough to warm by 1.5 degrees as soon as four years' time!
"We know how to solve this problem – we have the technologies to provide clean electricity at a much greater scale than we've already achieved.
"And we know that reversing deforestation preserves a hugely important global carbon sink to absorb more of our emissions. So what will it take to convince all the signatories to the historic Paris agreement that they need to act now?
"Here in Britain, that means we need the UK government to get their finger out and publish their now long-overdue Emissions Reduction Plan. We need ambitious, robust, long-term plans to slash emissions and protect our environment."
The Government has repeatedly delayed publication of the Emissions Reduction Plan, the key strategy that is supposed to lay out how the UK will reduce its production of greenhouse gases, even though there is a legal requirement to produce one. The ongoing failure to come up with a plan could ultimately lead to legal action against Ministers.
Bob Ward, policy and communications director at the Grantham Research Institute on Climate Change and the Environment, said he feared politicians would place too much store on the potential of carbon-capture.
"There's a great danger that policymakers believe some of these targets are feasible to achieve, but without realising that it depends on the large-scale use of unproven negative emissions technology," he said.
"It would be far more sensible if we were planning for the future on the basis we might not have that and therefore cutting emissions much more strongly in the short-term, rather than thinking we can do it in a more gradual way, then have suddenly a magic wand of negative emissions towards the end of the century."
Mr Ward said the latest research suggested the 1.5C target was unlikely to be achieved. Last year temperatures were about 1.1C above pre-industrial levels, boosted slightly by the natural El Nino weather system.
But the world should still try to minimise the risks partly because of emerging evidence that a tipping point could be reached that would lock in sustained rises in sea levels, Mr Ward said..
"The work I've seen suggests it's going to be near impossible to stay below 1.5C, but it might be possible to overshoot slightly then come back down within 50 years or so," he said.
"It's worth considering because there is modelling that suggests somewhere between 1.5C and 2C of warming we may pass a [sea level rise] threshold. If you go beyond 1.5C, and the closer you get to 2C, we would be seeing sea level rise continuing for many centuries and therefore result in very large accumulative rises."
The FeliX model is freely available to be downloaded and used by anyone.
Join our commenting forum
Join thought-provoking conversations, follow other Independent readers and see their replies