UK gardens threatened by 'game changing' plant disease from Europe
Pest responsible for devastation of olive groves in Italy and Spain could bring problems for British gardeners
Josh Gabbatiss
Science Correspondent
Friday 29 December 2017 02:00 Comments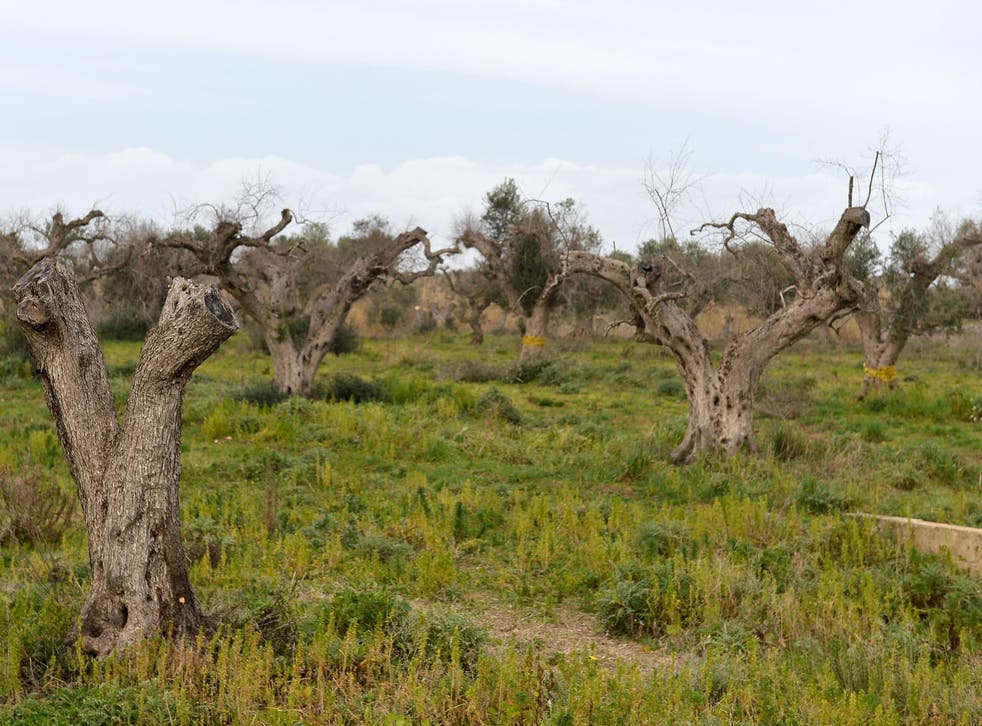 A "game changing" plant disease could spread to the UK and put gardens at risk, experts have warned.
The bacterial pest Xylella fastidiosa has caused widespread problems in mainland Europe, wiping out entire groves of ancient olive trees in Italy and Spain.
A European Food Safety Authority report found the disease is capable of infecting over 300 plant species, including lavender, rosemary and flowering cherry.
The disease could arrive in the UK on imported plants and threaten British gardens, according to the Royal Horticultural Society (RHS).
The bacteria restrict water movement in plants, causing their eventual death.
St James' Park station's ticket office garden

Show all 6
The European Commission approved greater protections against the spread of Xylella, after the Environment Secretary, Michael Gove, urged Brussels to bring in tougher measures including more checks on high-risk plants as they move between countries.
But RHS head of plant health Dr Gerard Clover warned it was probably only a matter of time before it spreads to the UK.
Originally from North and South America, it is thought to have arrived in Europe on imported plants.
The disease can be transmitted by insects, making its spread easier, and infected plants can show no symptoms, or exhibit ones that look like other issues such as drought or frost damage.
"Xylella is a game-changer for gardeners and the horticultural industry and it is vital that we understand its potential impact," said Dr Clover.
He said it was hard to know exactly how severe its impact would be, but it could have a "fundamental" effect on gardens.
While there are hundreds of plant pests and diseases currently of concern, "Xylella is in a bit of a class of its own, because it kills plants, has insect vectors and such a broad host range", he said.
He encouraged gardeners to talk to their local nursery about where plants came from, adding the disease was not transmitted via seeds, and urged people to be aware of what plants in their garden should normally look like. He advised gardeners to speak to the RHS if they had concerns.
"The RHS views the threat of Xylella as a pivotal point in the future of plant health in the UK and as such we have opted to increase our plant health provisions to counter the threat from the bacteria as well as the myriad other pests and diseases knocking at the garden gate," he added.
New principles adopted by the society to tackle risks posed by Xylella and other pests and diseases include using UK grown and sourced plant material wherever possible.
A spokesman for Defra said the threat that diseases such as Xylella posed was a "very real and growing concern".
"That is why this year we have pressed hard at EU level for increased protections against Xylella, in order to prevent the devastating disease reaching our shores, and these were approved in October and came into force this month," he said.
"When we leave the EU we will also have an opportunity to examine all our national biosecurity measures on plant imports to ensure they are as robust as possible to protect the UK against diseases like Xylella."
Additional reporting by PA
Register for free to continue reading
Registration is a free and easy way to support our truly independent journalism
By registering, you will also enjoy limited access to Premium articles, exclusive newsletters, commenting, and virtual events with our leading journalists
Already have an account? sign in
Join our new commenting forum
Join thought-provoking conversations, follow other Independent readers and see their replies