Zealot of US climate change sceptics Jim Inhofe to determine environmental policy
US environmental policy is in line to handed to senator who says God, not people, changes the climate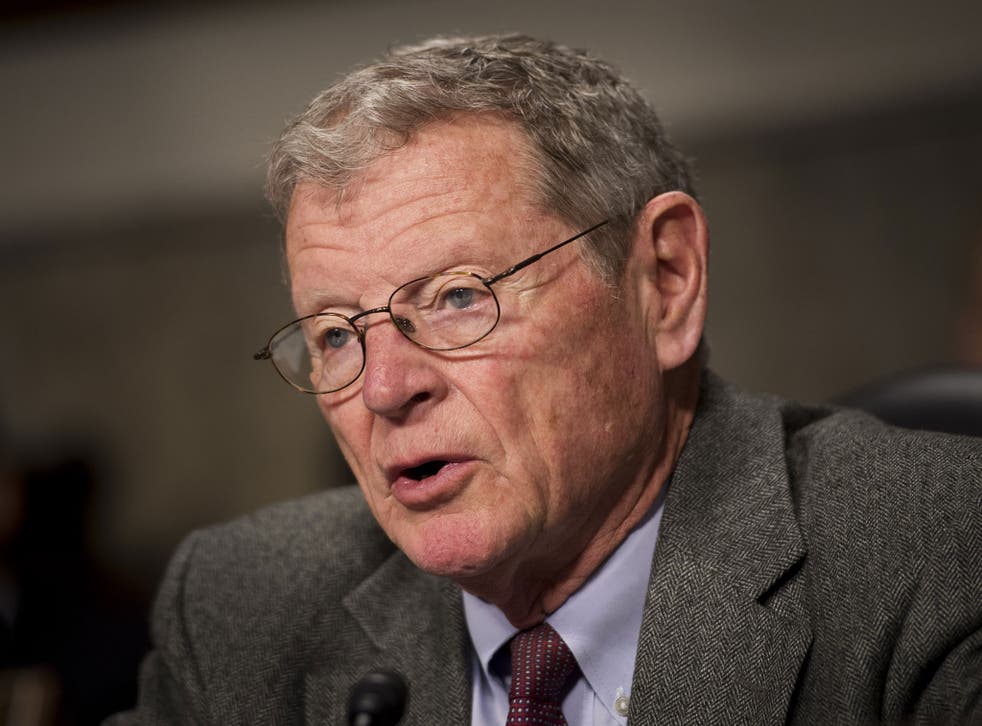 Ever since he became a US Senator in 1994, Jim Inhofe has been among the most prominent climate-change sceptics in Washington. The Oklahoma Republican, who turns 80 next week, once compared the US Environmental Protection Agency (EPA) to the Gestapo.
Now, the man who also compared the Intergovernmental Panel on Climate Change to "a Soviet-style trial, in which ideological purity trumps technical and scientific rigour", is in line for one of the most important environmental jobs in Congress.
After last week's midterm elections handed them control of the Senate, Republicans will also take a majority stake in each of the Senate's specialist committees. Thus, in January, Senator Inhofe is set to become the new chairman of the Senate Environment and Public Works Committee, giving him a firm grip on US environmental policy.
The conservative former congressman and ex-mayor of Tulsa laid out his opinions on the subject in his 2012 book, The Greatest Hoax: How the Global Warming Conspiracy Threatens Your Future, which argued that climate-change science is a scaremongering scam confected by liberals in Washington and Hollywood, in order to impose crippling regulations on businesses at great cost to the US economy. Satirist Stephen Colbert recently described The Greatest Hoax as "like Harry Potter for people who thought Harry Potter had too much science in it".
In pictures: Climate Change Protests Around the World

Show all 6
Senator Inhofe previously chaired the Environment committee between 2003 and 2008, when he yielded the position to California Democrat Barbara Boxer. A committed environmentalist, Senator Boxer has backed legislation to reduce carbon emissions and to protect vulnerable habitats from energy development.
By contrast, not long after he was first appointed chairman of the committee, Senator Inhofe suggested that, far from causing global catastrophe, climate change – if indeed such a thing existed – could prove advantageous. "Thus far, no one has seriously demonstrated any scientific proof that increased global temperatures would lead to the catastrophes predicted by alarmists," he said in a 2003 speech. "In fact, it appears that just the opposite is true: that increases in global temperatures may have a beneficial effect on how we live our lives."
Two years later, Senator Inhofe called science fiction author Michael Crichton, creator of Jurassic Park, to appear before the committee, after becoming enamoured of Mr Crichton's 2004 novel State of Fear, in which environmental activists plot a terror attack to publicise their fraudulent climate-change claims.
In 2012, while publicising his own book on a radio talk show, Senator Inhofe quoted the Bible (Genesis 8:22) to support his thesis. "My point is, God's still up there. The arrogance of people to think that we, human beings, would be able to change what He is doing in the climate is to me outrageous," he said.
Senator Inhofe's views on climate change are extreme even within his own party, but many Republicans share his suspicion of the EPA, including Mitch McConnell, the incoming Senate Majority Leader, who has vowed to reverse the agency's rules on cutting carbon emissions from US power plants: the Obama administration's signature climate policy.
The midterms did not go well for environmental groups, who spent some $85m (£54m) during the campaign in hopes of installing sympathetic candidates in Congress, with minimal success.
President Barack Obama, who now faces a struggle to protect his environmental legacy, is expected to give the go-ahead to the controversial Keystone XL oil pipeline from Canada to the coast of Texas early in 2015.
Join our new commenting forum
Join thought-provoking conversations, follow other Independent readers and see their replies