Zika: Environmental destruction led virus to attack humans and is fuelling its spread, experts warn
Felling forests brought people into contact with it, and the growth of cities are factors behind its rapid proliferation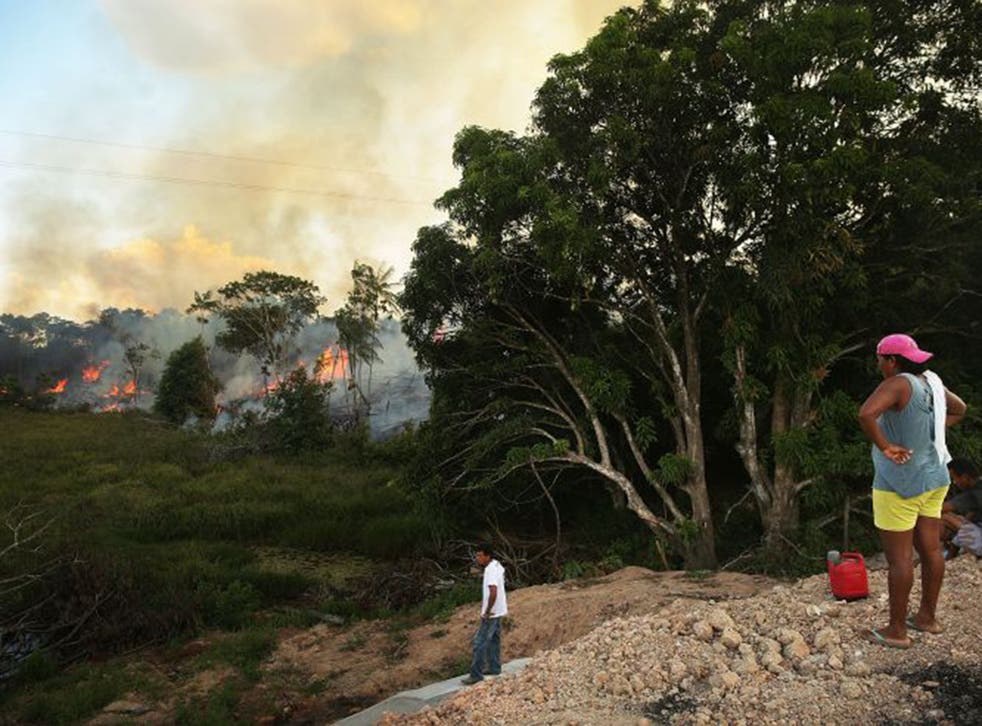 Environmental destruction both caused the horrific Zika virus to infect humans and is fuelling its explosive spread through the Americas, experts believe. Felling forests brought people into contact with it, and the growth of cities and even an increase in rubbish are factors behind its rapid proliferation.
The virus may be linked to birth defects in thousands of babies in Brazil, following a sudden rise in cases of microcephaly, in which babies are born with abnormally small heads.
Zika has reached 23 countries and territories since the first Brazilian cases were reported last year. Half the world's population lives in areas where mosquitoes that can spread the disease are prevalent, and the World Health Organisation (WHO) is warning that there could soon be three to four million cases a year in the Americas. Several Latin American countries have advised women to delay pregnancy, and Public Health England has advised British men to use condoms for 28 days after returning from an affected country.
Officials from the WHO have warned that the virus could spread to parts of Asia, sub-Saharan Africa and potentially southern Europe, and the organisation will meet tomorrow to decide whether the spread of the virus constitutes an international health emergency. on 30 January, Colombia's National Health Institute said that more than 2,000 pregnant women in the South American country were among 20,297 people infected with the virus.
The Zika virus - in pictures

Show all 5
Professor Amy Vittor, an expert in insect-borne diseases at the Emerging Pathogens Institute of the University of Florida, said the emergence and spread of the virus was "absolutely" likely to be connected with environmental degradation "in its broadest sense". She said that such diseases persisted in a "closed cycle of animals and mosquitoes" until they spread to people through such incursions as cutting down trees, adding that her research has shown that "deforestation followed by agriculture and regrowth of low-lying vegetation provided a much more suitable environment" for the insects than undisturbed, pristine forest.
And Dr Allison Gottwalt of the George Washington University's Department of Epidemiology and Biostatistics describes felling forests as creating "ideal conditions for vectors to breed and spread infectious diseases".
The virus was first discovered in 1947 in a monkey in Uganda's small Zika Forest. A year later, it was identified in Aedes mosquitoes, which increasingly spread it to people in Africa and Asia, especially through jet travel, but the symptoms were mild. The first serious known outbreak took place in the tiny Pacific island of Yap in 2007, followed by a bigger epidemic in 2013 in French Polynesia, where 28,000 people needed medical care; 72 of them suffered severe neurological symptoms with 40 developing Guillain-Barré syndrome, a rare disorder of the nervous system. It is thought to have reached Brazil via the Pacific.
During the 1950s and 1960s, the main mosquito carrier, Aedes aegypti, had been largely eliminated in the Americas by an eradication programme, but it became widespread again after this ended in the 1970s. Its resurgence coincided with rapid urbanisation, enabling it to thrive near large, crowded populations.
It adapted to breed in smaller and smaller puddles – including in ubiquitous discarded tyres and plastic containers, as well as in bowls of water kept by those who do not have it on tap, spreading first dengue fever and now Zika. The city of Recife, the epicentre of the Brazilian outbreak, has called on its people to "change their attitudes to rubbish and the environment".
Brazilian President Dilma Rousseff has announced a nationwide attack on the mosquito that spreads the virus. She said an operation to eliminate breeding areas has begun at all installations run by federal agencies.
Register for free to continue reading
Registration is a free and easy way to support our truly independent journalism
By registering, you will also enjoy limited access to Premium articles, exclusive newsletters, commenting, and virtual events with our leading journalists
Already have an account? sign in
Register for free to continue reading
Registration is a free and easy way to support our truly independent journalism
By registering, you will also enjoy limited access to Premium articles, exclusive newsletters, commenting, and virtual events with our leading journalists
Already have an account? sign in
Join our new commenting forum
Join thought-provoking conversations, follow other Independent readers and see their replies