Zoo keeping for beginners: Mucking out with the man who inspired a Hollywood film
Simon Usborne takes a trip to South Devon to learn how to be a zoo keeper from the man whose memoir inspired a film - and soon finds out that the A-list cuteness hid some pretty mucky duties...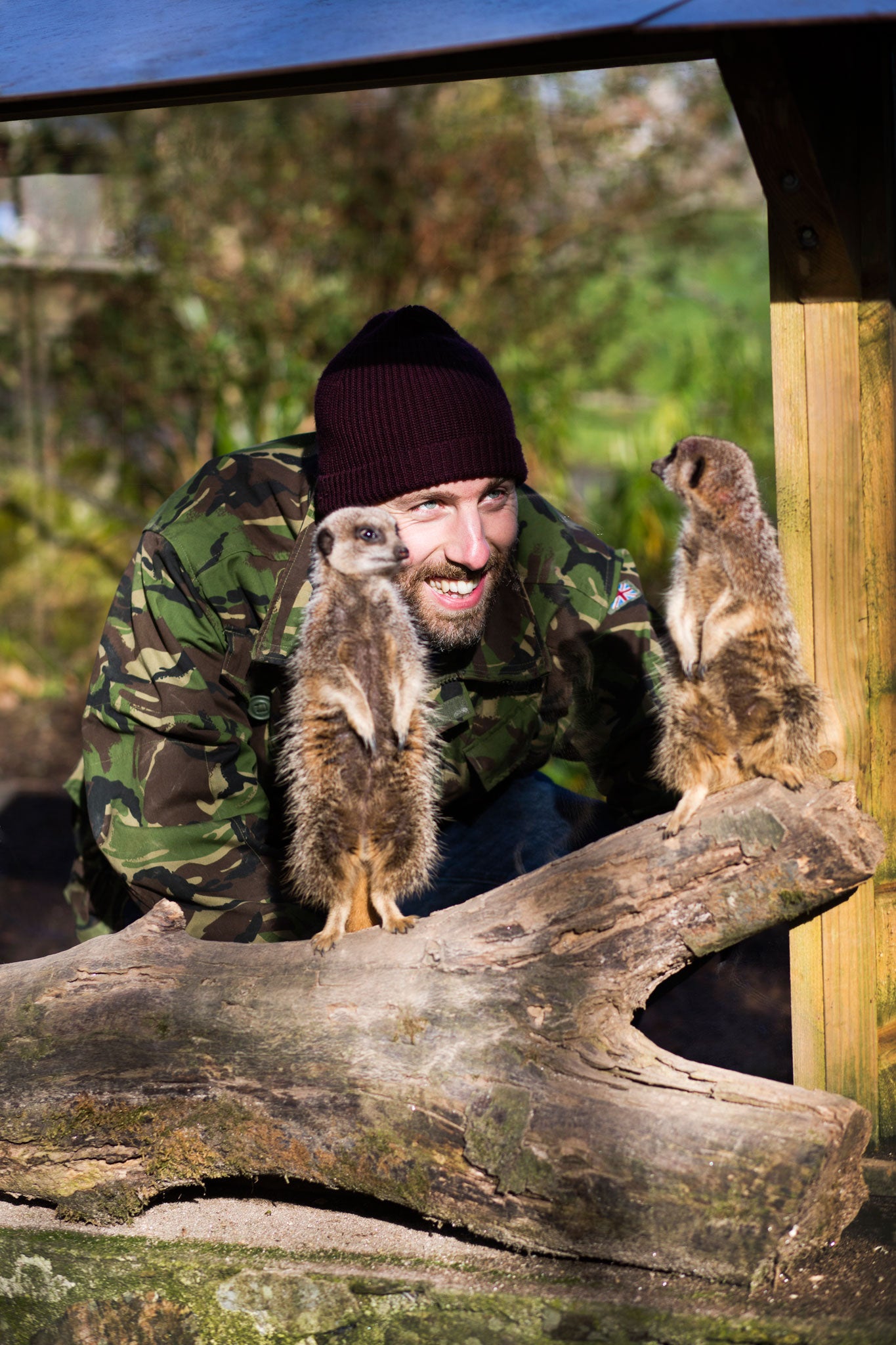 Already cold and tired by now, Jess, my girlfriend, stands hunched inside a concrete outhouse, armed with a shovel and searching for faeces. We have entered the ring-tailed coati enclosure, home to Junior and her three daughters, Julio, Zorro and Fonzo. Members of the raccoon family native to South America, they eat almost a kilo of fresh fruit and vegetables every day (but no celery, courgettes, mushrooms, beans, cauliflower or sprouts, which they don't like) – and, evidently, they have lively bowels.
"You're doing the next poo-related task!" Jess shouts as I wait outside, making notes. And I will get my hands dirty, too, on a cold Saturday as I step across the wire to play keeper at a tiny, but remarkable zoo.
Set on a slope near Plymouth, with stunning views across South Devon, Dartmoor Zoo was closed to visitors in 2006, and put up for sale. More than 200 animals, including lions, tigers and three giant bears, faced an uncertain future, including potential euthanasia. Their saviour: the Mee family, who defied all logic and advice and bought the place.
Almost 10 years, one book and one Hollywood movie later, Benjamin Mee, a writer who was played by Matt Damon in the 2011 film We Bought a Zoo, is still here. So, too, is his mother, Amelia. She had been widowed and, still hungry for adventure, agreed to relinquish her family's Surrey home, not to downsize to a granny flat, but to move to an even bigger house with attached, dilapidated wildlife park. "Has character," the estate agent brochure promised.
The animals of Dartmoor Zoo
Show all 7
Today, Benjamin is making a film with a slightly smaller budget, and without Scarlett Johansson as head zoo keeper (that role belongs to Mike Downman, who will later show me how to scratch the belly of a tapir). The video, a guided tour of the attraction – one of the dozens of zoos and aquariums that pull in 25 million visits each year in Britain – is part of an attempt to raise funds for a new chapter in the real story of the zoo, and Mee's extraordinary life.
We meet at the lion enclosure. Jasiri, a large male with a shimmering mane, is tearing apart the leg of a Dartmoor pony, which has been tied to a tree (it was this or incineration for the carcass, after a cull). The lion arrived a month ago from Newquay Zoo, where he had a relationship-ending scrap with his would-be mate. "He came up in a crate in the back of a Transit van," Mee says. "There were three guys in the front with shotguns, and they were itching to be pulled over by the police. 'What have you got in the back, sir…?' 'Well, have a look, officer.'"
A day earlier, Mee signed the documents that will turn a struggling business into a charity with an assured future. But, even with tax benefits, overheads of £1,000 a day still need to be paid. On some winter weekdays, only a couple of visitors may pass through the gates. "I've always said that this is like running the National Health Service as financed by an open-air theatre," says Mee, who is now a trustee and chief executive of Dartmoor Zoological Park. "The costs are endless and unpredictable, and you only hope that the public likes the show – and that it's not raining during the six weeks of the year when you make 80 per cent of your money."
There can be few enterprises into which anyone has invested more – emotionally, physically and financially – than Dartmoor Zoo. In 2007, weeks before Mee opened the gates to the public again, after dealing with a jaguar escape, inspections and spiralling costs (at one point he told his bank manager that the wolves were quite literally at the door), Mee's wife, Katherine, died of a brain tumour. Mee had not only a failing zoo to open during one of the wettest summers on record, but also two small children to care for and grieve with. They had saved a zoo. Now the zoo would have to save them.
The experience inspired Mee's memoir, and Cameron Crowe, the director of Jerry Maguire, to turn it into a movie, swapping Devon for California. Without the sale of the rights as well as the resulting increase in tourism, Mee, now 49, says the zoo would have closed. Today, a growing number of visitors who come here, many clutching books ready to be signed, want to go behind the scenes. Mee and his small staff offer several hands-on experiences. Jess and I have signed up to be "Keeper for a Day". We stay at Prince Hall, a hotel on the moor, but Mee has plans to offer luxury yurts on site as early as this summer, funds permitting, and later hopes to accommodate guests in the main house.
Work begins in the ramshackle staff room. There are the usual sounds of a morning break: teaspoons stirring in stained mugs, packets of custard creams being opened. But from the background comes the chirruping of crickets, which live in their tanks by the far wall, in due course to be eaten by meerkats, and the incessant howling of the wolves that prowl the top enclosure.
Natalie Kruger, a keeper, takes us onward, to the fruit and vegetables room, where crates of produce donated by local supermarkets are chopped up and sorted throughout each day. We take what we need for the coati, and also feed them supplementary pellets by hand, before Jess mucks out their house.
Next stop, the Azara's agouti – a large rodent with dainty legs like a deer's – where I share poo duties and scatter food before brushing out and refilling their little drinking pond. As visitors watch from the other side of the fence, we become a strange part of the attraction. At the vervet monkey enclosure, the upstanding meerkats next door look on as we challenge the primates to find food that I have hidden inside a large paper bag. Hungry but quizzical, the monkeys slowly tear it open and find their lunch.
Our lunch is served in the Jaguar restaurant, a slightly utilitarian version of the one in We Bought a Zoo – the film took several liberties with the story, but, perhaps stunned that his little zoo in Devon was getting the Hollywood treatment, Mee approved them, and took a cameo role.
After jacket potatoes, we head to Jasiri's enclosure. The lion had been quiet on arriving at his new home, but when keepers played a roar over a loudspeaker, Jasiri responded and hasn't stopped since. Close up, it is a shoe-trembling sound. "He's telling us this is his territory now," explains keeper Laura Riley-Wallace.
At the large, walk-in enclosure, Mr Pickles, a friendly fallow deer rescued years ago, nuzzles my waist as I hang a bird feeder for the macaws. Buzz, a rowdy male, sometimes speaks in a posh accent, inspiring his full name, Buzzington Winterford, but today issues only shrill, attention-seeking screams. "I like doing these days because we get to show off our animals as individuals with personalities," says Laura, as we set off for the relative peace of the raccoon house.
We end our duties at the bottom enclosure, home to Chana and Maninho, Brazilian tapirs – pig-like mammals with long snouts. As Zazu, a 6ft (ostrich-related) rhea pecks at my bootlaces, Mike demonstrates how a carefully targeted scratch will compel Chana to roll over for more. Sure enough, she slumps to the ground, her eyes opening and closing slowly like a purring cat.
It's dark as I bid farewell to Mee. Earlier in the day, during filming for the fundraising video, he has felt a kick while scratching Chana's tummy. "Her breeding partner died 10 months ago and there was a rumour that they'd been seen mating," he says. "It's a 13-month gestation, but we are pretty sure she's pregnant." New life for an endangered species at a zoo that has witnessed many a momentous event, not least in Mee's own family, as he has nursed it back to health.
"I was off site recently, at the shops," he says. "Someone came and said thank you for saving the zoo, as they occasionally do. This time I thought, now we're a charity, we've created an organisation that will thrive indefinitely, even if I'm not here. We have saved the zoo for ever. It's going to take a while for that to sink in."
To support or visit Dartmoor Zoo, find details at dartmoorzoo.org.uk. The Keeper for a Day experience costs £199 for two, including lunch
Join our commenting forum
Join thought-provoking conversations, follow other Independent readers and see their replies