If you love your kids – and nature – please don't rush to book a holiday when lockdown ends
The climate column: Reopening the airports is not a 'return to normal', but a return to our contribution to the ongoing climate crisis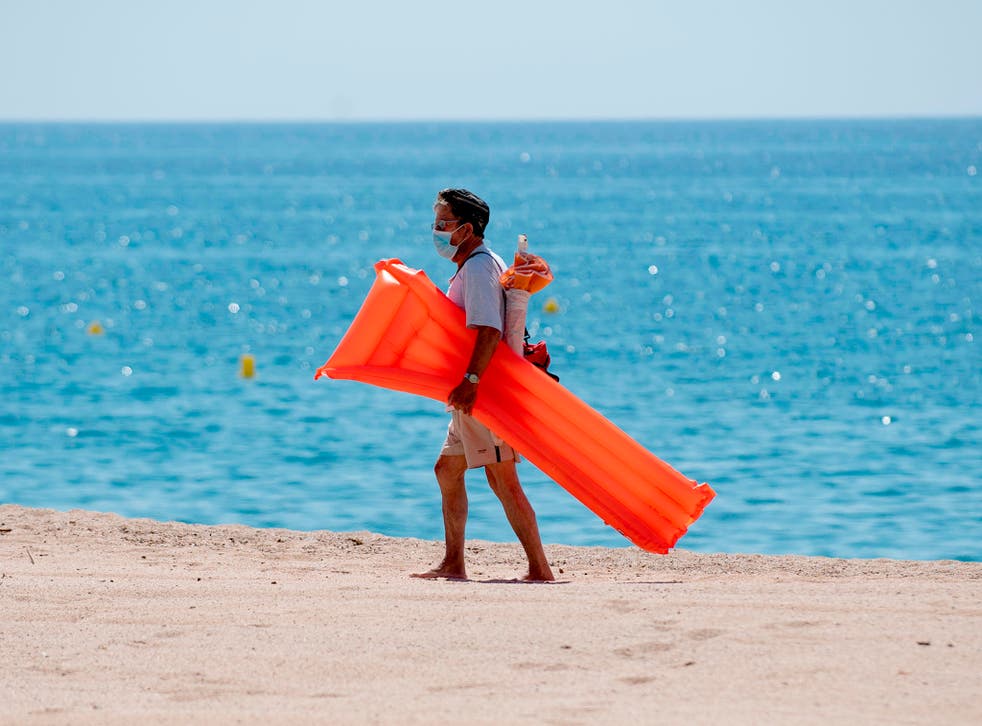 If you love your kids, and nature, and want to help the UK economy recover after lockdown – as well as ensuring UK tourism workers' jobs are protected – please do not rush to the travel agents to book a holiday.
Instead, how about making a resolution that your first post-lockdown holiday (which we are all understandably gagging for) – and all your future holidays – will be flight-free, until the climate emergency is resolved? This is vital – because reopening the airports is not a "return to normal", but a return to our contribution to the ongoing climate crisis.
Throughout the pandemic, we've seen the aviation industry publicly opposing proposed restrictions, advocating more taxpayer subsidies or calling for imposed restrictions to be lifted faster. The government responded by failing to fully close the airports and refusing to impose enough flight restrictions – even when the death toll from the pandemic was rising.
We've since witnessed the spread of various Covid-19 mutations in Britain. We've seen several waves of the pandemic, and three national lockdowns – as well as more than four million people infected and more than 120,000 deaths. Huge numbers of people have been left suffering from both long Covid – and a devastated economy.
This becomes deeply enraging when you look at the human and economic toll that we are paying in the UK, compared to other island economies like New Zealand, which did close their airports to all but absolutely essential travel.
And yet the UK aviation lobby is so powerful that our government is still refusing to impose a New Zealand-style strict quarantine on air travellers from all countries. It has also started pouring billions of government money into private corporations running our airports and airlines via the Bank of England's quantitative easing programme – and via furlough payments for their staff.
Read more:
Still, serious as it is, the Covid-19 threat pales next to the existential threat that the climate crisis poses to human civilisation itself and what is left of nature – and a flight is one of the single – and most damaging – actions we as individuals are likely to do each year; other than the embedded carbon released if we buy a new fossil fuel or electric car.
A post-lockdown getaway to Disneyworld in Orlando for the family, with two teenage kids, would emit nine tonnes of CO2. If they went first-class – due to the extra space allocated – this would be 20 tonnes, or the equivalent of 26 years of the average UK household's electricity emissions. A similar family trip to the Olympics, in Japan, would emit the equivalent of 13 tonnes. Again, if they went first class it would be 28 tonnes – or a staggering 37 years of household electricity emissions.
The UK's Climate Assembly was commissioned by a collection of Parliamentary Committees last year, after direct action by Extinction Rebellion, to discuss just and efficient ways to cut our emissions to zero.
One of their recommendations was that the government should introduce a frequent flyer levy – that would increase with every extra flight a person took in a particular year; based on the fact that 70 per cent of flights were taken by just 15 per cent of the public; whereas 57 per cent of the public takes no flights at all, each year. And those with second-homes abroad were among the worst culprits.
We recently saw the first budget since the Assembly issued its report. So, what was the chancellor's response? Well, he not only utterly ignored calls for a frequent flyer tax, but indeed went in the opposite direction – by freezing passenger duty on short and medium haul flights. As I have previously explained, Rishi Sunak thereby gave a de-facto cut, in real terms, to the duties – because if you do not increase fuel duties in line with inflation, you actually impose a real-term cut.
The extraordinary thing about all of this, economically-speaking, is that the UK's aviation industry facilitates a massive £34 billion annual loss to the country in terms of tourism payments – meaning that British tourists abroad spend £34 billion more than foreign tourists spend in the UK. You can calculate this figure by subtracting £28.4bn of spending by incoming (foreign) tourists' expenditure in the UK, from the £62.3bn outgoing tourist expenditure (Brits abroad): which leaves you with £34bn.
If the government really cared about the UK's tourism workers – and about the climate emergency ¬– it would not be making it even cheaper for the UK's flying elite to damage our economy and climate further, just as it recovers from Covid-19.
The government and aviation industry propagandise about a fantasy far-distant 2050 "net-zero" carbon future. But the reality is that if the chancellor lets the airports let rip yet again, it will not only add to the burden of carbon in the atmosphere in 2050, but right up until 2321! This is because carbon newly released into the atmosphere lasts up to more than 300 years before it is reabsorbed.
So: in the face of the damage which might be done by the Sunak budget, what can we do? Well, we can personally pledge not to take any post-lockdown holiday flights, and can urge our friends and families to do the same. More importantly, we can resolve to support the urgent peaceful actions by "Fridays for a Future", "Extinction Rebellion" and other groups, as our communities reopen after lockdown.
The roar of every extra plane that flies over our heads after lockdown would be an ominous portent of the unfolding climate catastrophe. For the love of our kids – and nature – let us keep those skies peaceful, and hear the birds sing, instead.
Join our new commenting forum
Join thought-provoking conversations, follow other Independent readers and see their replies