Sustainable living
'Inequalities will become even more entrenched': Why climate change is a feminist issue
Climate change is already here, and it's having a disproportionate impact on women around the world. Natasha Preskey asks experts why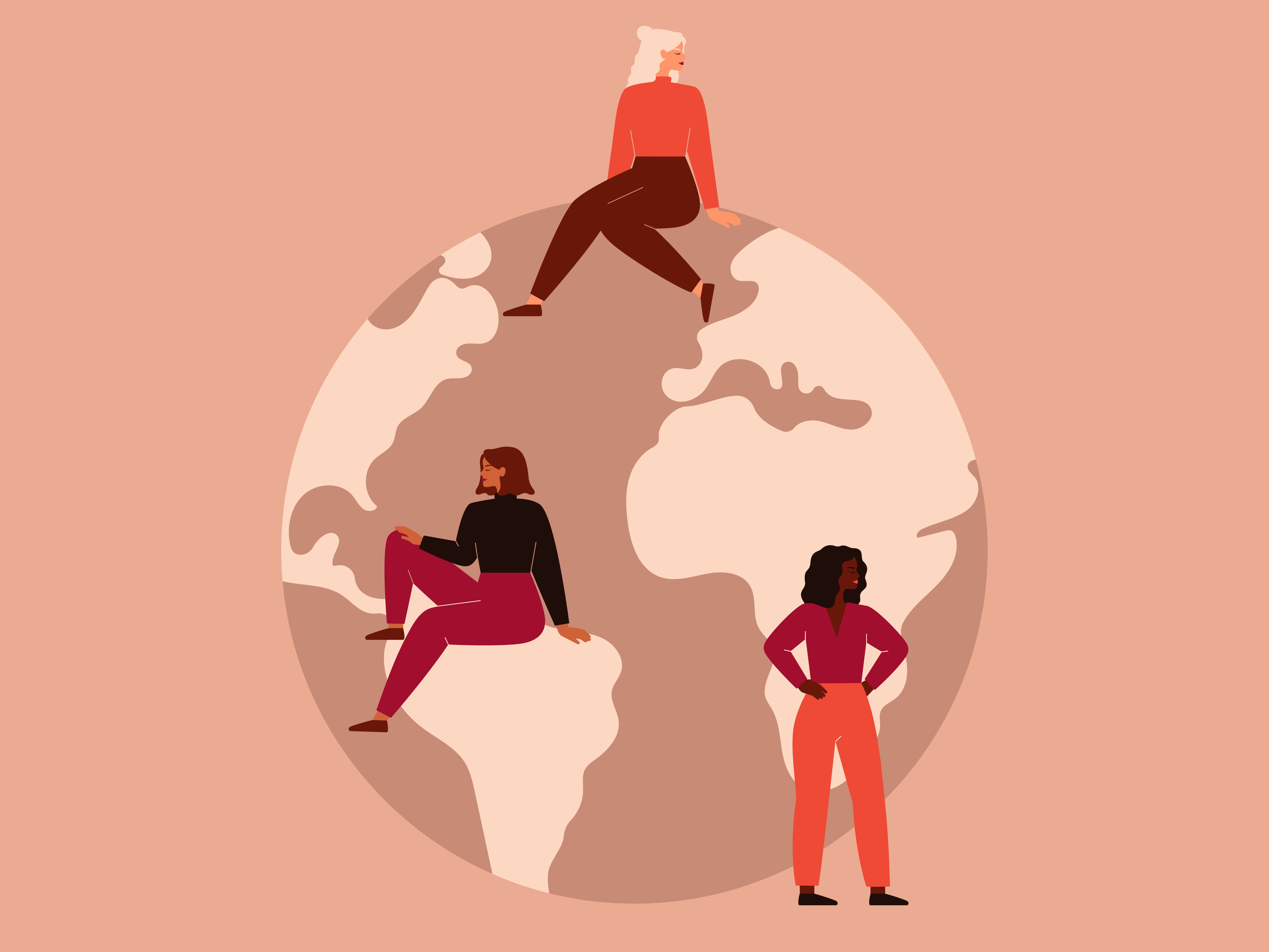 There's an old saying that guns make us all the same size. Similarly, the climate emergency feels - by definition - like something that should be a universal experience, a unifying threat to the home that we all share. But, like almost all other crises, we might all be floating in the same sea of uncertainty but we are certainly not in the same boat. 
Just as with coronavirus, which disproportionately impacts black, Asian and minority ethnic communities (and has hit women harder economically than men), the climate crisis poses more urgent problems for some people than for others. The effects will be felt more quickly, and more deeply, by some, and solutions that are accessible to many are a world away for others.
In 2021, as we get ever closer to the Paris Agreement deadline of 2050 for a climate-neutral world, we can already see that women, particularly women of colour, are experiencing the climate emergency's worst effects. And for some, this half-century point will come too late.
In much of the global north, climate change isn't yet impacting everyone's day-to-day lives in a way that inspires sufficient urgency. Although we are seeing more localised events like historic flooding and freak storms in places like Texas, the situation is much worse in many other regions where the climate emergency is already affecting people's livelihoods. 
Read more: The psychology of procrastinating on climate change
Figures from the United Nations (UN) suggest that 80 per cent of people displaced by climate change worldwide are women. According to a review of 130 studies by the Global Gender and Climate Alliance in 2016, women are more likely to suffer food insecurity as a result of the climate crisis. Following extreme weather events, women are also more likely to experience mental illness and partner violence. 
Professor Nitya Rao of the University of East Anglia (UEA) researches gender equality in parts of Africa and Asia which have already been severely affected by climate change. She says in many of the rural areas where she conducts research, in countries like Nepal and India, droughts and floods can decimate crops and make the outcomes of agricultural labour unpredictable. 
The climate crisis means that these sorts of unusual weather events are becoming more common - increasing the likelihood of this change in working status.
In order to reduce overall risk to the household's income, men, who have access to a wider range of jobs, will often migrate to other areas - particularly urban areas away from land-based incomes - with women staying to care for children and continue agricultural work. When this work isn't fruitful, women often end up having to take on multiple jobs, says Rao.  
"They will have their farm, but they will also try and do something else: set up a small shop or some kind of enterprise or maybe wage labour for a richer landlord in order to ensure that there is at least some income in the household for their everyday needs," Rao tells The Independent from India, where she is currently conducting research. 
She goes on to explain that, although men will often send money home from their new jobs, this change in circumstance means women are under pressure: "Especially at the time when men are absent, they may send money once a month, or once in two months, or three months. In the meantime, women will have to manage - so they end up working much harder."
Although these effects of the climate crisis are already a day-to-day reality for women in some parts of the globe - and are starting to impact their economic output and options, women in the UK haven't yet felt noticeable disparities in how they are affected against their male peers. 
But Professor Julie Doyle of the University of Brighton, whose work involves examining the role of media and communication in fighting climate change, says that this will likely manifest with time. Drawing on the pandemic to illustrate how crises affect people differently across existing power lines of gender, race and class, Doyle points out that "inequality is rife in the UK".
"Women have borne the brunt of caring, housework and homeschooling responsibilities in the UK [during the pandemic], and are more likely to have lost their jobs than men," she tells The Independent. 
Research from the Women's Budget Group, published in November 2020, found that around 133,000 more women were furloughed than men across the UK during the first wave of Covid. Similarly, a study from the University of Exeter, published in July, found women were twice as likely to have lost a job during the first lockdown.
Dr Clare Wenham, assistant professor of global health policy at LSE, previously toldThe Independent that, during times of crisis, "gender norms become more entrenched". She cited examples of pandemics including coronavirus, Ebola and Zika, in which women's employment was disproportionately affected. 
Doyle says, just as we've seen the pandemic change circumstances for women, as the pressure of the climate crisis increases, we will likely see this again. "As climate change increasingly impacts the UK in relation to localised flooding, heatwaves and ability to access food and other resources from climate impact countries across the globe, then these inequalities will become even more entrenched, limiting our ability to respond to such impacts in equitable and just ways."
A 2010 study, published in journal Environmental Health, found that women in several European cities, including London, were already more likely than men to die during heatwaves. Its authors suggested possible reasons for this may be "attributable to the social conditions of elderly women living alone and to physiological differences, such as a reduced sweating capacity that affects the ability to respond to heat stress". 
What, if anything, can be done to mitigate the impact of climate change on women? According to Doyle, it's important we frame the climate crisis as "an issue of justice" and teach it in schools from primary age onwards with this in mind. In taking action against global warming, we mustn't treat "climate action as separate from gender equality", she says, encouraging people to view these as intersectional issues.
Rao emphasises that women are "resilient" and are adapting to cope with climate change but that they need support on a structural level to help mitigate the issues they face. She points to things like improving public health and sanitation, as well as food access. "I'm very against the view that women are, somehow, becoming the victims of climate change," she says. "They are showing resilience, but we need to support and enable them to do what they're doing."
Doyle adds that, in order to fight the gendered impacts of climate, we need more women in power. In fact, research earlier this year by the Centre for Economic Policy Research and the World Economic Forum found that countries led by women experienced significantly fewer Covid deaths, with women being more "risk averse" around loss of life but "more willing to take risks in the domain of the economy".
"Women and girls, particularly of colour, need to be at the forefront of decision-making on climate change at the local, regional, national and international level," Doyle concludes. "Climate change should not be discussed without reference to gender, racial and class inequalities."
Links between gender inequality and the impacts of the climate crisis aren't always immediately obvious to those whose day-to-day lives haven't yet been upturned by global warming. But to prevent gender disparities further deepening, an understanding of climate change and its complex relationship to human power structures is key.
Join our commenting forum
Join thought-provoking conversations, follow other Independent readers and see their replies