SUSTAINABLE LIVING
Where to recycle your old or unwanted clothes and beauty products on the high street
Recycling in store or via post with these retailers will help to close the fashion loop, reduce the amount of clothing in landfill and may even earn you a generous reward in return, writes Hayley Spencer
Monday 01 March 2021 20:15 Comments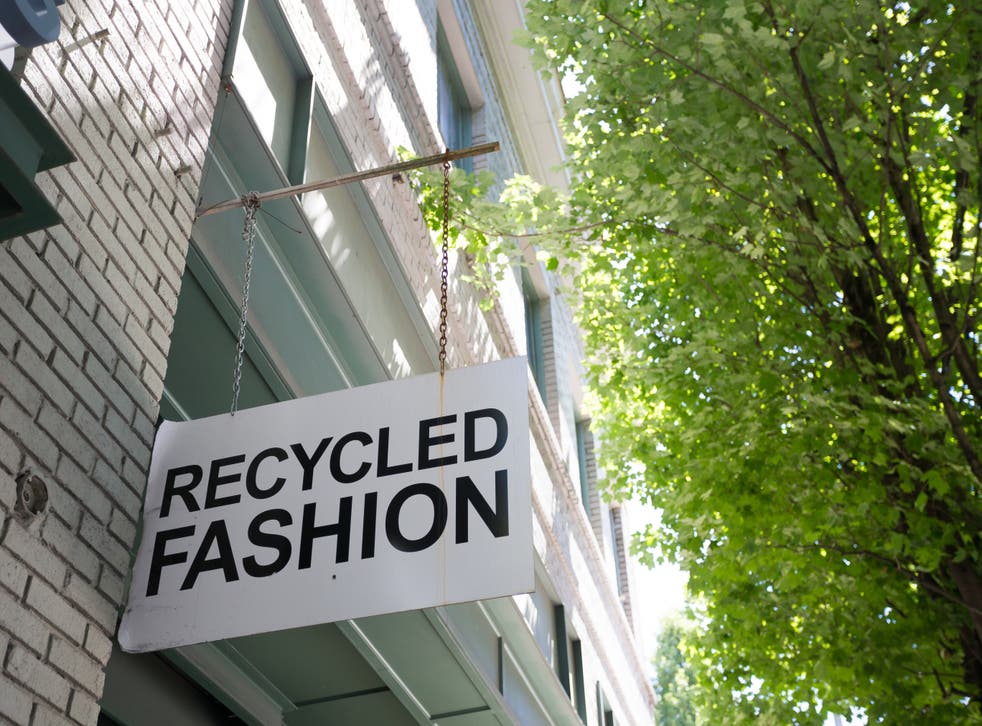 Lockdown is the perfect time to review your wardrobe. Have you got items you've realised you'll never wear again - even when we can return to a sense of normalcy? Or have some of your most loved items reached the end of their life? Bagging them up and freeing up space in your wardrobe could bring some much needed catharsis.
Each year, the average Briton gets rid about 3.1kg of textiles, according to a recent study by sustainable label, LabFresh. However, with an average of just 0.3kg of each person's haul getting recycled, and 0.4 kg sent to be reused, it's clear many of us could be taking more responsibility for where our clothes end up after they've outlived their purpose.
According to WRAP UK 350,000 tonnes of wearable clothes, equivalent to the value of £140 million, end up in landfill from the UK alone, each year. These take on average 200 years to decompose, adds WRAP, and means harmful methane is emitted while they do so.
As well as simply reducing how much we buy and elongating the life of our clothes by avoiding fast fashion trends or selling them on to others, recycling or repurposing clothes should be part of our role in the fashion economy to help close the loop. Especially as this part of the cycle lies solely with the consumer.
Charity donations are an obvious route to repurposing, but if you want the convenience of donating while you shop, or your clothes are only fit for textile recycling, the high street can help. We've created a crib sheet of the recycling schemes to know, including the stores which will reward you for trading in unwanted clothes, shoes and makeup.
Some schemes are unable to run during the pandemic, especially while shops are shut, though it's worth bagging up your items ready for the return of the high street later in the year. Some schemes offer contactless drop-offs during the pandemic for extra safety.
H&M (clothing and textiles)
High street giant H&M has been running its global recycling initiative since 2013. In 2019 (before the pandemic halted in-store donations) more than 29,005 tonnes were collected, equivalent to 145 million T-shirts.
Every one of the 250 H&Ms in the UK and Ireland have a collecting and recycling box in store and promises that every item will be recycled, reused or re-worn. If you drop in a bag of unwanted clothes, the company will give you a £5 voucher to spend in-store as a thank you.
"With around 300 people working specifically with sustainability across the H&M Group, sustainability isn't just an add-on, it is ingrained in our core and fully integrated into all our business operations", explains Cecilia Brännsten, Environmental Sustainability Manager at H&M Group.
"By 2030 we aim to use 100 per cent of recycled or other sustainably sourced materials in all of our products, as of 2020 we were at 64.5 per cent", she adds.
Funds generated from the items are split between the British Red Cross and the H&M Foundation, which supports equality and inclusion projects for marginalised groups.
Arket (shoes, clothing, home textiles from any retailer, plus Arket product packaging - beauty and wrapping)
Drop off your unwanted items in any condition from any brand as part of the Recycle with Arket scheme and you'll receive a 10 per cent voucher to use within three months. Just ensure any shoes are paired with tape or by tying the laces.
The initiative began in 2019 to help towards the brand's aim to advance their use of circular materials and give fabrics a longer life. All products are sorted for re-wear, reuse or material recycling by the stores' German partner I:Collect. The donations are returned to Arket's factory for sorting in the same trucks which deliver products to store, in order to minimise emissions.
This spring Arket will be launching its first collection made using fabrics from the Recycle with Arket program - so your cast-offs could become shiny new clothing for fellow shoppers. By 2030 Arket's goal is to produce its collections exclusively from sustainably sourced materials.
Uniqlo (adult Uniqlo down jackets and accessories)
If you're a fan of Uniqlo's cult down jackets, then giving your old ones a new lease of life is as easy as returning them to your nearest store. The store's circular Re.Uniqlo scheme uses 100 per cent of the down padding and feathers from used products brought into store to make its new ranges of puffas. 
As well as being a super smart way to conserve resources, minimise waste and reduce environmental impact, Uniqlo's scheme helps your wallet, as for every old down jacket you bring in you'll get £10 towards a new full price one.
Marks & Spencer (clothes, textiles, jewellery and shoes from any retailer)
M&S's popular Shwopping scheme has seen the high street giant collect over 20 million items since 2008. The principle is that every time you go to a store, you make a donation via the Shwop Drop boxes (which are next to the tills in most M&S stores) so you're trading in old for new.
Donations are resold via Oxfam Online, reused around the world, or recycled into new products to allow Oxfam to fund vital projects around the world. In 13 years, the scheme has raised an estimated £16 million for the charity's work.
Stay Wild Swim (swimwear from any retailer)
Sustainable swimwear brand Stay Wild Swim operates the Circularity Project to recycle and repurpose any swimwear which would otherwise have been thrown away. Alongside their factory, they transform the unwanted textiles into industrial products such as eco-carpet underlay. There's no reward, but you'll have peace of mind knowing that your holiday bikini didn't end up in landfill.
To donate yours, package your swimwear and use delivery address: Stay Wild Swimwear Recycling, The Carrier Group, Westacott Road, Barnstaple, EX32 8AW, United Kingdom.
Schuh (all shoes)
You can trade in an old pair of shoes via Shuh's Sell Your Soles scheme at participating stores. Each pair gets you a £5 voucher against a purchase of over £25. Kids shoes can also be recycled at Schuh Kids as part of the Too Big For Your Boots scheme.
Donations are collected weekly (when shops are open) by the Recyclatex Group for recycling. A proportion of profits donated to the brand's sustainable charity of choice, World Land Trust, who work to protect threatened wildlife habitats, with reforesting projects currently in Brazil, Borneo and Ecuador.
Nike (trainers from any brand)
The Reuse-A-Shoe scheme from Nike allows you to give your old trainers a new lease of life. The old kicks will be made into Nike Grind material for new futuristic sportswear.
To recycle your old sports shoes, you need to be a Nike member or have ordered a pair of Air VaporMax 2020 Flyknit online. You can grab a Reuse-A-Shoe bag in store and recycle them on the spot, or send via at any DPD drop-off. 
There's no discount for doing so, but you will be helping Nike to reduce waste and carbon emissions.
MAC (MAC primary packaging containers)
It's worth recycling your lipstick bullets or palettes in store if you're a MAC lover, as the BACK TO MAC scheme allows you to trade in six containers for a free lipstick of your choice.
Just bring your packaging to your nearest counter to redeem your favourite shade. Viva Glam isn't included, though.
Lush (empty plastic Lush packaging)
Ethical beauty favourite Lush recently introduced a Bring It Back scheme for its full-size empties, so you can be sure your plastic packaging is reused responsibly. Your old packaging will be processed by partners Greenhub into new Lush packaging or used as renewable fuel.
For each plastic Lush item returned, customers will receive a generous 50p to spend on their new Lush purchases on the day. It's been introduced alongside the Fresh Face scheme which allows customers to trade five pieces of packaging for a face mask. So take your pick of the best scheme to suit your beauty needs.
The new scheme was borne from the fact that so little plastic is recycled, with the brand estimating that the figure is just nine to 20 per cent in the UK. "Let's put positivity into plastic, after all it's not plastic that's the baddy, we're the baddies when we don't reduce, reuse and recycle it!" says Lush co-founder, Rowena Bird.
John Lewis (John Lewis adult clothing - excludes shoes and underwear)
After a successful pilot, John Lewis has introduced BuyBack at seven of its stores. The items will then be resold or repurposed by Bank and Vogue, a major trader in used textiles, who are the parent company of vintage store Beyond Retro.
Customers can bring up to three unwanted items of clothing previously bought from the store  to a checkout, and if they're in reasonable condition, each item will be exchanged for a £3 discount against a new purchase.  If the exchange is made at Waitrose & Partners you'll receive a gift card.
Register for free to continue reading
Registration is a free and easy way to support our truly independent journalism
By registering, you will also enjoy limited access to Premium articles, exclusive newsletters, commenting, and virtual events with our leading journalists
Already have an account? sign in
Register for free to continue reading
Registration is a free and easy way to support our truly independent journalism
By registering, you will also enjoy limited access to Premium articles, exclusive newsletters, commenting, and virtual events with our leading journalists
Already have an account? sign in
Join our new commenting forum
Join thought-provoking conversations, follow other Independent readers and see their replies