SUSTAINABLE TRAVEL
How are ski resorts becoming more sustainable?
Colin Nicholson finds out how the snowsports industry is meeting the challenge of climate change head on, from solar-powered lifts to ambitious carbon neutral targets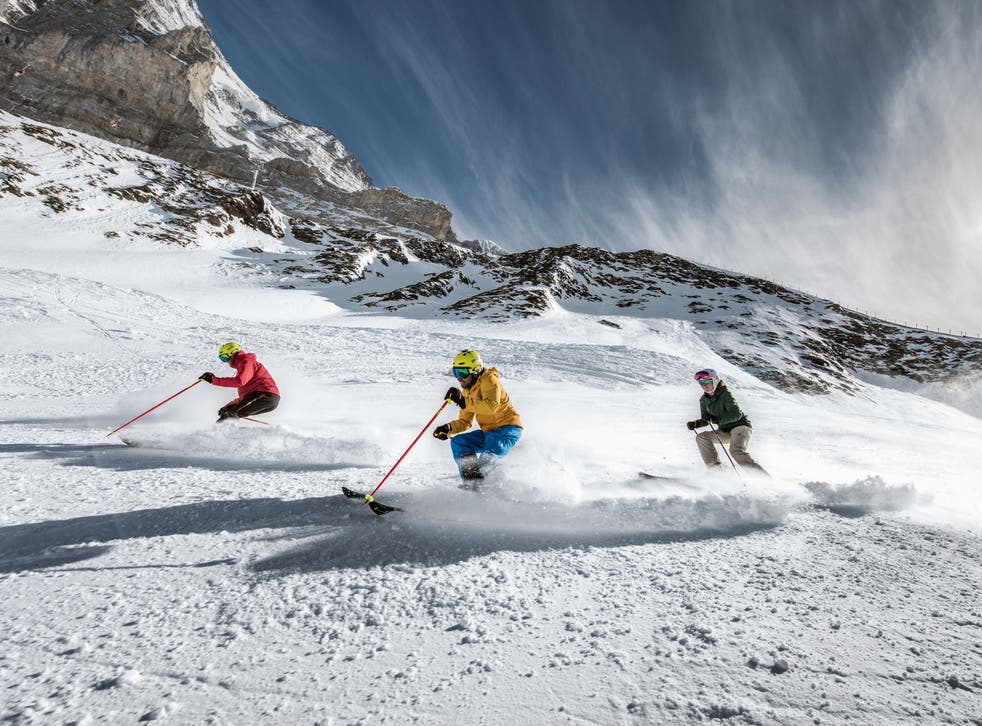 S
kiers and snowboarders are often challenged on their passion as the debate over what we should do about global warming hots up. The question of what winter sports fans – and resorts – can do to keep skiing sustainable in a time of climate change is very much a live issue.
If flying there proves the only practical option, don't give up on trying to save the planet. Yes, travel to resorts is the biggest carbon outlay of a skiing holiday – 57 per cent according to a French study by Mountain Riders. But there are other issues to consider, too, when planning a winter holiday, and more and more resorts are rising to the challenge of going greener.
Global lobby group Protect Our Winters is urging all snowsports communities to aim for net zero emissions, and the Swiss resort of Flims-Laax, which regularly hosts the Brits freestyle competition, is one of those aiming to become carbon neutral, with the help of solar, wind and hydroelectric power. The Finnish resort of Pyha, meanwhile, has already achieved net zero status – and it's aiming to become "the cleanest ski centre in the world".
Take the train
Taking the train can can cut the carbon emissions of a journey by about three quarters, according to snowcarbon.co.uk. This has been made trickier by the fact that the future of the ski train – the direct service from St Pancras to the French Alps – is currently uncertain after it was cancelled for the entirety of the 2020/21 season. But snowcarbon lists other options, including taking the sleeper from Paris to certain French, Italian and Andorran resorts, or from Brussels to some Austrian resorts via Cologne.
Often you can book your own compartment, which is particularly attractive in our pandemic era. This is most cost-efficient for families of four or six, but couples can also book two-bed cabins, as they can on the daily sleeper service from Euston to Aviemore, in Scotland.
New technology
Cutting edge technology is playing a major part in resorts' strategies to become more sustainable. In Austria's Montafon valley, Doppelmayr has built a chairlift whose solar-panelled base and top stations provide a third of its energy; it's just one of several such projects.
Even conventional ski lifts are highly energy-efficient. Back in 2008, Whistler, the biggest resort in North America, calculated that its lifts, which carry 59,000 people an hour, used the same energy as 68 Porsche Boxsters. The era of carbon-neutral ski lifts may not be far off.
Ski lifts have become less intrusive on the environment in other ways too. The tri-cable system used in the gondola that from this season links Grindelwald to the Eiger glacier, 6.5km away, is so stable in high winds that no path had to be cut through the forest to accommodate it – it soars over the trees with the aid of just seven pylons.
Try ski touring
You can eschew using ski lifts altogether by turning to ski touring. This is akin to the earliest form of skiing, where you climb up the mountain with "skins" attached to the base of your skis to stop you sliding backwards. This discipline, which was already increasing in popularity, has really taken off this winter in France and Italy, where ski lifts are closed due to the pandemic.
A slightly less strenuous option is cross-country skiing, where again no lifts are needed. While the Nordic countries are best for this, some downhill resorts on the Continent have good, high-altitude cross-country circuits such as Seefeld in Austria and Baqueira Beret in Spain.
Fake snow
What of snowmaking, now done on an industrial scale? Critics point to the unedifying spectacle of resorts generating more greenhouse gases in a bid to stave off the consequences of climate change.
In reality, snowmaking uses relatively little electricity. According to French studies, snow production and lift operation combined account for just 2 per cent of carbon emissions of ski trips. Even in a resort such as Zermatt, which offers summer skiing on its glacier, only 5 per cent of the Swiss town's electricity went on snowmaking from 2014 to 2016, according to research carried out over the years by the Ski Club of Great Britain's Ski+board magazine.
What is clear is that we can't deny our reliance on artificial snow as the mercury rises. Studies show that there are now 38 fewer days of natural snow every winter in the Swiss Alps compared to the 1970s, and 23 fewer days in the area around Chamonix Mont Blanc, which is one of a handful of French resorts to hold the flocon vert (green snowflake) label for its environmentally friendly initiatives.
Despite the shorter winters, the Ski Club's data reveals that snow depths on piste are constant. And if anything, the ski season is lengthening, with resorts opening earlier and closing later. In the 1970s and 1980s you rarely risked a trip out of peak season, as lack of snow would mean a week of playing cards in a chalet. Today skiing is guaranteed – even if it is on white ribbons of piste in a russet landscape with just a dusting of snow off-piste.
But should skiers be aiming to go to higher resorts, if lower ones are more reliant on snow making? Curiously, the situation is not that cut and dried. It might take a few centimetres of snow to create a skiable piste over a meadow, while a mountaintop scree with protruding rocks might require a metre of the stuff. Austrian resorts, many of which are relatively low, have been investing heavily in snowmaking, and it takes only five days of sub-zero temperatures for the Ski Amade region to cover all its 760km of slopes, many of which are below 1,000 metres. Snow is also more likely to blow away at high altitudes.
Sustainable power
While the cost of snowmaking – €2 to €3 per cubic metre according to Val d'Isere's estimates – makes resorts naturally sparing in their use of artificial snow, many are turning to sustainable means to create it, using the plentiful sunlight in the mountains to generate electricity, as well as using hydroelectricity from the reservoirs that supply the water. The altitude of the solar panels that cover Zermatt's highest restaurants makes them up to 80 per cent more effective than in the rest of Switzerland. And SkiWelt in Austria, with its 284km of pistes and 90 lifts, only uses hydropower for snowmaking – plus it also has a lift in Brixen that is entirely solar-powered.
The bottom line is that skiing should be with us in a more sustainable form for many decades yet – even if it is, on some occasions, on a slightly surreal spider's web of pistes on that unwintry landscape. In any case, it certainly beats flying out to the Alps to be stuck in a chalet playing cards.
Join our new commenting forum
Join thought-provoking conversations, follow other Independent readers and see their replies