Indy Eats
How to eat to save the planet: Sustainable recipes, from ground coffee bread to freshly-caught mackerel
Ollie Hunter's latest cookbook is all about sustainable, organic eating and zero waste, discovers Emily Cope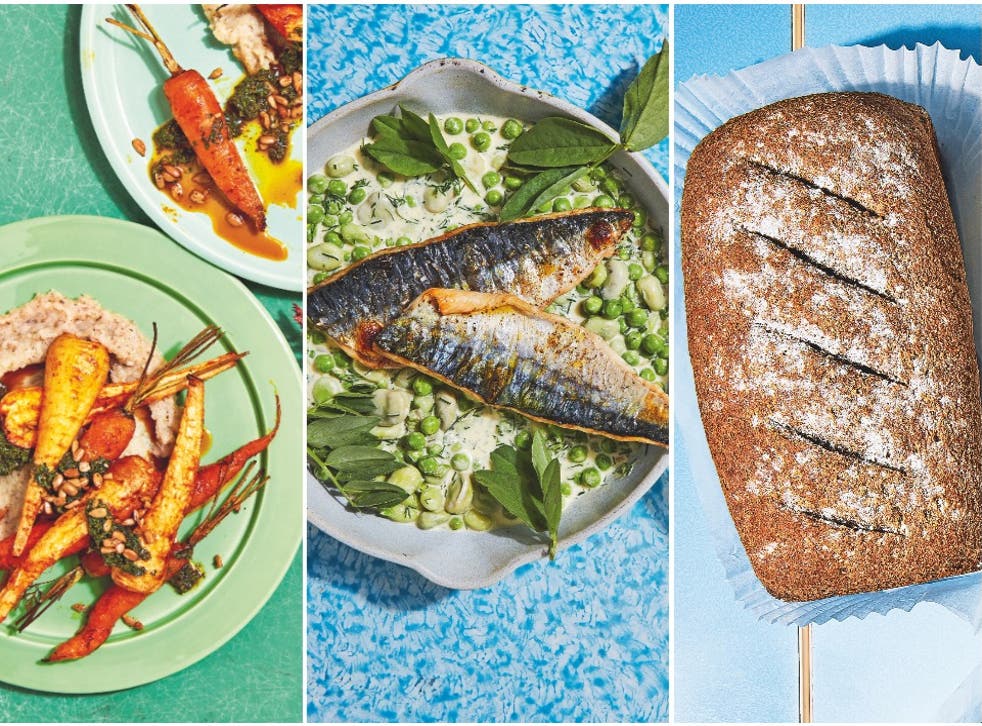 W
ith the world's leading scientists highlighting the increasing impact the food we consume has on the environment, sustainable eating has never been more important.
Food is responsible for around 30 per cent of greenhouse gas emissions globally, while 70 per cent of all freshwater taken from rivers and lakes is used in agriculture. This means our current food system is responsible for 60 per cent of biodiversity loss worldwide.
From reducing your meat consumption to using leftovers, eating more sustainably is easier – and tastier – than it sounds. 
Ollie Hunter, author of Join the Greener Revolution: 30 easy ways to live and eat sustainably tells The Independent: "Living and eating more sustainably it isn't an endpoint, but a great ride. You can have lots of fun with it and be really creative with your meals.
"The whole essence of sustainability is to make our lives easier, more delicious, and more joyful – all while saving the planet."
According to Hunter, the three main principles for eating more sustainably are: eating organically and seasonally, using 50 per cent of what you eat from sources within 30 miles, and aiming to produce zero waste.
Here, he shares three recipes that can be locally sourced in the UK and leave little leftover waste.
Ground coffee bread
"This is ultimately why I love sustainability – because it really produces the most delicious food," says Hunter. "We end up with a lot of leftover coffee grounds, so I had to find a way of using them up.
"We made this bread and it worked brilliantly, with a flavour somewhere between stout, rye and malt. It makes for a nutty, slightly bitter, coffee-scented loaf that brings flavour satisfaction and planet-loving thrills."
500g wholegrain spelt flour, plus extra for dusting
15g sea salt
40g soft dark brown sugar
150g used coffee grounds
7g dried instant yeast
300ml of warm water
Put the flour, salt, sugar and coffee grounds in a large bowl and mix well. Put the yeast and 270ml of the warm water in a separate bowl and mix until dissolved. Add the yeast water to the bowl with the flour.
Mix to bring together into a dough, adding the remaining warm water only if needed to bring it together. Turn the dough out onto a lightly floured work surface and knead for eight minutes by hand until it is smooth and elastic.
Lightly oil the same mixing bowl and return the dough to it. Cover with a plate or tea towel and leave to prove in a warm place for about one hour or until doubled in size.
Lightly oil a 900g loaf pan and turn the dough out onto a lightly floured work surface and knock it back by kneading through again briefly. Shape into a loaf and transfer to the oiled loaf pan.
Cover with a tea towel and leave to prove in a warm place for a final 40 minutes or until the dough has risen above the top of the pan.
Preheat the oven to 220C/200C fan/425F/gas mark 7.
Bake for 30 minutes until risen and golden and the loaf sounds hollow when tapped on the base. Leave to cool on a wire rack before slicing.
Line-caught mackerel in cream sauce with broad beans
This recipe uses freshly-caught fish as well as at least 60 per cent of the broad bean plant, meaning there is very minimal wastage.
Hunter adds: "I also like to keep the broad been casings to add to stock for risottos or thinly slice to make pakoras."
Serves 4
4 line-caught mackerel, filleted and pin-boned  
Locally produced oil of your choice with a high smoking point, for frying  
Knob of butter  
2 shallots, finely diced  
80ml white wine  
200ml double cream  
200ml water 
200g fresh broad beans  
3 broad beanstalks, finely diced  
200g fresh peas  
Small bunch of fresh dill, leaves only, chopped  
Small handful of broad bean leaves  
Sea salt  
Place the 8 mackerel fillets on a baking tray, skin side up. Oil and salt both sides and turn the grill to high. 
Heat a glug of oil, the knob of butter and the shallots in a large frying pan over a medium heat. Once the shallots are soft add the white wine and reduce by half. 
Add the cream and water, season to taste and reduce the heat to low. Once the sauce is at a gentle simmer, add the broad beans, broad beanstalks and fresh peas. Cook for 4-5 minutes until the beans are soft or al dente, then add the dill. 
Meanwhile, place the mackerel under the hot grill and cook for 4-5 minutes until the skin is golden. 
Spoon the sauce into bowls, place the mackerel fillets on top with any juice left from the baking tray, and garnish with chopped dill and the broad bean leaves. 
Roasted carrots and parsnips with artichoke puree and chimichurri
Eating the season is key to reducing our carbon emissions and reconnecting with the land around us – plus seasonal food is tastier and more nutritious than heavily-farmed alternatives.
Websites such as Eat the Season offer advice on which fruits and vegetables to eat when. With parsnips and jerusalem artichokes in season this February, Hunter's root vegetable recipe is a great way to celebrate the UK's homegrown produce.
For the chimichurri  
100g young carrot tops  
3 tbsp dried oregano
1 tsp ground cumin
1 tsp smoked paprika  
1 tsp sumac
2 garlic cloves, peeled
100ml malt vinegar  
200ml locally-produced oil of your choice, plus extra if needed  
Pinch of salt  
For the artichoke puree
250g jerusalem artichokes  
50ml locally produced oil of your choice  
1 tsp ground cumin
For the roasted carrots, parsnips and seeds
100g sunflower seeds 
1 tsp za'atar
Pinch of salt  
12 young carrots, tops removed
4 parsnips
2 red chillies, finely chopped  
2 tbsp smoked paprika  
For the chimichurri, place all the ingredients in a food processor and blitz down into a sauce – you can make the ingredients as chunky or smooth as you want. Add more oil to thin out slightly if needed and set aside. 
For the artichoke puree, peel the artichokes (reserving the peelings for crisps), place in a large saucepan and cover with water. Bring to a simmer over a medium heat, season with salt and cook for about 45 minutes until the artichokes are tender.
Drain but reserve the cooking water. Put the artichokes in a food processor with the oil, cumin, a pinch of salt if needed and a splash of the reserved cooking water and blitz into a beautifully smooth puree. Transfer back to the pan ready to reheat when needed. 
Preheat the oven to 200C/180C fan/400F/gas mark 6. 
Put the sunflower seeds on a baking sheet. Drizzle with a little oil and sprinkle with the za'atar and a bit of salt. Roast for 10 minutes, then remove and set aside but keep the oven on.  
Prepare the carrots and parsnips by cutting them into halves or quarters lengthways, depending on the size. Place the vegetables in a large roasting pan and sprinkle over the chopped chillies and paprika. 
Drizzle over some oil and mix thoroughly. Roast in the oven for 15 minutes, then give them a mix and roast for a further 10 minutes. 
When you are ready to serve, reheat the artichoke puree and spoon onto serving plates. Pile the root vegetables on top, drizzle with the chimichurri and sprinkle with the roasted sunflower seeds to finish.
Ollie Hunter's Join the Greener Revolution: 30 easy ways to live and eat sustainably can be purchased at Pavilion Books.
Join our new commenting forum
Join thought-provoking conversations, follow other Independent readers and see their replies