SUSTAINABLE LIVING
Vegan wellington recipe: How to master the perfect meat-free Sunday roast
Forget nut roasts, Gousto's vegan beetroot wellington is the perfect meat-free centrepiece for a vegan Sunday lunch, finds Emily Cope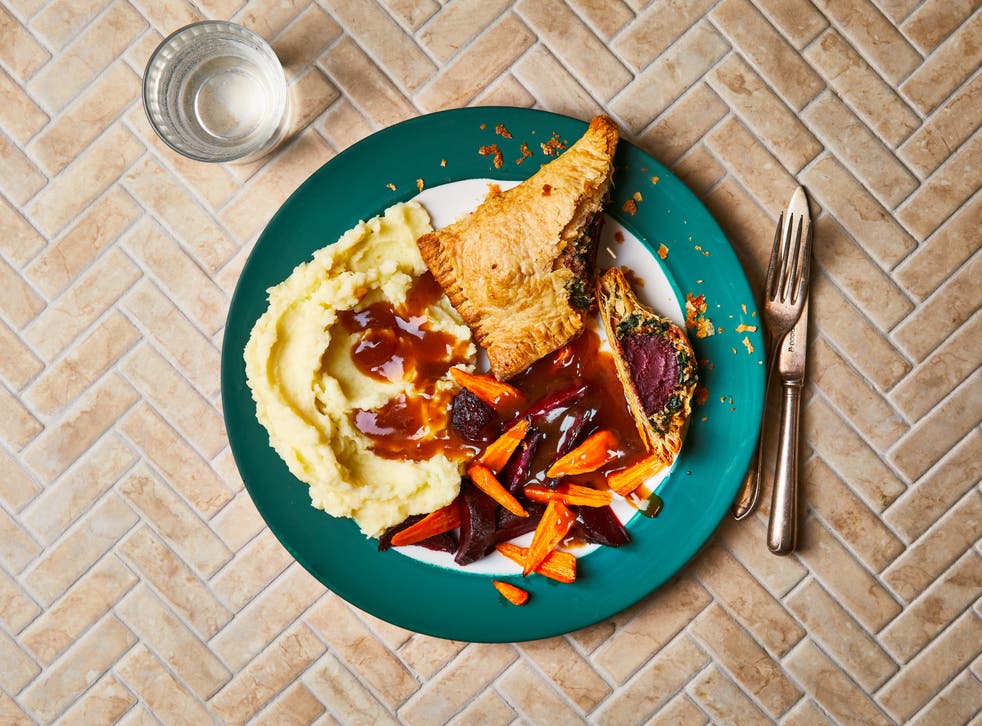 Nothing beats a hearty Sunday lunch feast.
But if you're vegan, you can feel short-changed when you pass up a gloriously roasted turkey or a fresh cut of beef and are met with a crumbly dry nut roast.
However, with veganism being the "single best way" to reduce our environmental impact, is there a way to still eat delicious food and go meat-free?
Yes, according to Gousto, which has shared this vegan twist on a classic beef wellington.
Swapping out beef for beetroot, this recipe is easy to make and it contains four of your five-a-day – so feel free to tuck into a second helping.
Serves 2
250g cooked beetroot
8g soy sauce
20g onion marmalade
1 tsp dried sage
120g baby leaf spinach
160g chantenay carrots
80g chestnut mushrooms
8g Marmite
30g panko breadcrumbs
3 white potatoes
5.5g vegetable stock mix
150g puff pastry
Olive oil
Knob of butter alternative
Preheat the oven to 200C/180C (fan)/395F/Gas 6 and boil a full kettle.
Chop the chestnut mushrooms very finely and then heat a large, wide-based pan (preferably non-stick) with a drizzle of olive oil over a high heat.
Once hot, add the chopped mushrooms with a pinch of salt and cook for 3-4 mins or until golden.
Meanwhile, halve the chantenay carrots (no need to peel) and set them aside for later. Wash the spinach, then add it to a colander and pour boiled water all over it so that it starts to wilt.
Rinse the wilted spinach under the cold tap. Once cool, squeeze the water out of the spinach as much as you can, then chop it roughly.
Add the mushrooms to a bowl with the chopped spinach, panko breadcrumbs, soy sauce and dried sage and give everything a good mix up – this is your mushroom stuffing.
Cut the puff pastry in half and fill the middle of each half with the mushroom stuffing. Then drain the beetroots and cut two in half.
Add the halved beetroot to the pastry squares and carefully wrap the pastry over the beetroot, making sure to push the edges together to form a loose seal. Use a fork to press down on the seal to bind it and brush with a little olive oil – these are your beetroot wellingtons.
Add the beetroot wellingtons to one side of a baking paper-lined baking tray and cut the remaining beetroot into wedges and add to the other side of the tray with the halved carrots.
Drizzle them with a little olive oil and a pinch of salt, then put the tray in the oven for 30 minutes or until the pastry is golden and the carrots are tender.
Whilst the wellingtons are cooking, peel the potatoes, chop them into large, bite-sized pieces and add to a pot of water with a generous pinch of salt. Bring to boil over a high heat, and then reduce to a medium heat and cook for 12-15 minutes or until fork-tender. Once done, drain and return to the pot to steam dry.
Dissolve the onion marmalade, Marmite and vegetable stock mix in 250ml boiled water – this is your stock.
Return the mushroom pan to a medium heat with 15g of olive oil, then add the flour and cook for 1 minute or until a sandy paste remains. Gradually pour in the stock, stirring frequently, and cook for 5-6 min or until thickened – this is your onion gravy.
Return the potatoes to a low heat with a knob of butter alternative, season with a pinch of salt and mash until smooth. Add a splash of milk alternative if needed. Serve the beetroot wellington with the mash , roasted carrots and beetroot to the side, then pour over the onion gravy.
Gousto has launched a new Cookstarter campaign which aims to support Britain's diverse food culture by helping independent restaurants thrive. Nominate your favourite independent restaurant here.
Register for free to continue reading
Registration is a free and easy way to support our truly independent journalism
By registering, you will also enjoy limited access to Premium articles, exclusive newsletters, commenting, and virtual events with our leading journalists
Already have an account? sign in
Register for free to continue reading
Registration is a free and easy way to support our truly independent journalism
By registering, you will also enjoy limited access to Premium articles, exclusive newsletters, commenting, and virtual events with our leading journalists
Already have an account? sign in
Join our new commenting forum
Join thought-provoking conversations, follow other Independent readers and see their replies