FASHION FEATURES
Secondhand chic: The 9 vintage shopping apps and websites you need to know
As the climate crisis rages on, Hayley Spencer rounds up the best secondhand shopping apps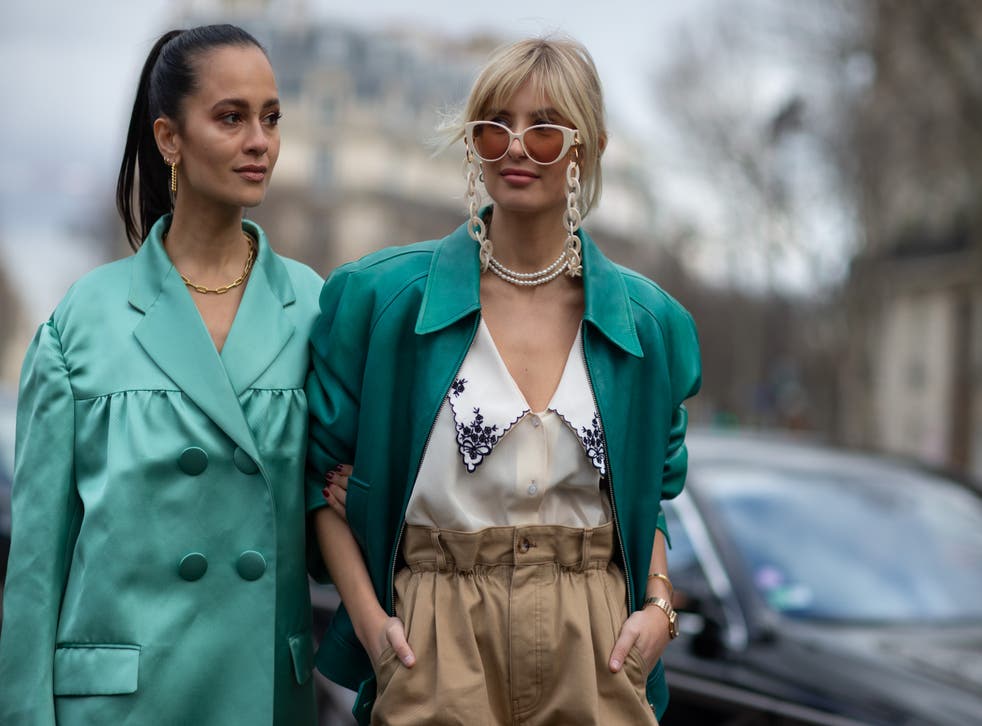 The thrill of the new needn't mean newly made. Vintage and pre-loved fashion may once have been the reserve of the thrifty, or those with a meticulous eye, but today, shopping this way is not only more in step with our more conscious mindset, it's also a better way of finding clothes that will stand the test of time, both in terms of style and quality.
It's estimated that £140m worth of clothing goes to landfill in the UK every year, so buying second-hand is an easy way to reduce your impact on the environment. Plus, instead of contributing to the fast fashion economy and ending up with a cookie-cutter wardrobe of pieces inspired by the seasonal catwalk and Instagram trends, your wardrobe will have a story to tell that's totally unique.
But vintage shopping has changed. Gone are the days when you'd have to rifle through endless rails in pursuit of a great vintage find. Today, the best and most accessible way to shop secondhand is online, either on a website or on one of the many vintage shopping apps.
Vintage stores will always clean and authenticate their items for online sales, too, so you can be sure you're getting your purchase in its best conditions. Then, with apps like Depop, you have the security of their terms and conditions to fall back on if your item isn't as advertised. Here's our pick of the best vintage apps and websites to shop now.
How does it work: Peer-to-peer lending app By Rotation saw a huge surge in users over lockdown, with a 43 percent increase in the first three months, indicating our growing passion for the borrowing model. Lenders can rent out anything from their wardrobe, and this includes hundreds of vintage items, which cost as little as £5 a day to rent.
There are terms and conditions when borrowing to ensure you showpieces the love they deserve, so they can remain in circulation for as long as possible.
What to borrow: There are some rare gems up for rent on By Rotation's app, from pony hair Fendi baguettes, to rare Dior saddle bags, seven iconic vintage Chanel bags and even a rare vintage jean Paul Gaultier satan dress from 2001. If you prefer not to trawl for your vintage rentals, you can check out the pages of specific shops like Sigrid Maria Vintage. The best part is, that unless the lender removes the item, it will always come back in stock – so there's no fear of missing out on a gem.
How does it work: Rokit started its life as a stall at Camden Market in 1986, with a selection of vintage denim, now as well as having several London stores, it's a go-to site for pre-loved fashion.  Over the past three decades, Rokit has recycled over a million tonnes of discarded clothing and accessories.
What to buy: Denim is still big business at Rokit, and as well as boasting rare pieces from the 1940s to now across high fashion, workwear and sportswear categories, it's also a destination for upcycled fashion. The Rokit team customise unwearable textiles and found fabrics into new pieces in its workshop which can be found in the Originals section.
How does it work: Items from over 900 partners are curated on this treasure trove of French girl style. The concept for Imparfaite's e-shop, by founders Ariane and Camille, was to take fashion back to the model of previous generations, who cared for and passed down their most beloved items. They promise that the selection is sourced responsibly, vetted for quality and priced fairly.
What to buy: Lovers of 1970s fashion will be at home in Imparfaite's best-sellers section which is full of Austrian Gimbal cardigans, perfectly cropped vintage Levis and chic sheepskin coats.
How does it work: Headquartered in Paris, established resale site Vestiaire Collective specialises in second-hand designer items. Its team of experts individually check, value and dispatch the items, to ensure a slicker service than most peer-to-peer sale apps. It also means you're promised authenticity if you sign up as a member.
What to buy: As well as Chanel bags, Dior dresses or early Ganni pieces, you can buy vintage homewares like Louis Vuitton luggage or retro prints from Hermes. It's a high fashion lover's goldmine.
How does it work: Arguably the most popular peer-to-peer fashion app, Depop was founded in 2011, and has garnered a user base of over 15 million registered users. 90 percent are 25 or under, according to Vogue Business, and it has a social interface to match the demographic. Users can follow each other to keep tabs on new items in their feed, and view top sellers' latest pieces on the discover page. Yes – you can get a blue tick if you have a big following on Depop.
What to buy: Due to the speed of turn-over on Depop, you have to keep your wits about you if you want to find vintage bargains – but they are there! 1990s sportswear has huge currency on the app with some top sellers offering mint condition tracksuits or bomber jackets from the era, as well as plenty of Clueless-era high street items.
Keywords are your friend when searching Depop for hidden gems, as tags are used to label items. Be sure to ask for close-up pictures to authenticate items and make sure you read reviews to avoid dupes.
How does it work: StockX is a US concept app, now available to UK shoppers. It's like a stock market for streetwear, bags, sneakers and watches. Sales are made once the bid matches the asking price from the seller. 
What to buy: The go-to for rare retro trainers from Air Jordans to Adidas collaborations. The team ensures that all styles are 100 per cent authentic by acting as a middle man to check and dispatch the items which you've won a bid on.
How does it work: Specialising in luxury handbags, Open For Vintage sources coveted vintage accessories from sellers around the world, to ensure that they remain in circulation for as long as possible.
What to buy: If you dream of getting your hands on a top condition Gucci Bamboo, 1990s Chanel quilted bag or a Louis Vuitton Speedy bag, then hit up the site's most-wanted section for prices that start at a reasonable £240.
How does it work: With an East London bricks and mortar store, this cult vintage brand also has an e-shop and Instagram with fun vintage finds starting at super affordable price points. Founder Holly Watkins seeks to reduce textile landfill "piece by piece". An ethos we can all aspire to.
What to buy: As well as contemporary pieces, the store sources more eccentric vintage items from markets, car boot sales and private sellers. Think Gucci pumps, knitted vests and woolen jackets.
How does it work: Shop one-off collections of beautifully curated vintage pieces with a timeless feel via the Retold site. As part of its conscious shopping concept, you're encouraged to subscribe to get early previews before the sales go live, so you can be sure you've considered your purchase before you make it.
If you need something specific, Retold offers a personal shopping service, as well as vintage wedding outfit shopping by owner Clare Lewis. For additional circularity, you can return the reusable muslin packaging if you can't find another use for it around your home.
What to buy: Minimalist pieces in a classic colour palette. Perfectly-cut leather trousers or trenches, cosy cableknits or gold everyday jewellery are key to the collections.
Register for free to continue reading
Registration is a free and easy way to support our truly independent journalism
By registering, you will also enjoy limited access to Premium articles, exclusive newsletters, commenting, and virtual events with our leading journalists
Already have an account? sign in
Register for free to continue reading
Registration is a free and easy way to support our truly independent journalism
By registering, you will also enjoy limited access to Premium articles, exclusive newsletters, commenting, and virtual events with our leading journalists
Already have an account? sign in
Join our new commenting forum
Join thought-provoking conversations, follow other Independent readers and see their replies