Active Cumbria
Get to grips with your adventurous side in this natural playground, says Chris Leadbeater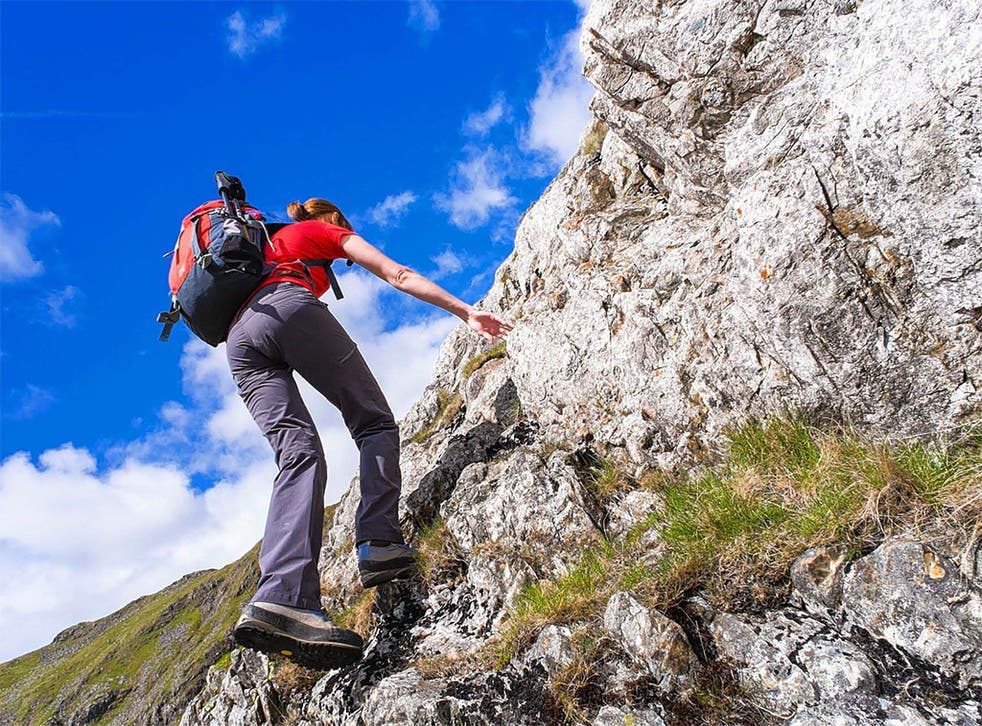 "I wandered lonely as a cloud, that floats on high o'er vales and hills," a pensive William Wordsworth mused in 1804. The great poet was describing a day of genteel strolling along the shore of Ullswater in the Lake District – and he was on the right lines.
Loneliness is not a pre-requisite for a stay in what is one of the most beautiful parts of Britain. But, with its hills and vales, the Lake District – and the wider county of Cumbria that frames it – is certainly a venue for wandering. And for cycling, hiking, horse-riding, climbing and kayaking. It's a region of huge geographical diversity, blessed with 150 miles of coastline, some 80 lakes, tarns and meres – and rugged terrain that includes Scafell Pike, England's highest peak. If you wish to visit for an active stay, here's how to do it...
On foot
Cumbria's paths and byways offer a perfect context for afternoons of unhurried ambling. Shorter options include the one-mile trail that meanders to Taylor Gill Force – a waterfall which ranks as one of the National Park's most splendid moments, plunging 140ft in the Seathwaite Valley. The route is clearly signposted from the little village of Seathwaite.
In contrast, sturdy boots and a sense of determination are required for the Cumbria Way – a noble 70-mile odyssey that commences at Ulverston in the south-west of Cumbria, and dissects the National Park – passing Coniston and Derwentwater, and slicing through the Great Langdale and Borrowdale valleys – on its journey to Carlisle. Dedicated souls should be able to manage the whole length in six days, as the way sticks largely to low ground. Precise information at bit.ly/LDwalk.
A guided hiking break may also appeal. Contours Walking Holidays (01629 821900; contours.co.uk) serves up a Best of Hadrian's Wall trip, which follows 55 of the 73 miles of ancient Rome's major British defence project of AD122-128. Participants begin at Heddon-on-the-Wall in Northumberland, and forge west to Carlisle. A six-night package – accommodation with breakfast, luggage transfers and maps – costs from £395 a head.
On water
Water, of course, dominates the picture in Cumbria, whether as the rolling breakers of the coastline, or the calmer ripples of the lakes. The latter can be enjoyed via Keswick Canoe & Bushcraft (01768 780145; keswickcanoeandbushcraft.co.uk) – purveyors of "canoe the view" excursions on the glorious Derwentwater in the Borrowdale valley. These half-day sessions cost £25 per person, and are targeted at beginners and families who want to drift softly amid the islets that famously dot this three-mile wonder.
West Lakes Adventure (01946 723753; westlakesadventure.co.uk) offers a huge range of water-based options, such as canoeing in Ravenglass estuary on the western Lake District coast, from £25 per person.
There's no obligation to power a boat using your own energy alone. The elegant image of a vessel gliding forwards in the wind is a regular sight in the Lake District – and Total Sailing (01539 447700; totalsailing.co.uk), working out of Bownesson-Windermere, holds sailing lessons on England's largest lake. These include taster days that let nervous landlubbers head out on a 32ft yacht, absorbing the basics under a qualified skipper. A half-day costs £250 for groups of up to six (£375 for a full day).
For those who want to be even closer to this liquid landscape, there is always the idea of open swimming. The Lake District National Park (lakedistrict.gov.uk) has a list of the bodies of water where swimmers are permitted, such as Derwentwater, Coniston Water, Windermere and Bassenthwaite Lake, where boat traffic is also allowed – and Rydal Water, near Grasmere, where you can unleash your front crawl in complete peace.
In the saddle
Cycling aficionados can find plenty to please them in Cumbria, whether they want to go up and down, or simply straight on. The second camp are well-catered to by the flat lanes and cycle paths that flirt with the seafront. You can choose from a series of possibilities for pedalling at bit.ly/BikeLake – such as a 21-mile route that explores the lessvisited Solway Coast in the north-west of the county, circling from Whitehaven to Ennerdale Bridge and back along quiet roads.
The same link offers challenges for those intent on stretching their sinews on stern gradients. The Skiddaw Loop is a 17-mile test for mountain bikers that starts and ends in Keswick, darting around the 3,054ft outcrop of the Skiddaw massif, the fourthhighest English peak.
But then, saddles do not always come with wheels. Cumbrian Heavy Horses (01229 777764; cumbrianheavyhorses.com) deals in the four-legged version of saddle-based motion. Located in Millom, this operator dispenses horseback treks through the Whicham Valley and down to the sea for breezy canters on the beach – £135 for a halfday, £180 for a full day, prior experience essential.
In the air
Those with a head for heights can indulge their passion in Cumbria. Napes Needle, a spire of rock that rears above Wasdale, has muchrevered significance – its conquest by the daredevil Walter Parry Haskett Smith in June 1886 was supposedly the moment of birth for mountaineering in England. It remains a tough opponent, for experts only. Details are at bit.ly/NapesN – which also suggests some easier climbs.
Stiff nerves of a less advanced variety are demanded in Brockhole, on the east side of Lake Windermere – where Treetop Trek (01539 447186; treetoptrek.co.uk) provides a high-ropes course that inspires sure-footed glee in children and dizzyness in their parents. The bravest can face a selection of hanging and swinging obstacles in an oak canopy, with a 250m‑ long zipslide to the finish line. Adults £19, children £16.
Glancing down however, is all part of the fun if you sign up for Cumbria's loftiest leap away from terra firma. Tucked away at Berrier, near Penrith, Roger Savage Gyroplanes (01768 483859; rogersavage. co.uk) specialises in unconventional airborne adventures via gyrocopter – an outlandish aircraft that uses an unpowered rotor to develop lift while being pushed along by an engine-driven propellor. It needs little room to take off, but can cover surprising distances. Dual.control models are available for hire, meaning that, with a qualified copilot, novice flyers can swoop and soar on their first day in the clouds. Flights last 30, 60 and 90 minutes (£100, £170 and £250 respectively), with the latter being time enough for a dash to Hadrian's Wall.
For more details see golakes.co.uk; or head to this useful shortcut to the transport section: bit.ly/GoLakes
Register for free to continue reading
Registration is a free and easy way to support our truly independent journalism
By registering, you will also enjoy limited access to Premium articles, exclusive newsletters, commenting, and virtual events with our leading journalists
Already have an account? sign in
Register for free to continue reading
Registration is a free and easy way to support our truly independent journalism
By registering, you will also enjoy limited access to Premium articles, exclusive newsletters, commenting, and virtual events with our leading journalists
Already have an account? sign in
Join our new commenting forum
Join thought-provoking conversations, follow other Independent readers and see their replies