Foodies throw pizza dough at top of Mount Snowdon to raise money for cancer sufferers
PizzaExpress managers continue chain's multimillion fundraising effort for cancer charity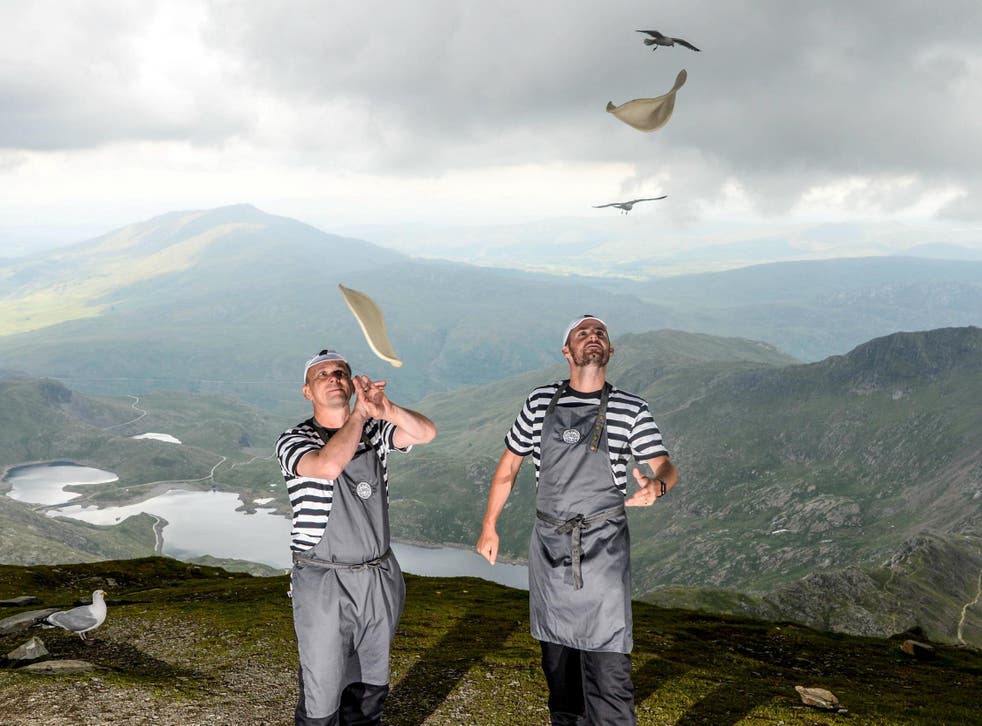 Pizza making has reached new heights after two restaurant managers flared dough at the top of Mount Snowdon.
Darren Gray and John Henderson-Smith have taken part in the five peaks challenge for charity, not once but twice.
Upon reaching the summit of Wales' highest mountain, the PizzaExpress foodies primed the pizza base to celebrate the chain's £2m fundraising efforts for MacMillan Cancer Support.
Believed to be the highest ever performed, their throwing of the dough was captured on camera against the scenic backdrop.
As well as Snowdon, the five peaks include England's Scaffel Pike, Scotland's Ben Nevis, Northern Ireland's Slieve Donard and Ireland's Carrantouhill.
Paddleboarding in Snowdonia

Show all 4
The trek took the pair six days – seeing them cover 66.8 miles and reach altitudes of 4,953 metres. They hope to raise upwards of £10,000.
Darren Gray, who manages the Gretna Gateway store at PizzaExpress, said: "I lost my dad, uncle and grandpa to cancer all within six months, which was devastating for the entire family.
"Macmillan and its team were amazing during this time, so raising money for such vital charity means so much to me on a personal level and doing so in such beautiful surroundings makes it even more poignant.
"I'm so proud to play a role in this £2m milestone celebration for PizzaExpress."
John Henderson-Smith, manager of the PizzaExpress store in Glasgow Byres Road, said: "I feel so fortunate to have completed the 10 peaks challenge.
"It's one of the hardest things I've ever done but it's nothing compared to what cancer sufferers and their families go through.
"To have been involved in this and to have shared it with Darren is something I'll never forget."
Sally Hill, partnerships manager at Macmillan Cancer Support, said: "We're extremely grateful to Darren and John, and everyone at PizzaExpress for raising £2m to help improve the lives of those living with cancer.
Small town bakery in Australia launches a doughnut coffee cup
"This money could support 36 Macmillan nurses for an entire year.
"Our funding is raised almost entirely by donations, so supporters are crucial in enabling us to continue our work."
You can help raise money for Macmillan by enjoying a slice of Padana at your local PizzaExpress or by texting DOUGH to 70550.
SWNS
Register for free to continue reading
Registration is a free and easy way to support our truly independent journalism
By registering, you will also enjoy limited access to Premium articles, exclusive newsletters, commenting, and virtual events with our leading journalists
Already have an account? sign in
Register for free to continue reading
Registration is a free and easy way to support our truly independent journalism
By registering, you will also enjoy limited access to Premium articles, exclusive newsletters, commenting, and virtual events with our leading journalists
Already have an account? sign in
Join our new commenting forum
Join thought-provoking conversations, follow other Independent readers and see their replies