Exploding Kittens: a "highly strategic, kitty-powered version of Russian roulette"
A crowdfunding success story has seen a simple card game raise a massive $7m in a matter of weeks. Jackie Bischof reports on the Exploding Kittens phenomenon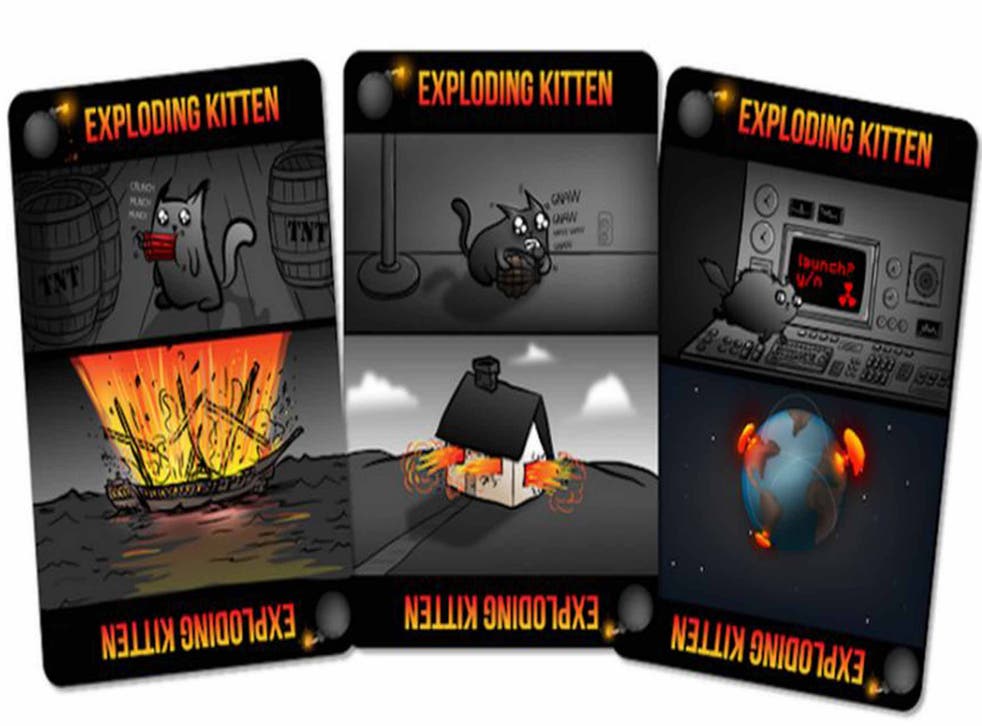 The internet loves cats. Games with explosions, too. And everyone loves a good card game. So what happens when you combine the three? Crowdfunding mania.
Exploding Kittens, by game designers Elan Lee and Shane Small, with illustration by Matthew Inman, has blown up on Kickstarter. Since the campaign launched on 19 January, Exploding Kittens has attracted more than 120,000 backers, who have contributed more than $5m to a game they have never seen, breaking the record for the campaign with the most backers on the fundraising platform (beating projects to finance Reading Rainbow libraries and a Veronica Mars movie). Exploding Kittens passed its initial goal of $10,000 in the first eight minutes of the campaign. It was 1,000 per cent funded in the first hour. "We're in totally crazy territory here," says Small.
Despite the fact that Lee and Small are long-time game designers and Inman has a cult following for his comics site, The Oatmeal, the trio seem taken aback by its success. The three of them have never even been in a room together and are only now contemplating their first in-person meeting.
Lee and Small live in Los Angeles and have known each other for more than a decade. Their first project was an interactive clothing line called Edoc Laundry, launched in 2005, which embedded clues to a murder mystery in each article of clothing. (CSI: New York based an episode on the premise.) They then had stints at Microsoft, developing interactive movies and shows for the Xbox game console. After that division was shut down, Small approached Lee about an idea he had for a game, originally called Bombsquad.
The game required enough skill and strategy to get people excited, but they agreed it lacked something. While on holiday with a mutual friend in Hawaii, Lee was coerced to test out the game with fellow holidaymakers, including Inman. It didn't take long for the illustrator, who has made a name for himself with his sardonic takes on everything from the word moist to the correct usage of the semicolon, to offer exploding kittens as an alternative to bombs.
"That's the hook," Small recalls thinking. "People love kittens and people like explosions. Putting them together just in itself was funny." Before they could seek funding, the team wrestled with how the kittens would die. Initially, the fatal feline was a suicide bomber who killed with malicious intent. Eventually the cats evolved into animals that killed just by being, well, cats. "I've been designing videogames professionally for a decade now and never in my life did I ever think I would mutter the words: 'Guys, what's the kitten's motivation?'" says Lee. "That was the kind of conversation we had about this thing, day in and day out, until we finally cracked it."
The game is essentially a "highly strategic, kitty-powered version of Russian roulette", in which players try to avoid drawing a card that has a cat innocently set off an explosion by walking across a keyboard and launching a nuclear bomb, or chewing a grenade.
The cats can be defused with catnip sandwiches, a laser pointer or belly rubs, or diverted with "action cards" that involve the powers of back hair, goat wizards, magical enchiladas and other "non sequiturs" Inman says he's been keeping on the back burner for years.
Despite the team working "so hard to make sure that people didn't think we were actually exploding kittens", says Lee, they still get at least two letters a day from animal advocacy groups checking that they are not promoting kitten bashing, or bombing. "Unless there's an animated branch of [animal rights group] Peta that is very sensitive to destroying cartoon cats, I think we're OK," says Small.
Why cats and not dogs, or panda bears? Inman, whose riffs on animals have included "How to Tell if Your Cat Is Plotting to Kill You" and "My Dog: The Paradox", says cats have the "same demeanour and attitude and habits of a full-grown big cat" like lions and tigers, but are small enough to own, which makes for an interesting dynamic with humans.
Small, who moved to the US from South Africa more than a decade ago, knows too well the emotional pain cats can inflict. He was frequently spurned by his rescue cat, Jet Packerson, who instead sought attention from Small's dad, a complete "dog guy".
"When you save an animal from certain death and then it ignores you and goes to the very person that hates cats, that can scar you," says Small. He insists, though, that the game is not his way of getting back at cats' capriciousness. Exploding Kittens follows a trail blazed by Cards Against Humanity, another game that got its start on Kickstarter, in early 2010, and has had phenomenal success. Before the team launched their Kickstarter page, Lee reached out to Cards Against Humanity co-founder Max Temkin for feedback. He proved more than forthcoming, offering advice, resources and logistical support. "I talk to them at least twice a day," Lee says.
Temkin's Chicago-based company is a big advocate of self-publishing and a distribution model buoyed by the support of a community before a product is produced. Its approach subverts the traditional game development steps: find a publisher to oversee the project which then takes a percentage of the profits.
Temkin believes the success of physical games such as Cards Against Humanity and Exploding Kittens points to people's desires to get away from computer screens and interact with each other. Plus, games like this offer the opportunity for "benevolent betrayal", as Inman puts it. "I know that sounds terrible, but it's the most fun for me in a card game. You [get to] ruin your friend's life in a small way while having fun with them at the same time."
The Exploding Kittens team initially requested a quote for a print run of 1,000 packs of cards. Now they have more than 120,000 backers, who will receive at least one deck in exchange for their support. "I [am] cowering under my desk and hoping that we can somehow turn off the spigot," jokes Lee.
Lee says the project is doing so well that he returned a few million dollars of investment capital to start what he thought would be his next big venture, a TV studio. Instead, he's going to focus on Exploding Kittens.
© Newsweek
Join our new commenting forum
Join thought-provoking conversations, follow other Independent readers and see their replies