How We Met: John Malkovich & Bella Freud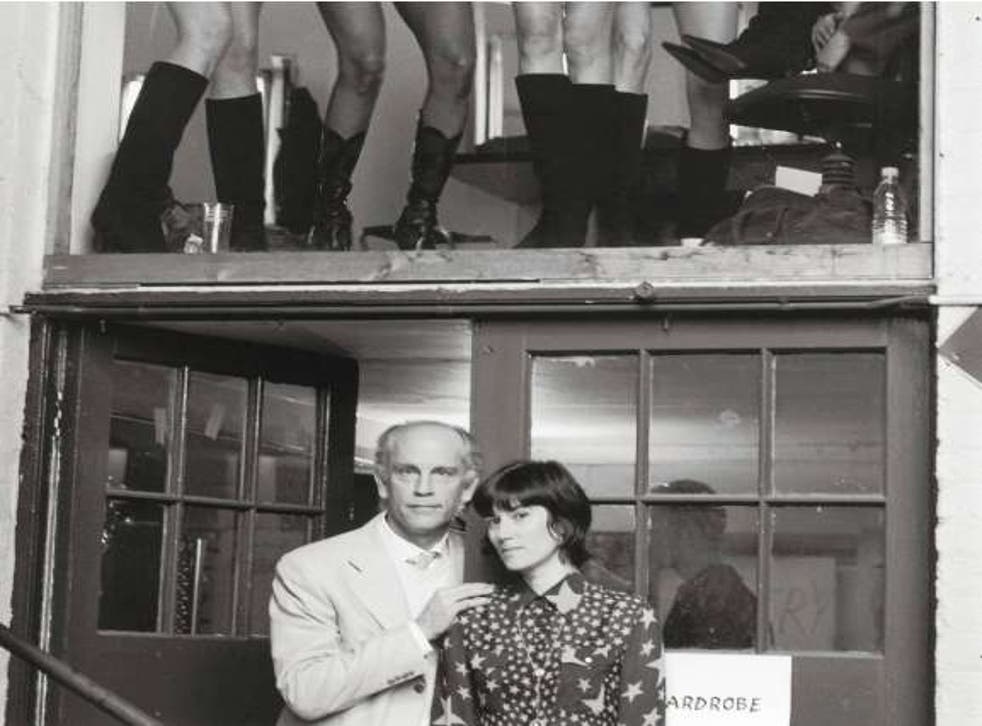 John Malkovich, 54, is a twice Oscar-nominated actor best known for his roles in Dangerous Liaisons and Being John Malkovich. His production credits include Juno, Ghost World and The Libertine. He lives in Boston, Massachusetts, with his partner and two children
I already knew Bella's husband, but the first time I properly met her was in my daughter's godfather's house in Galicia. We have a few friends in common and he had organised a dinner and invited a load of people round. I was sat next to Bella and we ended up talking the whole night.
A year or two later, in 1999, she phoned to ask whether I would direct a short fashion film for her, as she had decided she didn't want to do a runway show for her collection. She came to see me in Paris. I was doing a movie there and was really busy, so had no intention of doing anything but listening, then recommending someone. But in the end I liked Bella so much – she is so odd and funny and unique – that I found myself agreeing to do it.
We eventually settled on doing something based on a story I'd read. It was about a Japanese man who had become so worried about tsunamis that he invented rubber underpants that inflated if they ever got hit by a wave. Accidentally they became unhinged on the subway in Tokyo and injured a whole bunch of passengers. It was called Strap Hanging and we wrote, conceptualised, shot and edited it together. She has an incredible eye for spotting people and cobbled together, on virtually no budget, an amazing cast – Devon Aoki, Saffron Burrows, Kelly Macdonald.
We had the most fantastic time making it, so we did a second film called Lady Behave and then a third called Hideous Man, based on someone I knew who moved to LA and felt bitter that he was not appreciated there in the way that, say, Richard Gere is. We made them all really quickly – about two or three days each.
We haven't made a film now for a while but we've stayed close. We talk on the phone and I try to see her whenever I can.
Bella is really dreamy and really quite odd: she has a very singular view of things. I like her eye for things, her ability to find people who do odd things and her totally original vision. We both love fashion and always tell each other if we've come across this fabric or that button-maker. I would absolutely love to do a fashion line with her one day. We talk about it often.
Bella Freud, 46, is a fashion designer. The daughter of artist Lucien Freud, she studied fashion in Rome before working for Vivienne Westwood. She set up her own fashion line in 1990. She lives in London with her husband and son
I met John more than 10 years ago at a dinner. I remember he said to me, "What do you do?" And I said, "I'm a fashion designer," and he said, "Yes, I know that, but exactly what are you working on?" I was so surprised and utterly delighted.
A couple of years later I decided I wanted to make a fashion film. I had a plan to do something with Sam Taylor Wood. I remember reading my horoscope, and it said that everything will go wrong, but then it will all go right better than I could imagine. That very day I got a call from Sam saying she wasn't able to do it. Instead of panicking, I had an optimistic feeling about it. I started ringing around my friends and one of them said to me, "Why don't you ask John Malkovich?" As soon as they said his name, I knew he was the one.
I went to Paris to meet him, little knowing he was meeting up to tell me he couldn't do it. John had planned to suggest Spike Jonze do it, but I said it had to be him. Suddenly he just said, "OK, I'll do it." He worked out that he had 48 hours between two films he was making. So we spent one-and-a-half days shooting then went straight into the edit suite. He is an amazing editor. He just has this ability to reach into the film and pluck bits out and piece together a story. He was brilliant.
Our second film was a bit more organised. I went to stay with him in the South of France to discuss the storyline. I remember sitting on the terrace of his house with all these rose bushes growing in the nearby field, and then driving out to the local town in a red sports car listening to the Righteous Brothers and thinking I'd died and gone to heaven.
Unlike many Hollywood stars, John isn't surrounded by assistants. He doesn't even have a PA. When he is working on something he tends to turn off his phone and disappear. But I always trusted him. There's something very good and true about him. He doesn't tolerate the empty, vacuous promises of Hollywood.
He is also incredibly kind-hearted. One time he came all the way from France for a screening of one of our films and on the night the tapes got mixed up and the film came out all pixilated. I thought it was a disaster, but he just let it ride. He's very magnanimous in that way.
I think of John as being like a great big lion who sits around benignly and every now and then flicks his tail and you feel this quake of fear. It's like there's a huge cavern underneath him of other stuff. Every time he rings me up and I hear his amazing voice, my spirits soar.
'Strap Hanging' screens as part of the Birds Eye View Festival, which runs from 6 until 14 March. For further information, see www.birds-eye-view.co.uk
Register for free to continue reading
Registration is a free and easy way to support our truly independent journalism
By registering, you will also enjoy limited access to Premium articles, exclusive newsletters, commenting, and virtual events with our leading journalists
Already have an account? sign in
Register for free to continue reading
Registration is a free and easy way to support our truly independent journalism
By registering, you will also enjoy limited access to Premium articles, exclusive newsletters, commenting, and virtual events with our leading journalists
Already have an account? sign in
Join our new commenting forum
Join thought-provoking conversations, follow other Independent readers and see their replies