Lewis Hamilton cruises to victory in Abu Dhabi to end season in style
Hamilton's win under the lights of the Yas Marina circuit was the 11th of his championship-winning year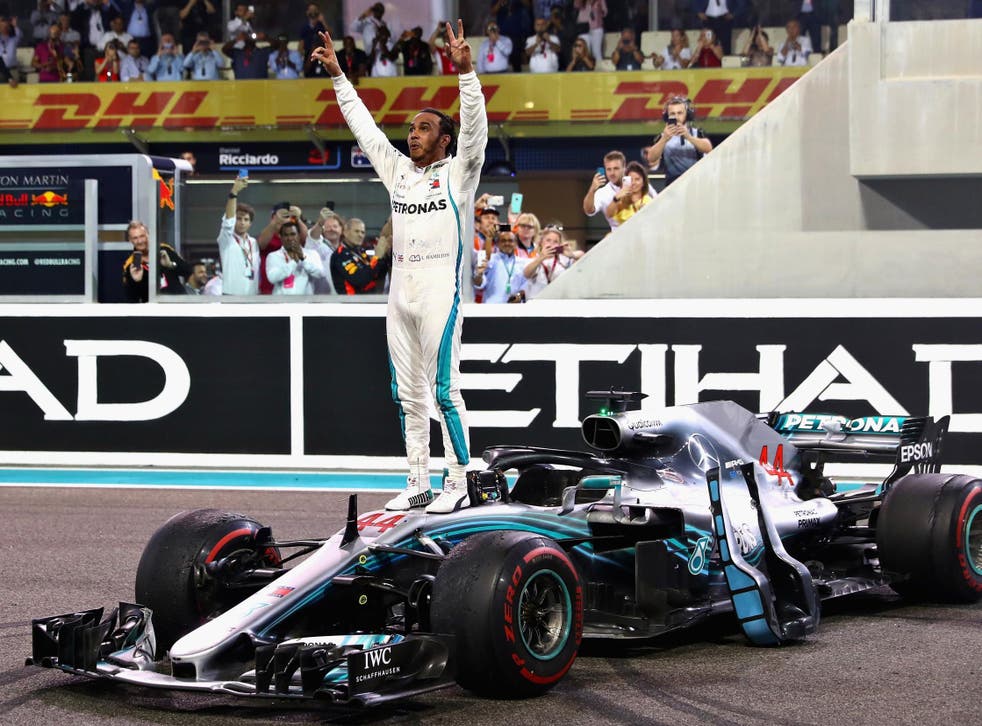 Lewis Hamilton won the 73rd grand prix of his career to move within 18 of all-time leader Michael Schumacher, but the most exciting part of the 10th Abi Dhabi may have been the triple donut show that he, runner-up Sebastian Vettel and the retiring Fernando Alonso performed in front of the pits on the slowing down lap.
It looked as if Hamilton was in for a tough afternoon when, having led the first six laps, Mercedes took advantage of a virtual safety car deployment – after Kimi Raikkonen's Ferrari rolled to a halt on the pit straight with a loss of power – to pit him for a set of fresh supersoft Pirelli tyres. Once again the world champion was faced with running longer than any of his rivals on the same set of tyres.
That dropped him to fifth place behind team-mate Valtteri Bottas, Vettel and the Red Bulls of Daniel Ricciardo and Max Verstappen.
Hamilton briefly overtook the Dutchman on the eighth lap, but the Mexican GP winner soon repassed him on his softer compound tyres.
"Our engineers always say about stopping early but sometimes the tyres don't last," Hamilton said, "so I was wary. But once again they were calculating and correct and they did last all the way. But they didn't feel very good early on when the fuel load was still quite high."
That meant that he had to run a canny race, looking after his rubber rather than pushing hard.
"There are quite a lot of races where we are not able to push to the maximum because the tyres just overheat, but that's been the name of game for quite some time," he explained, and once again that was the case here.
Vettel pitted on lap 15, Bottas on 16 and Verstappen on 17, which promoted Ricciardo to the lead. The Australian, in his last race for Red Bull, then stayed in front, though some rain on the main straight on laps 24 to 27 enabled Hamilton, who by then had risen to second as his rivals pitted, cut a 6.9s gap on lap 23 down to 2.9s just before Ricciardo finally pitted on the 33rd.
Back in the lead, Hamilton then focused on conserving his older tyres, with Vettel pushing after Bottas. But the Finn was fading fast and the Ferrari blew past him on the 35th lap after Bottas locked up in Turn 5. Soon the second Mercedes had also been swallowed by Verstappen's Red Bull, on lap 38, and then Ricciardo's when Bottas pitted for a new set of ultrasoft tyres a lap after that.
Now the Red Bulls were the challengers and both drivers turned in some very quick laps as they began to put Vettel under pressure. Up front Hamilton went just fast enough to maintain a decent gap of around five seconds, but just as the quartet began to close up Verstappen started to lose pace as his tyres went off, and Ricciardo's gallant recovery did not enable him to get closer than 2.2s by the finish.
In the end it was Vettel who put Hamilton under the most pressure, which was apposite given the intensity of their season-long battle. But 2.5s was more than sufficient for Hamilton to move within 18 victories of Schumacher as he took his 11th win of the season.
He started celebrating with donuts out on the track and was joined by Vettel. When they got to the main straight Alonso, who finished 11th, just outside the points after receiving three five-second penalties for deliberately leaving the track and gaining an advantage, made it a smoking threesome as he prepared to leave the F1 arena.
"I'm so happy right now," Hamilton beamed, mercifully free of the over-attentive, camera-hogging Will Smith who had almost caused a drama being very late to leave the starting grid. "It's been a real honour and privilege racing against Sebastian. I've known him since our F3 days and he's an honest, hard-working racing driver and he's raced his heart out. Never look at our shortcomings as anything other than us giving our best.
"As for Fernando, he's a true legend and it was a privilege to race against him. Before I was able to do that I was always admiring what he achieved. I don't usually miss other drivers but the sport will miss him, and I definitely will, too."
Vettel was equally gracious as the pair of them celebrated a hard-fought season.
"He's the champion and he deserves to be the champion," he said of his arch-rival. "It's been a tough year, and today I tried everything until the very last lap. I enjoyed catching him a little bit, but I think he always controlled the pace. It's been a long year with a lot of races, so congrats to them. Our whole team will try to come back stronger give him a harder run next year.
"And well done, Fernando. The last years have been very tough for him, but we'll miss him."
Behind the top four, Bottas was a distant fifth ahead of Carlos Sainz in the surviving Renault. The Spaniards' team-mate Nico Hulkenberg had provided the initial drama with a first-lap incident in which his Renault was flipped over after contact with Romain Grosjean's Haas.
Fortunately, though his upturned car caught fire briefly and he was initially unable to extract himself because of the constraints of the halo safety device, the German was recovered by the marshals and eventually emerged shaken but unharmed.
Hamilton revealed that he had had an unconventional weekend, which included hanging out with Smith and filming with him up until 10 minutes before the start.
"Yesterday morning we were filming something with Fifa, and this morning some stuff with Will. He's the original hypefest and brings a lot of energy. He's like a big brother to me, and filming just before I got into the car completely changed my pattern, but I got a great start and after that it was really standard, expecting nothing but perfection. I always said that I wanted to finish the season in a high, so I'm very happy to have done that."
On the podium he bared the tattoos on his back and pointed to one particular inked message as Vettel and Verstappen cooled him with a 'champagne' shower. It was the one that referred to Maya Angelou's poem, Still I Rise.
All through the 2018, there was never any doubt of that.
Register for free to continue reading
Registration is a free and easy way to support our truly independent journalism
By registering, you will also enjoy limited access to Premium articles, exclusive newsletters, commenting, and virtual events with our leading journalists
Already have an account? sign in
Register for free to continue reading
Registration is a free and easy way to support our truly independent journalism
By registering, you will also enjoy limited access to Premium articles, exclusive newsletters, commenting, and virtual events with our leading journalists
Already have an account? sign in
Join our new commenting forum
Join thought-provoking conversations, follow other Independent readers and see their replies