Australian Grand Prix: Sebastian Vettel trumps Lewis Hamilton to win season-opener and prove Ferrari's credentials
The German leapfrogged his rival at the first round of pitstops and never looked back as he took victory in the first race of the 2017 season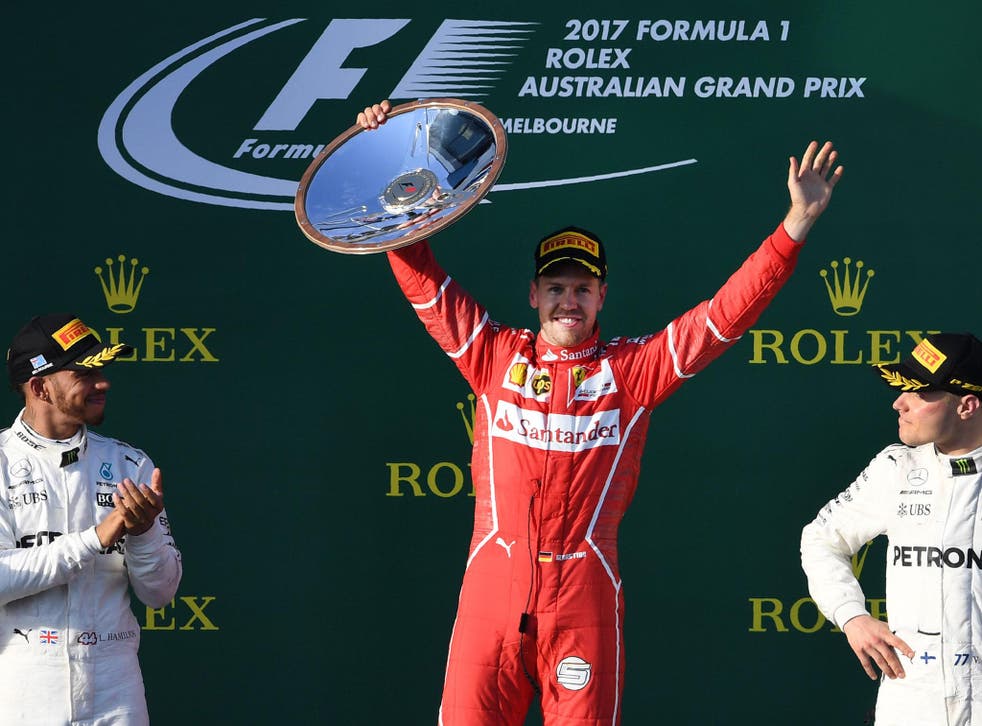 Sebastian Vettel and Ferrari proved conclusively that their testing form was no fluke, when the German scored a crushing 9.9s victory over the Mercedes of Lewis Hamilton and Valtteri Bottas in Albert Park.
Once he had taken the lead on the 18th lap, when Hamilton made his sole pit stop, Vettel owned the race and controlled it as he pleased. At times his lead fluctuated as he lapped slow cars, but from the moment he went ahead he never looked remotely like losing.
After the first start had to be aborted after confusion over some cars' grid positions, it was Hamilton who led away comfortably, with Vettel slotting in ahead of Bottas, as his own team-mate Kimi Raikkonen narrowly fended off Max Verstappen's Red Bull.
The 2017 Formula 1 grid

Show all 20
There was disappointment for the home fans even before that point, when Daniel Ricciardo's Red Bull rolled to a halt out on the track on his grid formation lap, after a faulty sensor jammed it in sixth gear. The team got it back to the pits in time for him to join the race on th second lap, and he ran at the back until suspected Renault engine failure claimed him at half distance.
Up front, Hamilton kept Vettel at bay quite easily to begin with, though the Ferrari was always within striking distance. But as his ultrasoft compound Pirelli tyres began to wear, Hamilton struggled. He was the first of the front-runners to pit, on his 17th lap. And that was the point at which Ferrari took control because, compounding Mercedes' problems, Hamilton rejoined behind Verstappen and was unable to overtake him.
Told he needed to overtake the Dutchman, he replied trenchantly: "There is no way I am going to get past this guy."
Vettel, meanwhile, ran until the 22nd lap before pitting to switch, like Hamilton, from the ultrasoft to the soft tyres. Mercedes boss Toto Wolff angrily slammed his fit on to a desk as the red car emerged from the pits before Hamilton could regain the initiative.
Last year Ferrari lost this race through poor strategy; this time there was no way they were going to let a crucially psychological victory slip away once they had their hands on it.
Worse still for Mercedes, Hamilton had to wait until Verstappen pitted on another here laps later, so by the time he had clear track to Vettel, the Ferrari was nearly six seconds up the road. It proved too much.
Hamilton was also having to watch his mirrors as team-mate Bottas, destroyed on pace in the opening stages, was now getting a second wind. And Hamilton was further troubled by intermittent power surges, and it was soon evident that the writing on the wall was written in Italian as he had to focus on keeping up what pressure he could while also fighting a rearguard action.
"I got a really good start, but after that struggling with grip from the get-go," Hamilton said. "Seb was always able to answer in terms of lap time. Towards the end of the stint the car started to eat the tyres to point where I needed to come in as it was sliding around.
"Then I got stuck in traffic, which was unfortunate. But congratulations to Seb and Ferrari; this has been a long time coming, and shows we have a race on our hands - which we are happy to have."
It wasn't a great race for the lead, or indeed for anything other than 10th place, where a really hot scrap between Fernando Alonso's unloved McLaren Honda, Frenchman Esteban Ocon's Force India and German Nico Hulkenberg's Renault. Lap after lap Alonso used his class to keep his underpowered car ahead, until suspension failure enabled his rivals to mug him on the 52nd lap.
The upset result will resonate with fans across the globe who have been hoping to see a change at the top, and Vettel was ecstatic about his 43rd career victory.
"Of course I am over the moon, after such a hard winter. At the start I was a bit too nervous and had too much wheelslip off the line, then I had to take care of Valtteri. After that I tried to keep the pressure on to make sure they [Mercedes] get the message that we are here."
And he raved about the new cars.
"You can push them much harder. Last year you could do that for the first couple of laps, then the tyres would drop off. They still do a bit, but now you can keep pushing and with the harder tyres there is hardly any degradation so it's really good fun. I felt like I could have kept going forever."
Register for free to continue reading
Registration is a free and easy way to support our truly independent journalism
By registering, you will also enjoy limited access to Premium articles, exclusive newsletters, commenting, and virtual events with our leading journalists
Already have an account? sign in
Register for free to continue reading
Registration is a free and easy way to support our truly independent journalism
By registering, you will also enjoy limited access to Premium articles, exclusive newsletters, commenting, and virtual events with our leading journalists
Already have an account? sign in
Join our new commenting forum
Join thought-provoking conversations, follow other Independent readers and see their replies