Lewis Hamilton equals Michael Schumacher's all-time record with pole position for Belgian Grand Prix
The triple world champion, competing here in his 200th race, delivered a dominant performance to soar to the top of the order at Spa-Francorchamps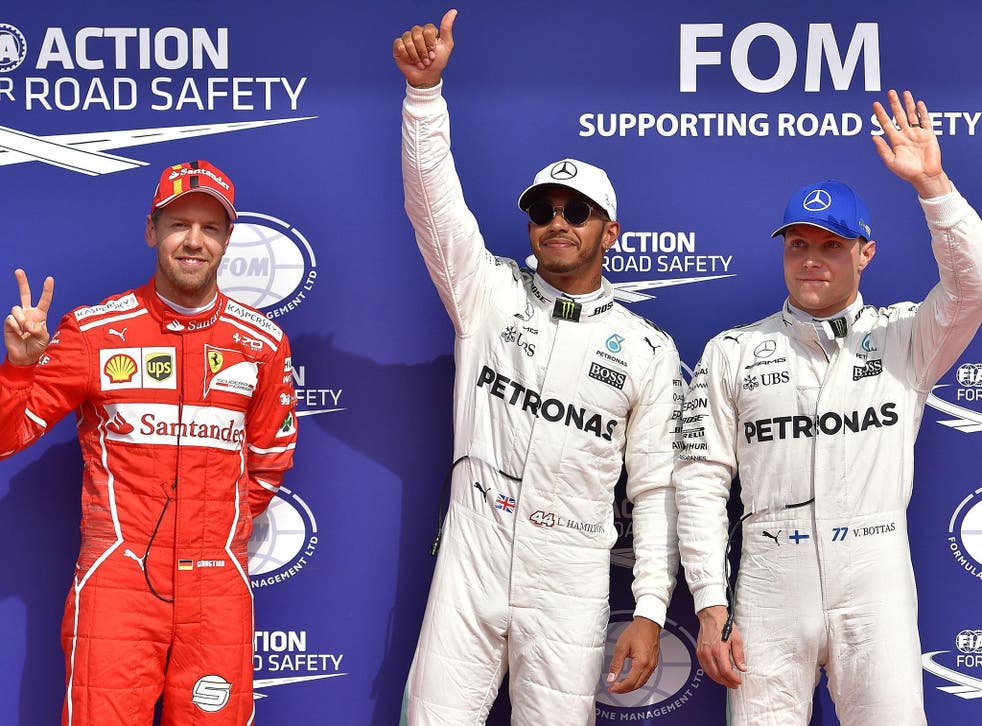 He was driving, he said, the car of his dreams, and the manner in which Lewis Hamilton pushed it round one of the greatest tracks in motor racing history this afternoon was indeed the stuff of which they are made.
Mercedes had a clear advantage here on Friday, but on Saturday morning they went the wrong way on set-up and lost their edge to arch-rival Ferrari. But when the chips were down and everything was at stake in qualifying, Hamilton was at his untouchable best. He was fastest in the first two sessions, and nailed it again on both his runs in the crucial third. And in wresting back the initiative, he finally equalled Michael Schumacher's all-time record of 68 pole positions.
"It's a special day, definitely," he admitted, sounding a trifle overwhelmed. "I knew it was on the horizon, of course, and that at some stage I would be there, but I haven't thought about it much, and haven't applied any pressure on myself because of it. But now, being there… It's an unusual place to be.
The 2017 Formula 1 grid

Show all 20
"I remember in my first grand prix I ever went to here in 1996, watching Michael come by where I was standing in Turn 1, and the engine was roaring, it was just incredible. My love for the sport took another step. Now to equal his record of poles is very surreal, especially as Michael is such a legend. It was an unbelievable feat that he achieved, and I'm very proud to be up there."
Hamilton's second lap in Q3 was his best. On his first run he had managed 1m 42.907s, pushing Kimi Raikkonen down to second with 1m 43.270s. At that stage, Sebastian Vettel was only fourth with 1m 43.426s after an indifferent lap. Then Hamilton improved on his second run to 1m 42.553s, which was just as well as Vettel made a big jump to 1m 42.795s to join him on the front row of the grid.
"It wasn't just a special lap on my behalf," Vettel admitted, as he crucially pushed Mercedes' second driver Valtteri Bottas down a place; "I had a little bit of help from a friend."
Raikkonen had aborted his second run after making a mistake and was heading home when he espied his team-mate in the mirror.
"Kimi had to abort and was very generous giving me a tow in the last sector, and that got me two tenths," Vettel revealed. "Usually it's one of those things you can't really plan, and it was very spontaneous. On my first lap in Q3 I was missing a little the feel for the front end, so I was very happy with that last lap, otherwise it would have been very close with Valtteri. Kimi had made his mistake, and we were lucky with where we were positioned as he was cruising back to pits. He saw a saw red car in the mirror and handed me a tow, which was quite nice.
"It's tricky to get turned in to the last corner when you've had a tow, because braking can be tricky, but I got it over the finish line, which was useful."
That was an understatement; had both Mercedes started ahead of him he would have had more to do in a race that can be both long and unpredictable here, though the forecast is at least for a dry one which should help everyone.
Hamilton equalled Schumacher in style, as his best lap was 4.2s faster than the 2016 pole thanks to the new regulations brought in for 2017.
"This is a medium to high downforce circuit, and the engine is more powerful for all of us, we have a lot more downforce this year so we go through the corners so much faster," Hamilton said by way of explanation. "Plus it's a longer circuit, with long straights, so the speed difference is a combination of all that. It always feels amazing round this track, but to have the set-up I was able to work out with my engineers, to achieve the balance we had and be able to lean on the car so much, was such a feeling. Turn 10, Pouhon [a double left-hander] was nearly flat, which was insane. I've definitely never experienced that in my time in F1. Like Ricky Bobby, you just want to go faster."
Things have occasionally been tense between the two title contenders this year, but not this day. Both were relaxed, ready for the morrow's battle. Vettel spoke eloquently of his new three-year contract extension with Ferrari, signed today.
"I love this team," he said. "The people that are working for this brand, the effort that goes into building an F1 car, I believe Ferrari has something unique that other teams don't have. People talk about a legend, and it appears to me this legend is still alive because of the people who work for it. You walk down the streets of Maranello, and the presence of Ferrari is huge, but when you see and meet the people working there it is even bigger.
"The passion for the brand they carry inside them is what allows each and every one of them to go an extra step for it. That's my conviction. In a way it was a no-brainer to continue because we have not yet achieved what we want to, and obviously it's a long road ahead. But the mission is still ongoing. I want to win in red, everybody in Ferrari now wants to leave their own footsteps."
And Hamilton was drawn into acknowledging that, just as Schumacher had once inspired him here, so his own performances will inspire those who are to follow.
"I haven't really thought too much about it, but I guess it is the case, some kid here now may one day be sitting here as a grown up," he conceded, as if considering the notion for the first time. "It's amazing, a real privilege for all of us to be up here. I guess kids and adults are looking to us for inspiration in their daily lives and in setting goals. I try to put out positive energy, because success comes with a real positive frame of mind. It's easy to get negative, but most important is to wake up and get that positive energy, wherever it comes from, and then apply it. We are all born with opportunities to do something special, so it's all about finding that and doing something with that positive energy."

Register for free to continue reading
Registration is a free and easy way to support our truly independent journalism
By registering, you will also enjoy limited access to Premium articles, exclusive newsletters, commenting, and virtual events with our leading journalists
Already have an account? sign in
Register for free to continue reading
Registration is a free and easy way to support our truly independent journalism
By registering, you will also enjoy limited access to Premium articles, exclusive newsletters, commenting, and virtual events with our leading journalists
Already have an account? sign in
Join our new commenting forum
Join thought-provoking conversations, follow other Independent readers and see their replies