Brazil Grand Prix: Lewis Hamilton looking to heap pride onto his world championship victory at Interlagos
The Brit is looking to add a 10th victory of the season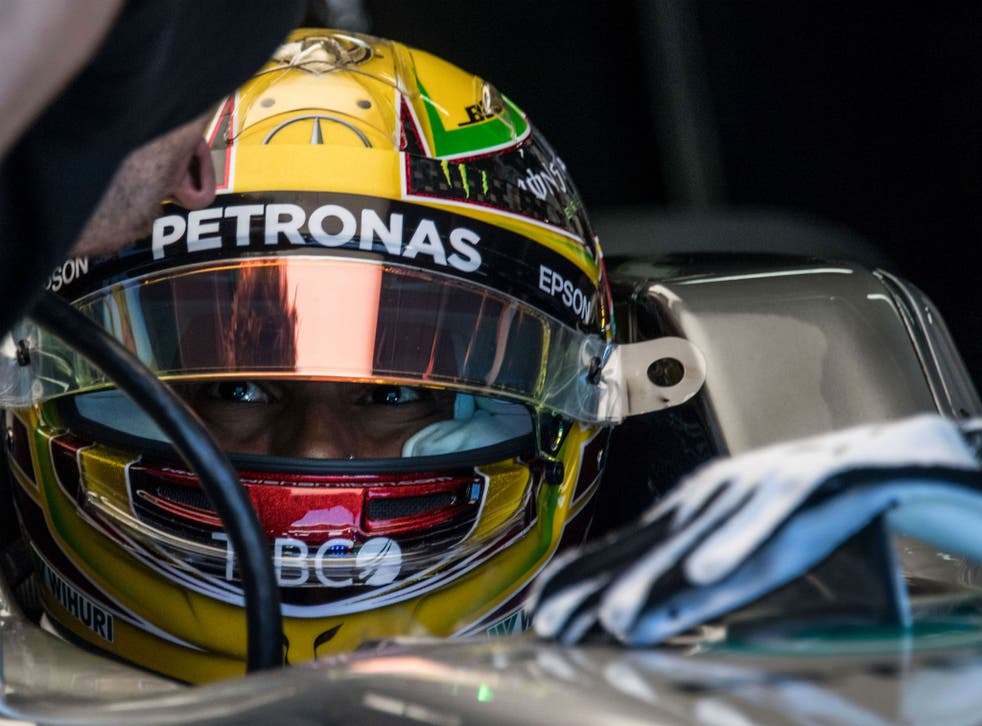 The major battles have been won, with Lewis Hamilton and Mercedes taking both championship titles, but there is one significant commodity that still matters here in Interlagos: pride. Hamilton wants a 10th victory in his great season.
Sebastian Vettel wants a fifth, to salvage something for a disillusioned Ferrari team. Max Verstappen just wants another triumph, because winning is fun for the upstart Dutchman.
Daniel Ricciardo desperately needs one, to remind everyone that Verstappen isn't the only guy who can win for Red Bull.
Valtteri Bottas, likewise, needs one to remind people that he won twice early in the season before Hamilton put his campaign into reheat.
And Kimi Raikkonen… Well, Kimi can have his dreams too, can't he? Even of a victory for him might be more of a stretch than for the other five.
Bottas recently said he has come to realise just how hard Hamilton has worked for all his titles with Mercedes, not just on track but back at the factory. And in the debriefs and in all sorts of little ways that aid the bonding process and the fluidity of his relationship with a team that not only knows how to win, but how to do it without the apparent arrogance of Ferrari, and their empty threats to quit when things don't suit them even though the dice are loaded in their favour every season with an additional 'historical' payment of $100m, and a veto on technical things they don't like.
President Sergio Marchionne's recent threat to pull out if the new engine regulations for 2021 don't meet with his approval has gone down like the R101 here.
Today saw a needle match between Hamilton and Bottas, as they swapped fastest times ahead of the Red Bulls and Ferraris.
In the first session, Hamilton had it by 0.127s, but by the afternoon his margin over his Finnish team-mate was down to 0.048s. The others, led by Raikkonen from Verstappen, Ricciardo and Vettel in the morning, and Ricciardo, Vettel, Verstappen and Raikkonen in the afternoon, were close enough to be a concern.
It's taken most of the season for the three teams really to reach a similar performance level, but right now it looks like it could be anyone of their race, and much will depend on what each team can find in their data tonight and what the weather does tomorrow. Expect rain and you won't go far wrong, it's just a matter of when it comes. And the delicious complication is that it will be sunny and dry for the race, just to complicate matters further.
Bottas turned a bit of a corner in Mexico with the way he sets up his Mercedes, and he was happy with his day here.
"It was a positive day," he said. "Initially in practice one we did some aero tests, looking at some things we can improve for next year. We now have some data to analyse from that. Otherwise, I think both the short runs and the long runs in both sessions looked positive for us as a team, so we have a good starting point for the weekend. Still, we were a little bit struggling to get the set-up right for each corner of the circuit."
Hamilton, despite being inadvertently eased off the road by Renault's Nico Hulkenberg in the morning, was also satisfied.
"It's been a good day," the four-time champion said. "It was pretty exciting to come to the track with the cars being so much faster this year. It's physically more demanding than before which is great, and it's obviously quite warm out there today. We got through the long runs and the short runs; unfortunately, the tyres don't really last very long, so you only get one or two laps on the short runs. Overall, we got through what we needed to do. We're in a decent position but I think it could be quite close."
Once again Verstappen, the runaway winner in Mexico, will be Red Bull's main challenger, as Ricciardo has yet another 10 grid place penalty for having a new energy system generator fitted. But the Australian likes nothing better than a good fight, so don't write him off.
"I'm pretty happy with Friday," he said. "For what we've got here we looked competitive. The long runs looked okay but the Mercs looked really strong. We can definitely find a little bit more for tomorrow but I don't think we're far off and we don't have to make many changes tonight. It's never a circuit where we have dominated in the past so to be close to Ferrari and at least in the fight with them seems positive. I'd like some rain for qualifying tomorrow and I can try and fight for pole. I know if I get it I won't start there because of my penalty, but anyway it would be good to start 11th for the race. That's my target."
Verstappen said he struggled for grip in the morning and that the handling balance of his car needs to be improved, but added: "Of course I always want to go faster and Mercedes are quicker than us at the moment. We need to make improvements because we know that in qualifying they will step up their engine. I think we need to be at least the same speed or faster than Mercedes in the final practice to have a chance of getting on the front row of the grid.
"Our car for the last few races has definitely been the quickest car. We just need a bit more top speed. I think the car itself is pretty good."
Ferrari didn't say much because, unless they are complaining that's their way these days. Vettel seemed resigned, when he spoke of Mercedes being out of reach,
"It will be difficult to match them," he admitted. "They look very quick in all conditions and on all tyres. Then it's very close between us and Red Bull. But we can fine-tune the balance and that should help us get the pace up for qualifying and also for the race."
F1 US Grand Prix in pictures

Show all 17
Ferrari, however, have a habit this year of finding pace between Friday and Saturday. And if the rain helps to level things a bit in qualifying, that could set up the three-way victory fight that everyone has been waiting so long to see in 2017.
History may also remember this day, as it marked the official debut of British rookie George Russell. The 19 year-old from King's Lynn, who is a Mercedes protégé and the reigning GP3 champion, made a confident and impressive start to his F1 career by lapping his Force India within six-tenths of team-mate Esteban Ocon, himself a noted hotshoe, during his run in the first practice session.
Register for free to continue reading
Registration is a free and easy way to support our truly independent journalism
By registering, you will also enjoy limited access to Premium articles, exclusive newsletters, commenting, and virtual events with our leading journalists
Already have an account? sign in
Register for free to continue reading
Registration is a free and easy way to support our truly independent journalism
By registering, you will also enjoy limited access to Premium articles, exclusive newsletters, commenting, and virtual events with our leading journalists
Already have an account? sign in
Join our new commenting forum
Join thought-provoking conversations, follow other Independent readers and see their replies