Lewis Hamilton questions Ferrari's 'interesting tactics' after day of drama at British Grand Prix
The Briton battled back from last to second as his championship rival Sebastian Vettel won a dramatic British Grand Prix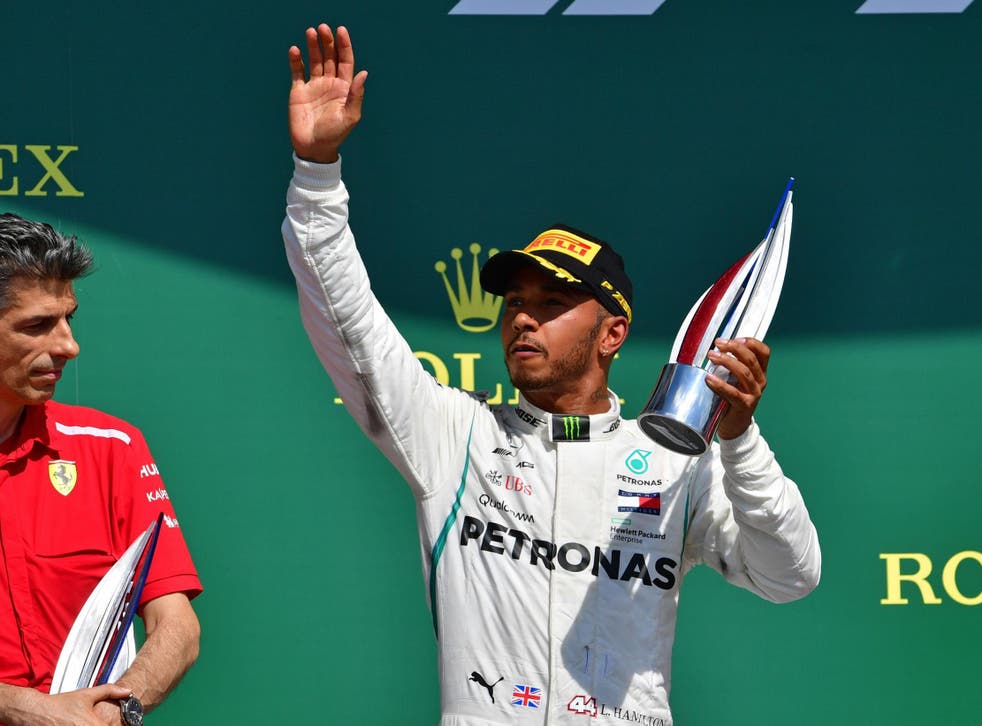 "We are leaving with the British flag to hang in Maranello," Sebastian Vettel beamed after fighting tooth and nail for victory in a British Grand Prix which ended in a nail-biting cliffhanger. And though the crowd's darling Lewis Hamilton recovered brilliantly from a first-lap collision, which dropped him almost to last place, to finish only 2.2s adrift, it was another day on which Mercedes' strategy was called into question.
As Hamilton played catch-up after losing out to Vettel and team-mate Valteri Bottas off the startline, before being spun around at the first corner by Kimi Raikkonen's Ferrari, Vettel dominated the early proceedings. But his Ferrari was consuming its left front tyre quite quickly and he stopped early, after 20 of the 52 laps, to switch from the soft-compound Pirelli tyres to the mediums. Mercedes felt they had to cover that, so brought Bottas in the next lap even though he seemed to be coping better and was lapping faster. Hamilton was going quickly enough not to stop until the 25th lap.
Bottas then steadily hunted Vettel down as Hamilton, in sixth place, began setting fastest laps. But an incident on the 32nd lap, when Marcus Ericsson crashed his Sauber heavily in the first corner, prompted a rash of further pit stops as the safety car was deployed; in came Vettel from the lead, Max Verstappen from third and Raikkonen from fifth. All of them switched back to the faster soft tyres. But Mercedes, criticised for their strategy last week in Austria, chose to keep Bottas and Hamilton out. The Finn's medium tyres were 13 laps old, Hamilton's nine.
But when Hamilton told his engineers that there was no way he would be able to compete with rivals on fresher softer rubber, they told him: "You're the fastest car by miles, so don't give up, it's all to play for."
But being fastest on mediums when everyone else is running them is one thing, using that rubber when others have a softer compound is something else, so that was a moot point.
In the end, that decision probably cost Bottas his chance of winning, but helped Hamilton to his eventual runner-up slot.
Battle was re-engaged when the safety car pulled in after the 37th lap, but immediately Carlos Sainz and Romain Grosjean tangled at Copse corner, bringing it out again.
Now things looked as if they favoured Mercedes, and when the track went green again on the 42nd lap Bottas very robustly defended his lead from Vettel and seemed to have the job done until the German caught him napping at Brooklands corner on the 47th lap and dived by. Thereafter he quickly pulled clear as he had been expected to on his softer tyres.
Bottas, his tyres spent, began to fall back, and after Raikkonen had fought past Verstappen on the 43rd lap (he had done so before the second safety car, only to be repassed round the outside of Luffield by the spectacular Dutchman), Hamilton had to push even harder and battled past his troubled team-mate on the 48th lap. On his worn tyres he could not catch the leader, however, and towards the end Raikkonen was reeling him in. But Hamilton still had an advantage of 1.3s as they reached the chequered flag.
Vettel's win brought him level with Alain Prost's 51, and takes him eight points clear of Hamilton, whose body language afterwards betrayed the physical and mental effort he had expended and his disappointment.
Perhaps unwisely he spoke briefly of 'interesting' tactics deployed by Ferrari.
"The team did an amazing job this weekend, and we had so much support but also so much pressure. It was interesting tactics, I'll say, on their side, so we'll do everything we can to fight them in the next race," he said, before posing for photographs with ground-breaking Porsche racer Nathalie McGoin, the president of the FIA Disability and Accessibility Commission.
"All I'll say now is that in two races Ferrari have taken out one Mercedes in each, and a 10s time penalty… Ultimately that spoiled both races for us and lost Valtteri and me a lot of points," Hamilton continued. "Obviously we need to work harder to position ourselves better so that we are not exposed to red cars. Who knows when that might happen again? So we need to wrap up the front row to avoid that."
Vettel and Raikkonen didn't buy that.
"These things can happen," the winner said, "but I think it's silly to think that anything that happened was deliberate. I would struggle to be that precise and to take someone out; in France I lost my front wing, so it screwed my race. I find it a bit unnecessary even to go there."
Raikkonen agreed. "These things happen sometimes, so it's silly to blame us. I locked a wheel in the third corner and hit Lewis's rear corner, and he spun. That was my bad, but that's how it goes and I paid the price for it. So it was not a straightforward race. It was my mistake, so the penalty was fine, I deserved it. That's how it goes, but there have been many times when its ourselves that have been hit."
Later Hamilton added, explaining his apparent froideur with the Ferrari drivers in the Green Room prior to the podium ceremony: "It's easy to sit and watch, but I was sweating my ass off in the race giving 1,000 percent and every drop of energy that I had, and people expect you get out of car and wave and smile. It's so physical now, I came from last to second, and I had nothing much to give at that time, so I needed to take a deep breath. I don't have any problems with Kimi.
"The fans have been awesome this weekend, and I'm grateful to the England football team for doing great weekend and keeping positive. This was the most intense battle this year and I'm very, very grateful that the car was okay after the incident. It was getting better and better in the race, so honestly to get back to second was huge for us and I'll take it. I'm happy with my drive and what the team were able to do, but we've just got to work harder. That's all."
Vettel, who did away with some of the tape on his neck and support material on his car's headrest after the problem that he had struggled with on Saturday morning, said the adrenaline flow had offset any pain.
The final laps were extraordinarily tense as Bottas led under attack from Vettel, chased by Hamilton who was likewise being challenged by Raikkonen, the four fastest driver/car combinations all vying for the win, albeit with the Ferraris on fresher rubber.
"In the second stint I was largely controlling it and would have been to end," Vettel said. "When the safety car came out we pitted, so Mercedes stayed out. After the restart we knew we had our chance with fresher tyres, and then there was another safety car so we were losing laps. Obviously that spiced things up, and Valtteri was pushing like crazy, and even though I had the advantage of newer tyres it was not easy to find a way through.
"He had clean air so it was hard to follow in the high-speed stuff. I sniffed my chances in the fourth and sixth corners, and finally I was able to surprise him in the latter, down the inside. The braking zone was coming quite fast, but I had to go for it. The longer I spent behind him the more I was struggling as the tyres got hotter, so I was happy when we were side by side and I was able to pull out a gap and control the race from there. The main thing is that it worked. I wanted to win, so I had to go for it."
That was a very sweet move, one of many in a gripping race that gave the lie to F1 being dull and predictable. Ferrari had certainly not expected to be as quick as they were, and it surprised Mercedes too. So much so that more of the same is likely at the revived German Grand Prix in a fortnight.
Register for free to continue reading
Registration is a free and easy way to support our truly independent journalism
By registering, you will also enjoy limited access to Premium articles, exclusive newsletters, commenting, and virtual events with our leading journalists
Already have an account? sign in
Register for free to continue reading
Registration is a free and easy way to support our truly independent journalism
By registering, you will also enjoy limited access to Premium articles, exclusive newsletters, commenting, and virtual events with our leading journalists
Already have an account? sign in
Join our new commenting forum
Join thought-provoking conversations, follow other Independent readers and see their replies