Charles Leclerc on his father's death: 'It has changed me as a person, and also how I see things now'
Exclusive interview: In a heartfelt interview with The Independent, the young Monegasque reflects on losing his father at 19 and how it came to change his perspective on life for the better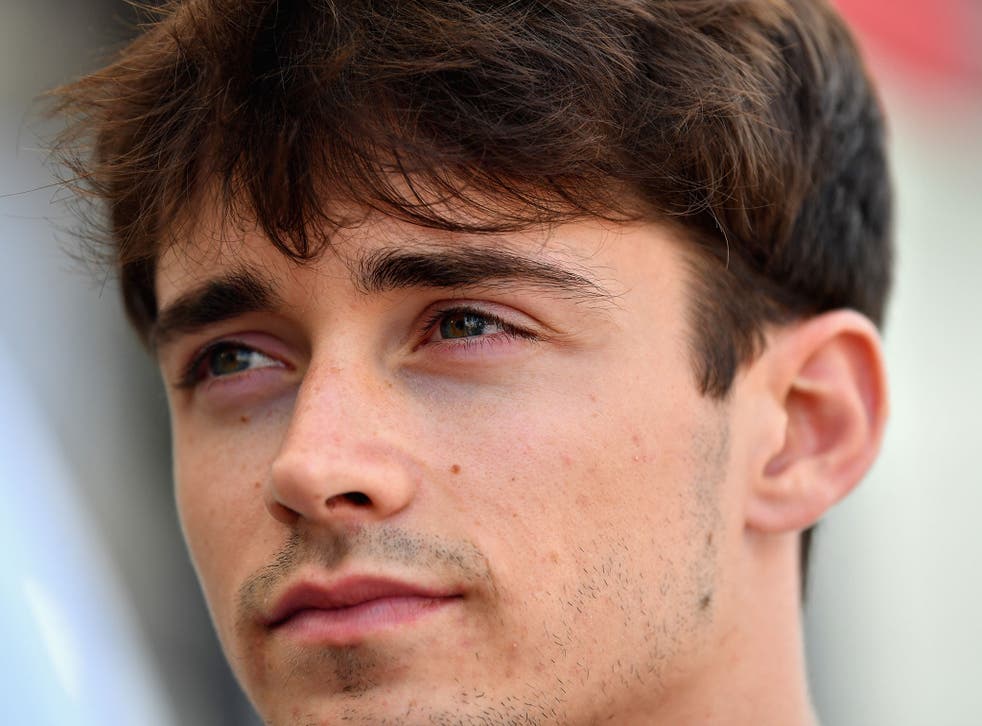 Every driver wants to win his home race, but when it comes to Monaco only one Monegasque has ever achieved that feat, and not since 1931 when racer-cum-playboy Louis Chiron helmed a Bugatti to victory round the streets of the Principality.
Fresh-faced F1 rookie Charles Leclerc doesn't expect to emulate the long-departed Chiron with his Alfa Romeo Sauber this weekend. But in the future you wouldn't bet against that.
A champion already in karting, Formula 3 and GP3, last year his domination of the Formula 2 Championship was his springboard to the Big League. Ferrari, who supply Sauber's engines, are keeping a close eye on his progress. Yes, he's that good.
He struggled a little at first as he made some rookie mistakes, and perhaps even disappointed those who had expected much of him. But then came a brilliant drive to sixth place in Baku, backed up last time out by 10th place in Barcelona. Both times he was mixing it with Fernando Alonso's McLaren-Renault. He beat the Spaniard in the former, lost out to him in the latter. Both times he impressed hugely, and few doubt that he is now on his way. A graduate of Ferrari's Drivers' Academy, he might yet displace Kimi Raikkonen at the Scuderia for 2019.
Beating the McLaren-Renault in Baku was impressive, especially with Alonso at the wheel.
"It was a great race," Leclerc smiles, "The safety cars were pretty difficult to manage, and four laps from the end I was not so confident because I had some animals behind looking to gain positions. It was tricky, but at the end we managed to gain positions in every restart so I think we managed the race very, very well."
One of those 'animals' was Alonso, who was actually in front of him. Overtaking the Spaniard was a genuine highlight for the rookie.
"We didn't overtake him at the start but passed him on track, and at that time to be honest I had a lot of pressure from others. And at the end of the race we had the same tyre management situation and we were actually very quick, so I think our base was very, very strong.
"It just felt like a win because we know what we are capable of and we know that sixth place was something that we would have never expected. This year it's very important for me to take the opportunities as they arise."
Of course, he expects his Monaco experience to be emotional, but not just because he's racing in his own back yard, or that the last Monegasque to race here was Olivier Beretta back in 1994. It goes much deeper than that.
Days before the F2 race in Baku at the end of June last year, his father Herve succumbed to a long illness. In between all the other impressive things that his son did in 2017, he handled the most difficult event in his (then) 19 years with a poignant dignity and determination that produced an extraordinary result despite the grief.
"It felt amazing, obviously," he said of the victory he achieved in the Feature Race in Azerbaijan. "I mean, amazing is not the word, but on the other side everything was so raw for me… I think the hardest moment emotionally was the pole position. It was the first time I have cried for anything. I was crying in the helmet because I couldn't believe we did pole. After three practices we had a very difficult time and before the weekend I didn't know what to expect because my head was completely somewhere else.
"I sat myself down and I said now I need to focus and make the best possible race for my father, because he deserves that."
It was Herve Leclerc, himself once a racer in F3, who set his son on the road to F1.
"He was there any time I won. I had to give everything for that race weekend and a lot of things were making me think the pole would be very hard. And when I crossed the line and they told me I had it, I think all of the pressure and the emotions and what happened two days before just went…
"We learned he was ill before the last race of the GP3 in Abu Dhabi the year before. At the beginning of the 2017 season I didn't speak to anybody because I wanted to keep it to myself. And also I was a bit scared that if I got some bad race results everyone would blame that, and that would not have been the case. So it was definitely hard.
"The F2 race in Monaco last year was also very hard because it was his dream since I was a child to see me racing here, and on the Wednesday before that race they put him in the coma because the illness was becoming too much. It was also a very difficult race weekend…"
He went into the weekend with a 26-point lead, and left only three ahead after a series of problems.
"It was a very hard period but to finish that with a pole and two race wins in Baku," – the second converted to second place after a 10s penalty was applied for a yellow flag infringement during a blistering drive from eighth to first on the road– "it was a very positive weekend and it had cheered me up a little bit. But it was definitely the hardest time of my career."
His father's death could scarcely have come at a worse stage, with the ever-present pressure to do well and deliver results. But it helped him to grow as a driver.
"I became a lot more mature and now I see things completely differently. The pressure, I feel it, but 20 times less. It put all of life into a different perspective, because you realise what are the really important things. And I realise that there were lots of things I didn't make the most out of, the small things. I think it has changed me as a person, and also how I see things now."
Baku was a telling index of how he deals with challenges. But his father's death was not the only major event that he has had to cope with. Jules Bianchi, who died in July 2015 from head injuries sustained in the 2014 Japanese GP, was his godfather and mentor as he made his way up the junior ladder.
"He always followed me very closely. At the end of 2010 my father didn't have any money. Sponsors were paying, but the travel was very expensive so it was the last year that I would race. So Jules went to his manager Nicolas Todt (the son of the FIA president) and told him, 'Charles is in his last year so look at him, if you are interested then maybe you can do something with him.' We met with Nicolas, and thanks to Jules I entered his management."
Since then, they've rocked and rolled their way to F1. In many ways, Leclerc's career is mirroring that of Bianchi, who was also a Ferrari Driver Academy member tipped for stardom. He admits that's been emotional, but again that it imbued him with a strong sense of responsibility.
"On the other side, I see it quite differently. I must just do the best job I can, make the best of myself, and make both of them proud. That is the only thing that is in my mind. I don't feel any pressure."
Talk to the people who have worked with him and they all say the same thing: Charles Leclerc is the real deal.
There is an air of humility about him that is engaging from the moment you meet him, not to say unusual in a racing driver who comes to F1 with such a stellar track record. He's big on being honest with himself, too.
"I think that is a legacy from my father. I think it's very important because if you are never honest with yourself and it's always the fault of someone else, then you never really learn from your mistakes."
That's why he freely admits to the desire to do well that he'll be feeling this weekend, to honour the memories of those he holds in his heart.
"It's a bit of a casino, but anything can happen here. I will be feeling the motivation more than the pressure, and if I just focus on myself and do the right job, hopefully at home we can get a very good result."
It's not unusual to see drivers being hyped when they get to F1. But Sebastian Vettel, who may have him as a team-mate in the not too distant future, said: "The races he's had so far, he used his opportunities. He scored points with a car that doesn't belong in the points, so he's doing everything he can at the moment.
"If there's no hype around him, then I don't understand who should be hyped. You walk through all the categories like that, then you belong here."
Register for free to continue reading
Registration is a free and easy way to support our truly independent journalism
By registering, you will also enjoy limited access to Premium articles, exclusive newsletters, commenting, and virtual events with our leading journalists
Already have an account? sign in
Register for free to continue reading
Registration is a free and easy way to support our truly independent journalism
By registering, you will also enjoy limited access to Premium articles, exclusive newsletters, commenting, and virtual events with our leading journalists
Already have an account? sign in
Join our new commenting forum
Join thought-provoking conversations, follow other Independent readers and see their replies