Ferrari mechanic hit by Kimi Raikkonen in Bahrain Grand Prix gives thumbs up after surgery on broken leg
He fractured his tibia and fibula after a dramatic pit-lane incident on lap 36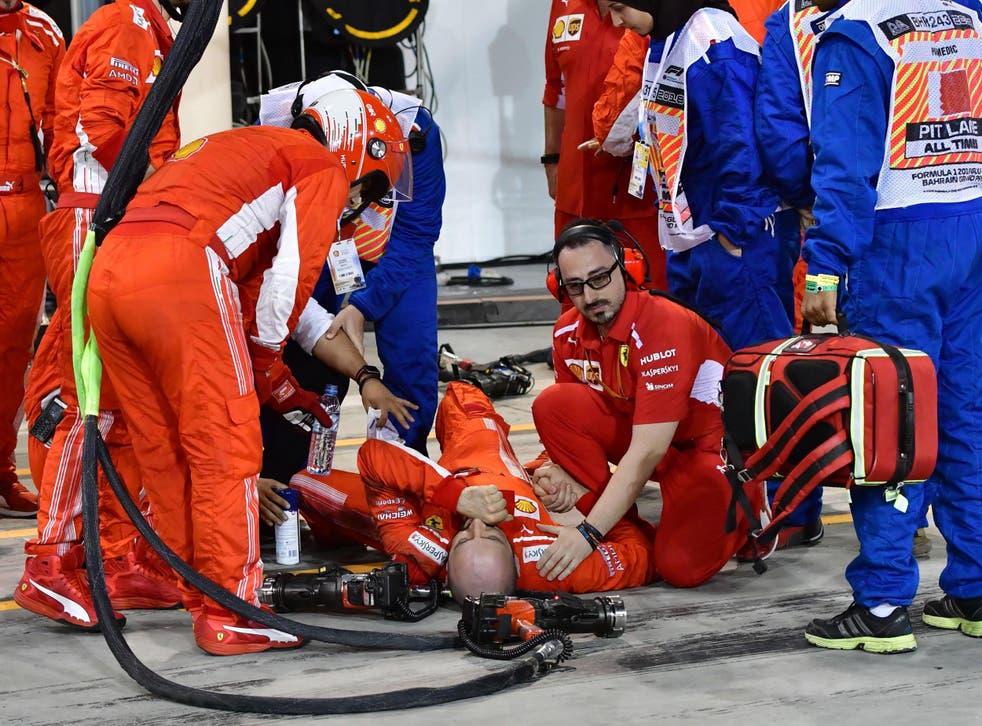 The Ferrari mechanic mowed down by Kimi Raikkonen in the Bahrain Grand Prix has posted a picture to Instagram giving the thumbs up following an operation on his broken leg.
Francesco Cigarini was taken to a nearby Bahraini hospital on Sunday night with a fractured tibia and fibula on his left leg following the dramatic pit-lane incident on lap 36.
Sitting upright in his hospital bed, Cigarini said: "Surgery ok. I have to thank all of the people worried. Nothing else, just a big thanks." The post was "liked" by Raikkonen.
Sebastian Vettel executed a miraculous one-stop strategy in Bahrain to move 17 points clear of Lewis Hamilton in the championship race, but his triumph was marred after team-mate Raikkonen ran over the mechanic.
Raikkonen, who was pitting for a second time, was not at fault for the collision. He was instructed to leave his marks after a green light was signalled by his Ferrari team, but his left-rear tyre was yet to be fitted.
In the confusion, Raikkonen mowed down Cigarini as he pulled away at speed.
The mechanic was laid flat out on his back in obvious agony. Raikkonen stopped in the pit lane seconds later and retired from the race.
Formula One's sporting federation, the FIA, later fined £45,000 for "releasing the car in a manner endangering team personnel and causing injury".
Ferrari revealed they will launch a full investigation into the harrowing pit-lane incident.
In a statement released on Sunday night, Sergio Marchionne, the Ferrari chairman, said: "I wish our mechanic a speedy recovery and hope to see him back on track soon."
Register for free to continue reading
Registration is a free and easy way to support our truly independent journalism
By registering, you will also enjoy limited access to Premium articles, exclusive newsletters, commenting, and virtual events with our leading journalists
Already have an account? sign in
Register for free to continue reading
Registration is a free and easy way to support our truly independent journalism
By registering, you will also enjoy limited access to Premium articles, exclusive newsletters, commenting, and virtual events with our leading journalists
Already have an account? sign in
Join our new commenting forum
Join thought-provoking conversations, follow other Independent readers and see their replies