Ferrari chairman Sergio Marchionne threaten to take other F1 teams with them if they decide to leave the sport
The future of F1 remains uncertain as Ferrari try to push back against Liberty Media's proposed plans for engine regulations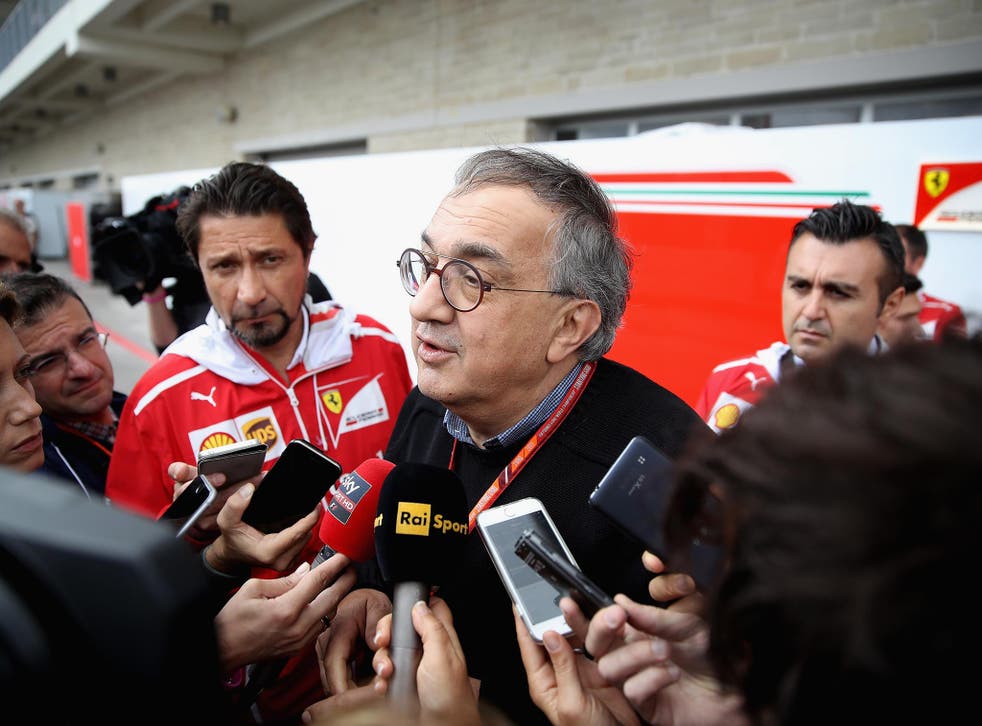 Ferrari chairman Sergio Marchionne has fired a warning at Formula 1 bosses that the team could lead others out of the sport if it becomes too much like Nascar, with the direction change planned under Liberty Media still threatening the future of F1.
The Italian manufacturer has made their unhappiness with the proposed rule changes from 2021 abundantly clear in recent weeks, with Marchionne warning that Ferrari are willing to consider leaving F1 if the engine rules mean the sport no longer fits with their long-term plan.
Marchionne reiterated this point when speaking to reporters in Maranello ahead of the team's Christmas lunch, but for the first time under the current talks he also warned that Ferrari could also talk other teams into leaving with them to form a new breakaway series.
"We are not interested in making cars all the same and simple and cheap engines like Nascar," Marchionne said. "If anything, the real problem is that there is no overtaking and F1 needs more exciting races.
"Otherwise Ferrari will leave. If they believe that we are bluffing, they are playing with fire."
He added: "I think that Ferrari has the strength to drag others as well to an alternative championship."
Marchionne referenced F1's managing director Ross Brawn, who is leading the proposed changes, saying he felt that his past in the sport as one of the great strategists – and the man behind Michael Schumacher's seven world championships as well as Jenson Button's triumph in 2009 – meant that he should stick to the traditions of F1 and not take it down a different path.
"The thing that most annoys me is that there is an experienced man like Ross Brawn there who is looking for ways that go against the DNA of Formula One," Marchionne added.
"Making cars all the same with simpler and cheaper engines is like NASCAR, it doesn't interest us," he added. "We need to find a balanced solution for the future that satisfies everyone and I think we will do it in time."
Marchionne's latest comments will be of concern for F1 bosses given the importance of maintaining manufacturer interest in F1 when the rapidly-expanding Formula E is attracting more and more big names of the car world by the season. With drivers also expressing their concern about the direction of the sport, the pressure is firmly on Brawn and Liberty Media to ensure the next partnership with the teams – as chief executive Chase Carey referred to it in a move away from the Concorde Agreement – is one that rejuvenates the on-track action to keep the leading teams interested.
Register for free to continue reading
Registration is a free and easy way to support our truly independent journalism
By registering, you will also enjoy limited access to Premium articles, exclusive newsletters, commenting, and virtual events with our leading journalists
Already have an account? sign in
Register for free to continue reading
Registration is a free and easy way to support our truly independent journalism
By registering, you will also enjoy limited access to Premium articles, exclusive newsletters, commenting, and virtual events with our leading journalists
Already have an account? sign in
Join our new commenting forum
Join thought-provoking conversations, follow other Independent readers and see their replies