Lewis Hamilton unconcerned by poor end to the season as he admits off-track distractions took their toll after title win
The 2017 world champion failed to win any of the last three races in similar circumstances to his 2015 triumph
David Tremayne
Monday 27 November 2017 17:06 Comments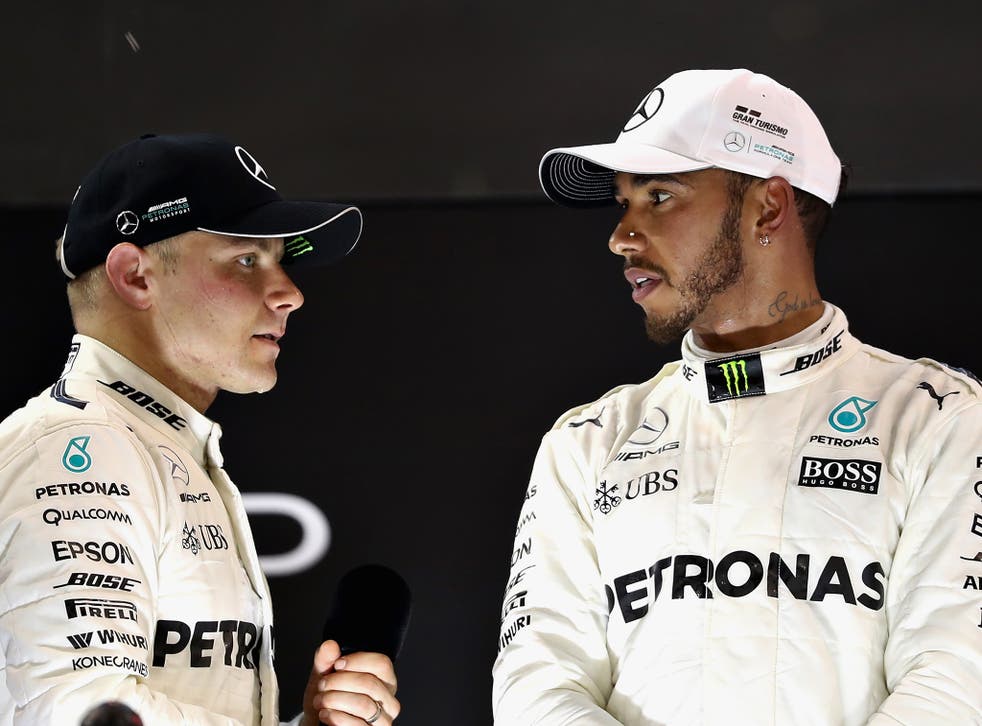 Lewis Hamilton admits that allowing himself the luxury of celebrating his fourth world championship success may have had a negative impact on his ability to win any of the final three races of 2017. Having won nine races this year, his final three results were a ninth, a fourth and a second.
"There's zero concern," he said. "I think it's clear that something happens once you've won the championship. All I can say is the week after I won it I partied a lot and celebrated with my family and that's what you do. I can tell you that before all the other races that was not the case. So sleep [and] energy has definitely been missing these last couple of races. But nonetheless I still tried to approach them the same. But if you don't prepare the same, there's no way. So I'm not bothered about that. And next year that will go back to how it was in the second half of this season."
He paid tribute too to the deepening relationship that he has with his Mercedes team, especially bosses Toto Wolff and Niki Lauda.
Abu Dhabi Grand Prix - in pictures

Show all 11
"For me, I think each year I'm growing in my understanding of life, of decisions you make, of the ways you engage with people and all these sorts of thing," Hamilton added. "I definitely think that over these last year's my confidence has grown in terms of my approach and how I go about my business.
"I wouldn't say I feel any more secure this year. I'm not a particularly insecure person, so I wouldn't say that's been an issue in the past. But a positive has been the reassurance of the team's commitment to me into this season, starting off with Toto and transcending down. The positive response I've had from the team in terms of how I've engaged with them this year I think has been a fundamental positive in getting the results we've had. So I'm really, really excited about continuing on the journey with the team and hopefully I can continue working on that aspect."
Of his inability to get on terms with team-mate Valtteri Bottas in Sunday's Abu Dhabi Grand Prix, he added: "When you're so close in pace, it's so hard. The engineers say it's a 1.4-second delta you need to overtake a car in front. It doesn't matter which car is ahead, it would've been difficult. To get as close as I was shows I had good pace. But once you get within 1.2s it's like you hit a wall and the car stops. Basically, you start sliding around, all four wheels. So there was a lot of rallying today.
"It started with the balance. I made a set-up change after FP3 and in qualifying the rear end of the car was not great. Immediately you have to step back. I couldn't extract the potential from the car.
"I don't really see it as a mistake. I see it as a lesson for myself and my engineers. We've been pretty much on-point all year long, especially in the second half of the season. You can't get it perfect every time. I wasn't that far off pace-wise. But I didn't have the great pace that I had in FP3."
He also believes that circuits can be changed to facilitate overtaking, citing the Circuit of the Americas in Texas as one of his favourites.
"I think ultimately you can look at a lot of the tracks – my engineers can give me a number for the overtaking delta for every single circuit and it obviously varies. It's strange that the TV companies don't even advertise that, they don't tell people when they're watching the TV that the reason we cannot overtake is because of the downforce, the drag issue and that from track to track it varies. That's something that perhaps they should include.
"I think this [Abu Dhabi's Yas Marina track] is one of the best places, if not the best, to have the last race in terms of the atmosphere, in terms of the hospitality, it's second to none. It's such a beautiful place so it's a great week. I think the track, as a lot of the tracks do, has some small flaws in the sense that it's hard to follow or you can't follow, which I think can make better racing. There are some tracks where you can follow and that enables better races. How they go about doing that I can't tell you. I'm not a track designer and I don't know if it can be changed."
Register for free to continue reading
Registration is a free and easy way to support our truly independent journalism
By registering, you will also enjoy limited access to Premium articles, exclusive newsletters, commenting, and virtual events with our leading journalists
Already have an account? sign in
Join our new commenting forum
Join thought-provoking conversations, follow other Independent readers and see their replies