F1 Virtual Grand Prix results: Charles Leclerc takes dominant victory before vow to 'entertain' during coronavirus lockdown
Ferrari driver led from start to finish to win a much-improved Formula One online event, before sending a message to F1 fans who are isolating at home during the coronavirus crisis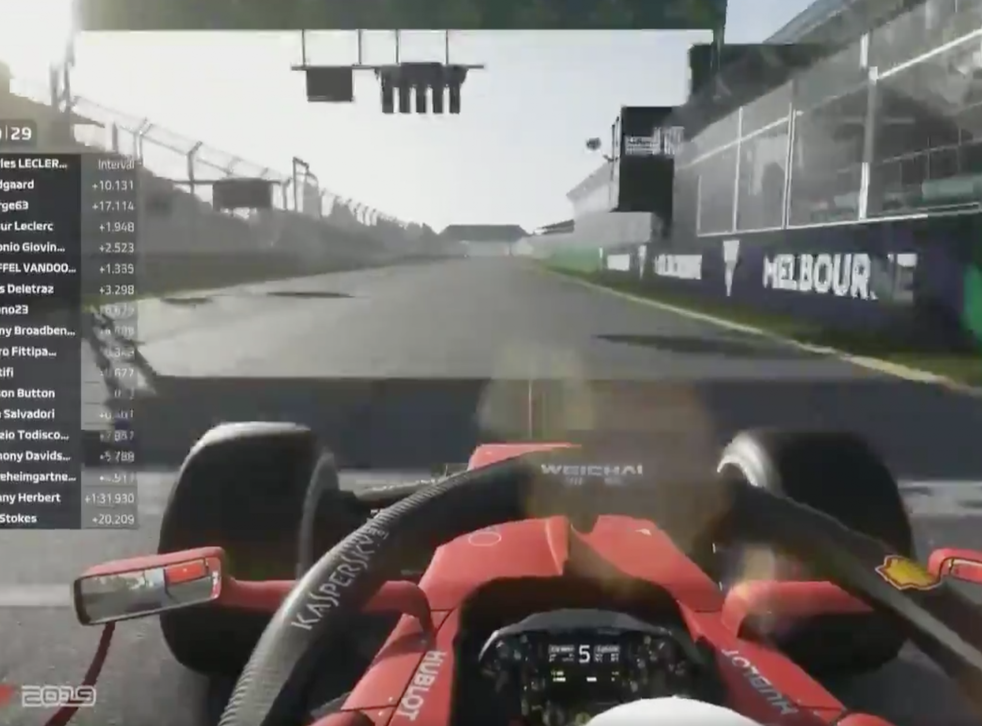 Charles Leclerc dominated the second Virtual Grand Prix to lead from start to finish in a vastly improved F1 eSports event, with the current Ferrari star showing his talent isn't just limited to the tarmac.
The Monegasque inherited pole position from Renault's Christian Lundgaard, who despite setting the fastest time of the qualifying session received a five-place grid penalty and had to start down in sixth.
The grid featured more than double the number of current F1 drivers this time round, with Lando Norris and Nicholas Latifi joined by Leclerc, George Russell, Alex Albon and Antonio Giovinazzi, while former world champion Jenson Button took part in his first virtual race alongside other ex-F1 stars in Johnny Herbert, Anthony Davidson, Stoffel Vandoorne and Esteban Gutierrez as well as England cricketer Ben Stokes and Leclerc's 19-year-old brother Arthur.
Frustratingly though, the technical gremlins that blighted the inaugural Virtual GP returned that meant neither Norris nor Gutierrez were able to compete in the race, while the event got underway with little notice before lights out to the point that many will have missed the start itself.
That said, it was a much-improved event that delivered a full-length 28-lap race and plenty of good clean racing – something that couldn't be said in Bahrain – a drivers got to grips with the Codemasters F1 2019 game.
From the moment that Leclerc exited the opening corner with a one-second lead, the Ferrari star never looked like losing as he cantered to victory to add to his two Grand Prix wins last season, but behind him played out an exciting and accident-packed race that saw Danish F2 driver Lundgaard fight back into second and WIlliams star Russell take third, thanks largely to Arthur Leclerc's inability to stay on the track.
Leclerc spun out of second on lap eight, not long after Russell himself had made a mistake to drop behind Lundgaard, and after fighting his way back onto the gearbox of the Williams, he went off once more to cost himself a place on the podium.
An opening-lap crash for Albon cost the Red Bull driver a chance of mixing it at the front end as he ended up coming home in eighth, while Button provided plenty of forceful defending as he got to grips with the Virtual Grand Prix, with the 2009 world champion eventually coming home just outside the top 10. Meanwhile, 2019 Cricket World Cup-winner Stokes found himself in a baptism of fire, as a late error saw him inherit last place from Herbert to come home last of the 18 finishers.
But for Leclerc, the joy of victory was matched by the responsibility to entertain those locked down at home, with the F1 absence stretching into a third consecutive weekend without any action due to the coronavirus outbreak – which was made all the more impressive given he only started practising last weekend.
F1 driver line-up 2020

Show all 21
"Eight days ago, last Sunday but I put quite a lot of hours into it," he said afterwards. "To tell you how much I don't know, but probably at least five hours each day every day and at the end of the week we all linked together with George, Alex and the others and stream everything live and it was very fun so we'll continue to do that.
"Obviously it's a hard time for absolutely everyone staying at home so we try our best to entertain everyone at home and hopefully this was the case tonight and we'll try to do many more in the next few weeks."
Rather interestingly, Leclerc admitted that while the physical challenge was nowhere near what drivers experience out on the track, it still wasn't an easy night's work.
"It was unbelievably hard, and yes we are sitting on a chair so there's not the G-force in a real car but I'm sweating like crazy," he added. "The muscles are not hurting as much but I've been concentrating just as hard and sweating like mad.
"They (other drivers) shouldn't have the mistakes. It was tough, everyone was very quick, and I think we all knew that the one who did the least mistakes would win because we were all so close in pace."
The postponed Chinese Grand Prix will take place next in two weeks' time, with Leclerc hoping to be able to try make it two from two after missing the Bahrain Grand Prix, while hopefully Norris can finally see lights out to show the world that his eSports talent match up to his ability to entertain from the seat of his simulator.
Results
1. Charles Leclerc
2. Christian Lundgaard
3. George Russell
4. Arthur Leclerc
5. Antonio Giovinazzi
6. Stoffel Vandoorne
7. Louis Deletraz
8. Alex Albon
9. Jimmy Broadbent
10. Nicholas Latifi
Register for free to continue reading
Registration is a free and easy way to support our truly independent journalism
By registering, you will also enjoy limited access to Premium articles, exclusive newsletters, commenting, and virtual events with our leading journalists
Already have an account? sign in
Register for free to continue reading
Registration is a free and easy way to support our truly independent journalism
By registering, you will also enjoy limited access to Premium articles, exclusive newsletters, commenting, and virtual events with our leading journalists
Already have an account? sign in
Join our new commenting forum
Join thought-provoking conversations, follow other Independent readers and see their replies