Prince Albert of Monaco talks Formula One being caught by Formula E and why F1 cannot risk Ferrari quitting sport
Exclusive interview: Prince Albert spoke to The Independent having ruled the principality that is home to F1's most famous race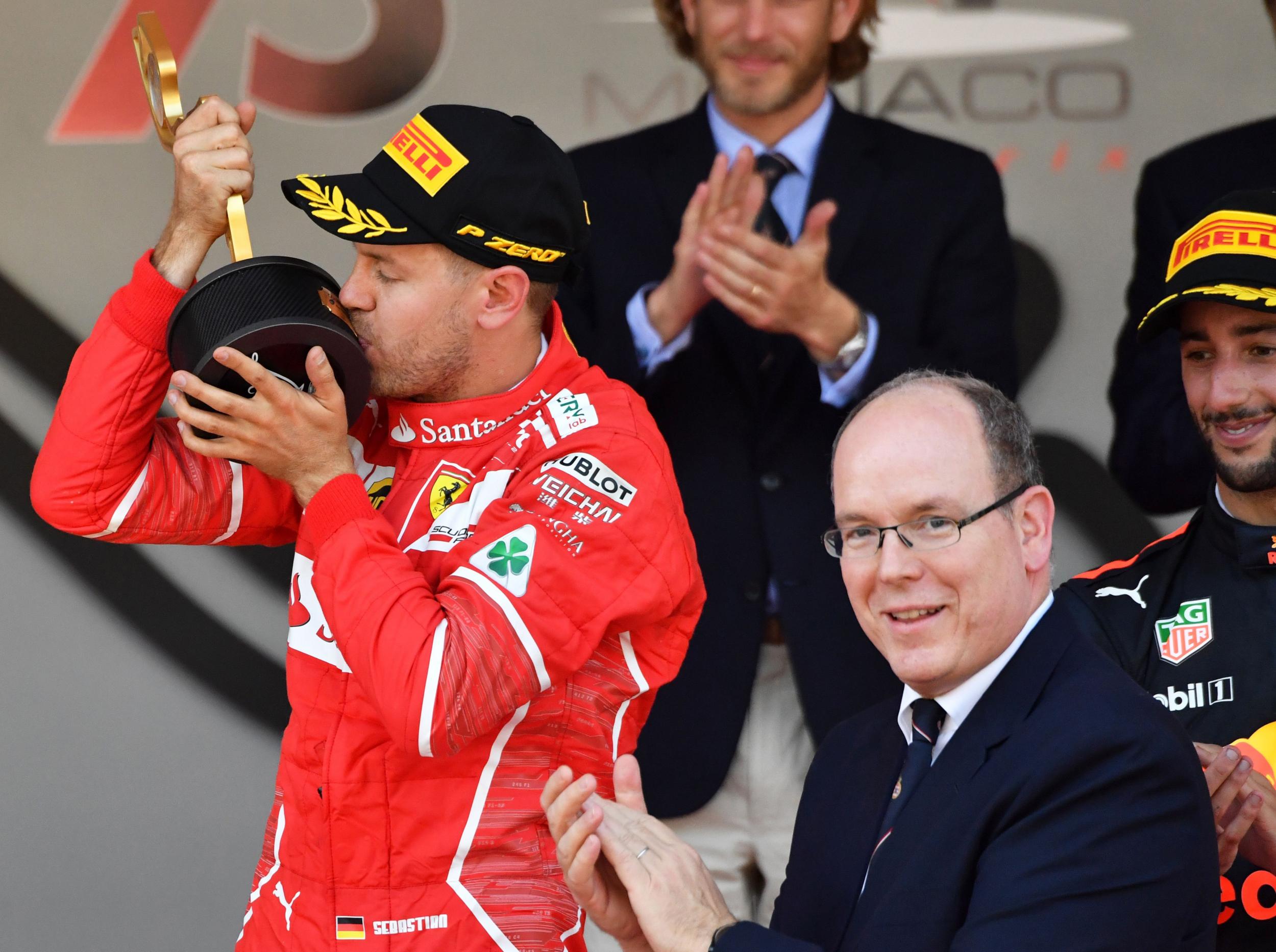 Monaco's ruler Prince Albert II has issued a dire warning about the risk of Ferrari quitting Formula One over a dispute about the direction that the sport is going in.
The 60-year-old monarch is on first name terms with all of F1's powerbrokers and has a tremendous knowledge of it thanks to his family ruling the principality where the sport's most famous race takes place.
"It's true that Ferrari and Monaco are the two most important things to F1," he told The Independent. "There is such a history and such a mystique around the name of Ferrari and the success that it has had. The whole imagery and legend of the red cars and what they mean to the world of automobiles and racing itself. It is hard to imagine F1 without them."
F1 Australian Grand Prix in pictures
Show all 25
His comments follow Sunday's season-opener in Melbourne which was won by Ferrari driver Sebastian Vettel thanks to a clever pit stop strategy after Romain Grosjean's Haas stopped on lap 24.
The race was overshadowed by political wrangling between the teams and F1's new owner Liberty Media. It bought the sport for £5.7bn last year and has already shaken it up by ejecting Bernie Ecclestone after 40 years in the driving seat, revving up F1's marketing and boosting the razzmatazz with boxing announcer Michael Buffer calling out the names of the drivers at the start of the United States Grand Prix.
Liberty's next manoeuvre is expected to involve levelling out the teams' prize money and introducing a cap on their budgets. It has fuelled concerns from the top teams in particular as they get a greater share of the spoils and outspend their rivals in a bid to win.
Ferrari's prize money bonus is the most turbocharged with £80m guaranteed before a race begins giving it an estimated total of £160m last year. Its chairman Sergio Marchionne has repeatedly threatened to start a rival series if Liberty makes drastic changes to F1 and on Thursday Ferrari's team boss Maurizio Arrivabene warned that he is not bluffing. "Our chairman knows what he is talking about and should be taken seriously," he said.
It was echoed by Toto Wolff, boss of reigning champions Mercedes which also has a lot to lose from a budget cap and reduction in prize money bonuses as it was paid a total of around £120m last year.
"I agree with most of the things Sergio says because Formula One has a certain DNA and it is a sport that needs to stick to its roots," said Wolff in Melbourne. "The perspective of doing something else is a realistic one, and it could happen if we don't achieve to align our vision."
Prince Albert, whose late mother Grace Kelly was a Hollywood actress in the 1950s, says he approves of the gloss Liberty has given to F1. "I think this new emphasis on more communication and a show is good for the overall image. Of course it complicates the procedures a bit but I think it's interesting, especially to attract a new public and have more exposure to different markets, different age groups and different levels.
"F1 has to keep appealing to sports fans and not only to motor racing fans but to possibly a wider public...I don't know if it's only social media or different electronic devices that will do that. How to establish more of a personal link to the drivers and to the teams - these are things that you have to think of."
As an environmentalist, Prince Albert was one of the earliest supporters of the electric-powered series Formula E which launched in 2014 and also holds a race in Monaco. He says that it is on track to become a close competitor to F1.
"I think there is space for both F1 and Formula E. Of course there is a great nostalgia that goes around the historic formula, and that is very much a part of the history we try to showcase in Monaco. But I think certainly, in terms of interest, it will take a few years but it will slowly become a rival, especially if big name drivers join the formula."
Formula E recently unveiled its new car which will be introduced later this year and will be able to complete a full race distance with a single battery for the first time. Improvements like this filter down to road cars and Prince Albert says that is Formula E's real success.
"I think is very important that Formula E can apply its technology to everyday cars and everyday usage just as F1 is sort of a testing formula for improvement in road cars...The fact that the batteries will have the capacity to last a full race is testimony to that development. If you really put your mind to it and you put the resources in you will be able to have very high performance cars."
Join our commenting forum
Join thought-provoking conversations, follow other Independent readers and see their replies