Formula 1's latest game of musical chairs finally begins to unravel ahead of Singapore's challenging street race
Britain's Jolyon Palmer is currently the only man without a seat for 2018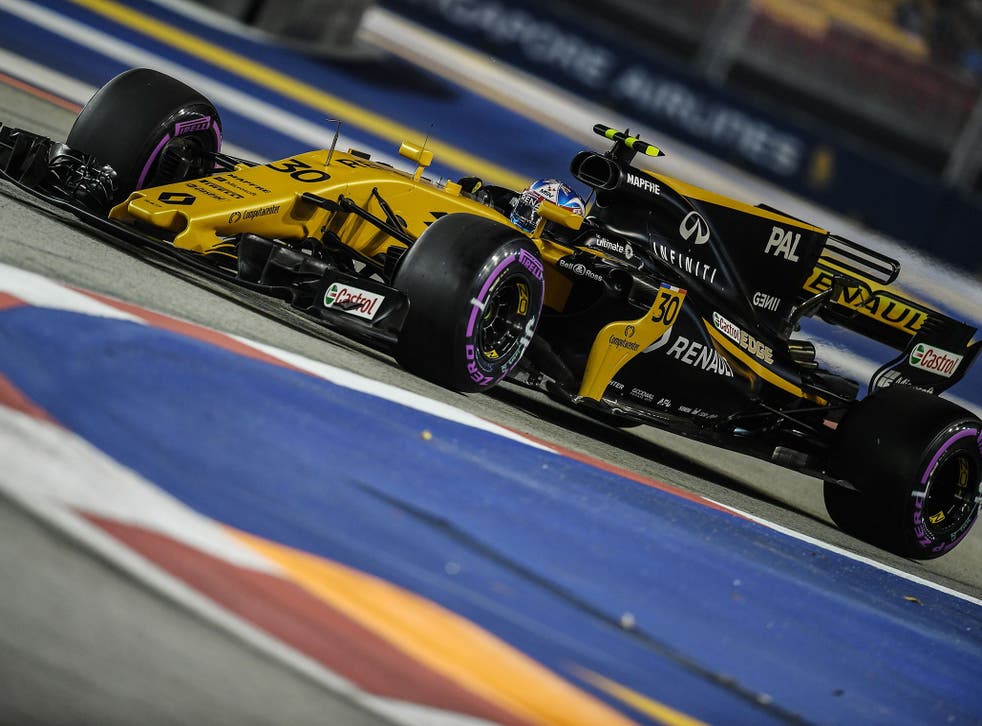 As the teams and drivers began the process of honing their set-ups on Singapore's challenging Marina Bay circuit on Friday, F1's latest game of musical chairs was finally unravelling officially after months of speculation.
When Renault had confirmed that they will be supplying McLaren with engines next year, severing their links with Toro Rosso, and running promising Spaniard Carlos Sainz alongside Nico Hulkenberg, and Honda finally admitted that they will be switching to Toro Rosso, Briton Jolyon Palmer was left as the only man currently without a seat for 2018.
But while some of the others may well find themselves sitting more comfortably in the future, others may not.
Cue one excruciating press conference in which two senior and hitherto unseen executives from Honda joined with a hard-faced Franz Tost, team principal of Toro Rosso. And another, in which elated McLaren executive director Zak Brown was flanked by his new partner, Renault team principal Cyril Abiteboul, and the man whose engine supply he might ultimately be taking, Red Bull's Christian Horner.
Katsuhide Moriyama, Honda's chief officer of brand and communication operations, said that despite a great deal of soul-searching, Honda never considered pulling out of F1, even when a planned switch to Sauber was nixed when former Renault manager Fred Vasseur was appointed the Swiss outfit's new team principal.
"For Honda, F1 started with the dream of our founder, Soichiro Honda, and we have a history of more than 50 years of F1," Moriyami said.
"F1 is a very important culture and DNA of our company. It is our goal to overcome this tough challenge and get back to fighting the frontrunners of the sport, and Honda's spirit is to fight for the top three at the top of the grid."
The 2017 Formula 1 grid

Show all 20
Given the lamentable results that a team of McLaren's calibre were able to achieve with their engine in the past three years, that is indeed a lofty ambition.
Masashi Yamamoto, the general manager of Honda's motorsport division, and like his boss Moriyama an honourable and passionate man, spoke of the "shame and a disappointment" that a proud company felt as they separated from the partner with which they had achieved such greatness in the era of Alain Prost and Ayrton Senna back in the late Eighties and early Nineties.
Looking more like a hologram, Tost, the man who had only recently said at Spa that there had been no official conversations between the two parties even though it was common knowledge that McLaren had already been approached to make the gearboxes for his team should the proposed switch take place, vouchsafed: "Although we do not have much time until the start of next season I feel we're going to have a good season and a good relationship between Honda and STR. The spirit of STR is the same as the spirit of Honda. I believe we can work smoothly for next year."
Cue unmuffled laughter within McLaren's hospitality unit, as a blundering Eddie Jordan from Channel Four made himself unwelcome with continual noisy entries and exits as he posed for his cameramen outside.
In the second conference the tetchy subject arose whether Renault have also decided to cease their relationship with Red Bull, the parent company of Toro Rosso, effective 2019.
In the former's glory years with Sebastian Vettel, between 2010 and 2013, Renault played second or third fiddle as Adrian Newey's aerodynamically excellent cars and the German's smooth driving drew all the praise for each of the four world championships for drivers and four world championships for constructors that were earned.
But that was far more agreeable than the brutal opprobrium of the turbo-hybrid formula years since 2014, when the team frequently rounded on their engine supplier as Renault failed to match either Mercedes or Ferrari.
Horner, looking like a man trying to smile bravely despite a mouth full of razor blades, was trenchant.
"Anything beyond 2018 is speculation, and I'm neither confirming or denying anything. That will be dealt with behind closed doors and not in the media. Our focus is on designing the best car for 2018 which will be powered by a TAG Heuer Renault-provided engine. Everything else is speculation and conjecture."
Abiteboul, who may have been smirking, said: "I have nothing to add. Christian provided the best possible answer."
On track, meanwhile, Horner's men had been on the attack, with Daniel Ricciardo setting the fastest times in both sessions, split from team-mate Max Verstappen in the first by pre-race favourite Vettel who is out to regain his lost points lead this weekend, and with the Dutchman riding shotgun in the second after the German had brushed a wall and didn't get a proper run on the faster ultrasoft tyres.
Encouragingly, Lewis Hamilton was fourth for Mercedes in the first, four-tenths down, and third, seven-tenths behind, in the second, on a circuit where Mercedes are expected to struggle in comparison with their two strongest rivals.
"We had a clean day and got through our sessions without problems," said the Englishman, who admitted that despite Mercedes' past problems here he has come with the aim of adding a third consecutive victory to bring his tally to 60.
"It was pretty hot out there, the conditions are pretty awesome to cope with, but the grip on the track is fairly good. We were obviously close with the field today and we have still got some improvements to make with the car.
"Red Bull seem like they're very strong and they're thereabouts with Ferrari, so we've got some work to do. But nothing is out of reach."
Should the silver arrows be unable to muster sufficient speed here and Hamilton have to adopt damage limitation mode, however, Red Bull might be able to deny Vettel and Ferrari a big score. Ricciardo was bubbling.
"I expected this, to be honest," he said. "I knew we'd come here with a good car, I feel prepared, so I'm not surprised with our performance today. It's important that we keep that tomorrow, but I have a lot of faith we can stay there all weekend."
Register for free to continue reading
Registration is a free and easy way to support our truly independent journalism
By registering, you will also enjoy limited access to Premium articles, exclusive newsletters, commenting, and virtual events with our leading journalists
Already have an account? sign in
Register for free to continue reading
Registration is a free and easy way to support our truly independent journalism
By registering, you will also enjoy limited access to Premium articles, exclusive newsletters, commenting, and virtual events with our leading journalists
Already have an account? sign in
Join our new commenting forum
Join thought-provoking conversations, follow other Independent readers and see their replies