Lewis Hamilton jibes partisan Monza crowd after dominant Italian Grand Prix win snatches championship lead
Hamilton leads the championship for the first time this season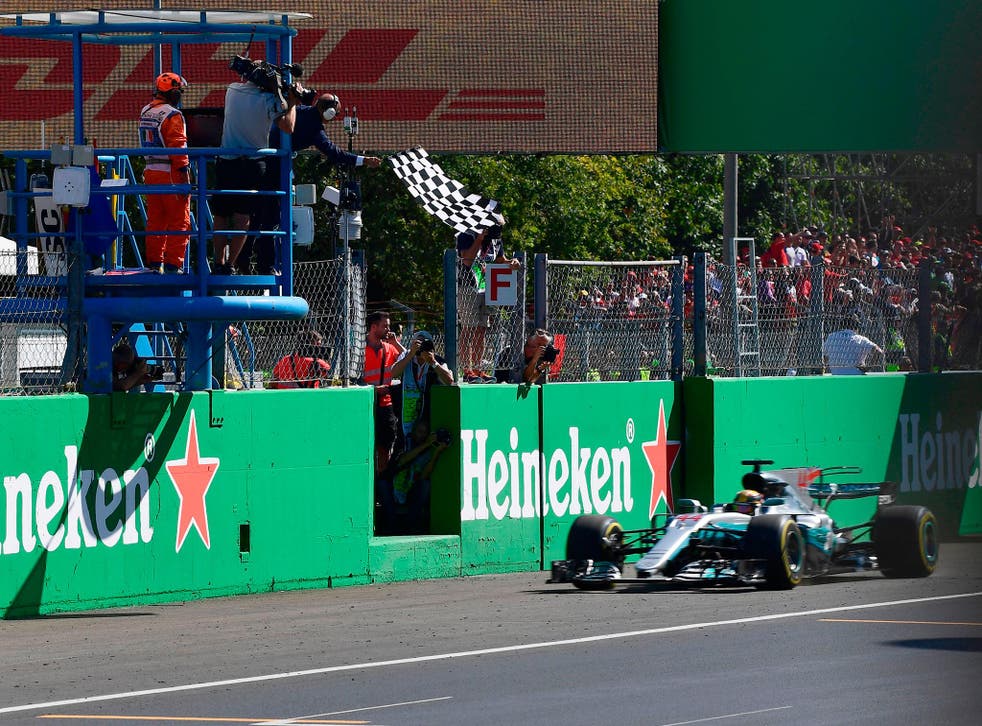 Lewis Hamilton needed a big result at Monza this afternoon, as he battled to go into the final seven-race campaign in the world championship in a good position against an increasingly strong Ferrari team. And as his Mercedes team-mate Valtteri Bottas rode shotgun all the way, the Englishman's 59th career victory and the Finn's strong second place left arch-rival Sebastian Vettel and Ferrari humbled with a distant third place on their home ground.
The result generated the first time that Hamilton has led the points table this year, and the first time there has been a back-to-back winner, and he now has 228 to Vettel's 225, while Bottas remains in touch on 197.
Hamilton dominated the race right from the start, but admitted that it was not easy initially.
Italian Grand Prix in pictures

Show all 8
"The start wasn't great, as the grip was quite low, but it was a great day, a great result."
And as the Italian fans on the whole gave him a huge cheer, he could not resist responding to those who jeered him a little as he added: "Mercedes power was definitely better than Ferrari power today, and everything worked very well this weekend."
Bottas also struggled off the startline, and was beaten away by front-row rookie Lance Stroll's Williams and interloper Esteban Ocon's Force India from the second row, but also Kimi Raikkonen's Ferrari which started behind him. But he quickly redeemed himself, with a breathtaking pass on his fellow countryman round the outside at the super-quick Parabolica at the end of the opening lap. Within two more he had picked off Stroll and Ocon in short order.
"The start tricky but I was able to keep my head down and get the places step by step," Bottas said. "The car was so strong today, it was amazing how quick we were. I enjoyed what was a perfect result for us. No dramas."
As the Mercedes duo ran away and hid, Bottas keeping Hamilton honest without genuinely challenging him, Vettel had no answer for Ferrari and as Hamilton led his partner home by 4.4s, after a minor scare when he thought his car lost power on the 43rd lap, the former points leader finished 36.3s behind him.
"The start was not so good, with wheelspin, and it was a while before I could really trust car and make progress," Vettel said. "I couldn't straight away go with Kimi and Valtteri, so I had to wait. My race was pretty isolated, and over the last 20 laps I was struggling.
"I went off in Turn One and I think something was wrong on the left-hand side, the steering was a bit down, so I couldn't trust it under braking and wasn't able to show our pace. But I didn't have the pace of the leading two drivers. They did better job and they deserved to win, but considering the problems we had yesterday, for us this was the optimal result. And even if the race was difficult, I know we have a very, very strong car for the rest of the season."
Red Bull also had a great race, as Daniel Riccardo and Max Verstappen had to recover from heavy grid penalties which left them 16th and 13th in the starting line-up. They both started on the soft-compound Pirelli tyres rather than the supersofts favoured by the top 10, and the Australian ran until the 37th on them, then came on like gangbusters on supersofts in the final stint to make up his deficit. He slashed an 11.5s deficit to Vettel to just 4.0s by the flag, to finish fourth.
The Dutchman lost a lot of ground after a clash with Felipe Massa on the opening lap which sent him pitwards for a replacement front wheel and tyre, but like Ricciardo he set several fastest laps, and recovered beautifully to take the final point for 10thplace.
Between them, Raikkonen took a very distant fifth, some way ahead of a fierce race-long fight between Ocon's Force India and Stroll's Williams, and their respective team-mates Felipe Massa and Sergio Perez joined in at the end to make it a quartet fighting for sixth place. Only 3.6s separated them all by the finish.
"Today was all about the team pulling together," Hamilton said after his sixth win of the year.
"Obviously it's been an incredibly exciting season and the last two races have shown our strength in depth as we have really got it together as a team. I'm not really sure why the pace of Ferrari was not as close as it usually is, and it was in practice. But, particularly in the first stint when, with breathing space behind us, we could extend the life of the tyre. Today the car was fantastic, really a dream to drive.
"Valtteri did a fantastic job to get through so we could get a 1-2 here, and though it's not easy for the Italians to accept, we did a better job this weekend.
"Monza is such a historic GP track. There are very, very few tracks, if any, like it. It's unique, this is a beautiful part of the world, and to hear the fans all around the track... I'd like to know how loud they were on the scale, their energy is incredible.
"But it's still close between us and Ferrari and there is still a long way to go, and the next track we go to, Singapore, they should be quick with the extra downforce they have, so I expect our fight to continue.
"It's a long time that Seb has been leading the points, so with all ups and downs we've had, leading the world championship for the first time in 2017 is a great feeling."
Final Positions after Race (53 Laps):
1 Lewis Hamilton (Gbr) Mercedes GP 1hr 15mins 32.310secs
2 Valtteri Bottas (Fin) Mercedes GP 1:15:36.781
3 Sebastian Vettel (Ger) Ferrari 1:16:08.627
4 Daniel Ricciardo (Aus) Red Bull 1:16:12.645
5 Kimi Raikkonen (Fin) Ferrari 1:16:32.392
6 Esteban Ocon (Fra) Force India 1:16:43.838
7 Lance Stroll (Can) Williams 1:16:46.466
8 Felipe Massa (Bra) Williams 1:16:47.144
9 Sergio Perez (Mex) Force India 1:16:47.586
10 Max Verstappen (Ned) Red Bull at 1 Lap
11 Kevin Magnussen (Den) Haas F1 at 1 Lap
12 Daniil Kvyat (Rus) Scuderia Toro Rosso at 1 Lap
13 Nico Hulkenberg (Ger) Renault at 1 Lap
14 Carlos Sainz (Spa) Scuderia Toro Rosso at 1 Lap
15 Romain Grosjean (Fra) Haas F1 at 1 Lap
16 Pascal Wehrlein (Ger) Sauber-Ferrari at 2 Laps
17 Fernando Alonso (Spa) McLaren at 3 Laps
18 Marcus Ericsson (Swe) Sauber-Ferrari at 4 Laps
Not Classified:
19 Stoffel Vandoorne (Bel) McLaren 33 Laps completed
20 Jolyon Palmer (Gbr) Renault 29 Laps completed
Register for free to continue reading
Registration is a free and easy way to support our truly independent journalism
By registering, you will also enjoy limited access to Premium articles, exclusive newsletters, commenting, and virtual events with our leading journalists
Already have an account? sign in
Register for free to continue reading
Registration is a free and easy way to support our truly independent journalism
By registering, you will also enjoy limited access to Premium articles, exclusive newsletters, commenting, and virtual events with our leading journalists
Already have an account? sign in
Join our new commenting forum
Join thought-provoking conversations, follow other Independent readers and see their replies