Belgian Grand Prix: Lewis Hamilton beats Sebastian Vettel to pole with latest wet-weather masterclass
Frenchman Esteban Ocon will line up in a shock third place for Force India ahead of his team-mate Sergio Perez after Hamilton finished seven-tenths clear of Vettel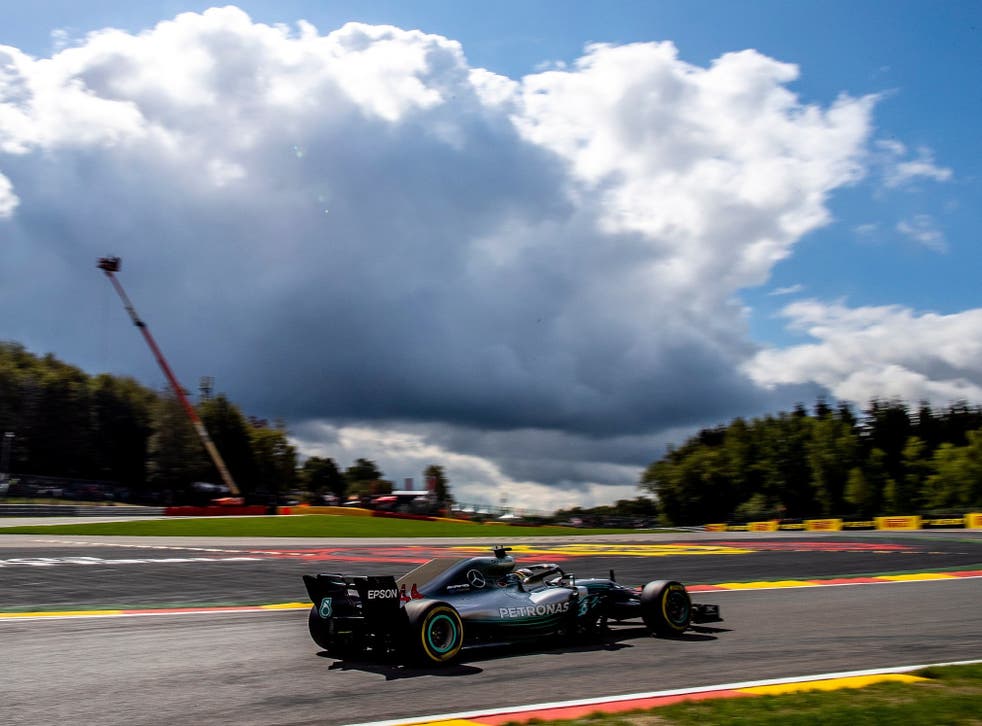 When the two Ferraris and Lewis Hamilton's Mercedes were separated by 0.137s after the final practice session this morning at Spa-Francorchamps, everyone expected qualifying to be a gripper. But nobody could have predicted just how well a dramatic story in two parts would unravel.
The first part embraced Q1 and Q2, which were held on a dry road. Ferrari owed both sessions, with Kimi Raikkonen fastest in the first and Sebastian Vettel in the second. By the end of the latter Vettel was fastest with 1m 41.501s, displacing Raikkonen's 1m 41.533s, but then Hamilton stopped the clocks with 1m 41.553s. Th fight was well and truly on, with just 0.052s separating the three contenders. And then, as so often happens at Spa, it rained.
Not a lot, to begin with, which tempted everyone to venture out for the 12 minute session on slick tyres. But then the rain worsened, triggering wholesale change to the intermediate rain tyres. And from then on it was the usual lottery in which you just stayed out there, trying to find the grip and to keep it all clean. So often here a surprise pole has been won purely because somebody kept plugging away and ended up doing the lap that counted most when the conditions were at their meagre best.
"That was one of the toughest qualifying sessions I can remember," Hamilton said. "It's just been getting harder and harder all year long, but I don't know that Ferrari definitely had it in the dry. But then the rain came. I love driving in the wet but I didn't want it to rain because I was looking forward to it being really close with Ferrari in the dry. I thought maybe I might just be able to do enough then, even though they are really quick on the straights, and that was an exciting prospect.
"When it rained it was horrible and absolutely terrifying. All of us were tiptoeing round, not knowing where the grip is. It was so hard! "We've raced in the rain this year but that was with the extreme wet tyres, and here we were going straight from slicks to the intermediates with only a few laps to understand where it was dry and where it was wet and where the grip was, and it was really patchy. When you lock the front wheels the car seems to speed up, so you are just praying that doesn't happen."
Daniel Ricciardo and Max Verstappen set the initial pace for Red Bull, but soon fell behind as first Raikkonen then Vettel went quicker, and the German improved further as the rain began to ease. Momentarily there was one of those surprises as Sergio Perez put his Racing Point Force India on 'pole' with 2m 01.894s, before Vettel went ahead again with 2m 01.188s. But in the end, Hamilton recovered from an off-road moment on his penultimate lap and managed 1m 58.179s to secure pole.
Vettel, having admitted that the slightly Fred Karno atmosphere in the Ferrari pit during the tyre changes had left him feeling less calm than he should have been, managed 1m 58.905s to secure second place, despite his Ferrari's energy recovery batteries being crucially depleted and his fuel low.
Celebrating his 78th pole position, Hamilton added: "I went off twice but I'm so glad I managed to keep it all together on that last lap. I knew that I only had that one left; I knew I had the pace, so it was just about how to try and find the balance of not pushing too much but not backing off too much. But that was awesome, and I'm super-happy because I love that. The rain is always a friend of ours. Everyone was on the edge of their seats, and that's what is great about this sport. And Spa is an incredible track to drive."
A glum Vettel said: "Things were a bit chaotic and not great from a management point of view. There was a bit of miscommunication and I was stuck in the pitlane for a while, but in the end that didn't matter though it didn't help at the time. So I don't feel we put everything together on that last lap, but starting second we are in a good place and we have the car to fight with. We should be good tomorrow."
As if all that wasn't enough, there was a good old Spa fairy story right there in pink and white on the second row of the grid. After all the aggravation of going into administration, then fighting their way out thanks to the consortium led by Lawrence Stroll, and the change of team entry and the resultant loss of all the constructors' championship points scored thus far in 2018, the new Racing Point Force India team lined its cars up behind Hamilton and Vettel courtesy of great laps from Esteban Ocon and Perez.
The Mexican is safe with the team for 2019, but though Ocon is one of the most highly rated newcomers of recent years he must move to make way for Lance Stroll, and though he is managed by Mercedes his future, ludicrously, remains uncertain. Hopefully, the great performance will help to focus a few minds in favour of the 21 year-old Frenchman who, had Renault not assisted him to victory in the 2015 GP3 series, was genuinely facing employment at McDonald's as his future.
"It's awesome to be P3 after such a difficult time for the team, who are starting afresh," Ocon said. "We are definitely happy with that result because it was so unexpected! The guys did a fantastic job to change the tyres so quickly, and we did a clean lap and managed to get third. The car has been strong in the dry here, too, so let's bring it on tomorrow! As for next year, all I know is that if you do well on the track and do a strong job in F1, they can't skip you…"
Support for his cause came from both Hamilton and Vettel. "I've always been a supporter of Esteban, and how he conducts himself and performs on the track is exceptional," Hamilton said of his Mercedes stablemate. "Unfortunately, the situation in F1 is that some teams would rather take drivers with money than promising kids. And Esteban needs and deserves to be in a good car next year."
Register for free to continue reading
Registration is a free and easy way to support our truly independent journalism
By registering, you will also enjoy limited access to Premium articles, exclusive newsletters, commenting, and virtual events with our leading journalists
Already have an account? sign in
Register for free to continue reading
Registration is a free and easy way to support our truly independent journalism
By registering, you will also enjoy limited access to Premium articles, exclusive newsletters, commenting, and virtual events with our leading journalists
Already have an account? sign in
Join our new commenting forum
Join thought-provoking conversations, follow other Independent readers and see their replies