Monaco Grand Prix: Daniel Ricciardo beats Sebastian Vettel and Lewis Hamilton to victory
It was Ricciardo's second victory of the season after managing the damage to his car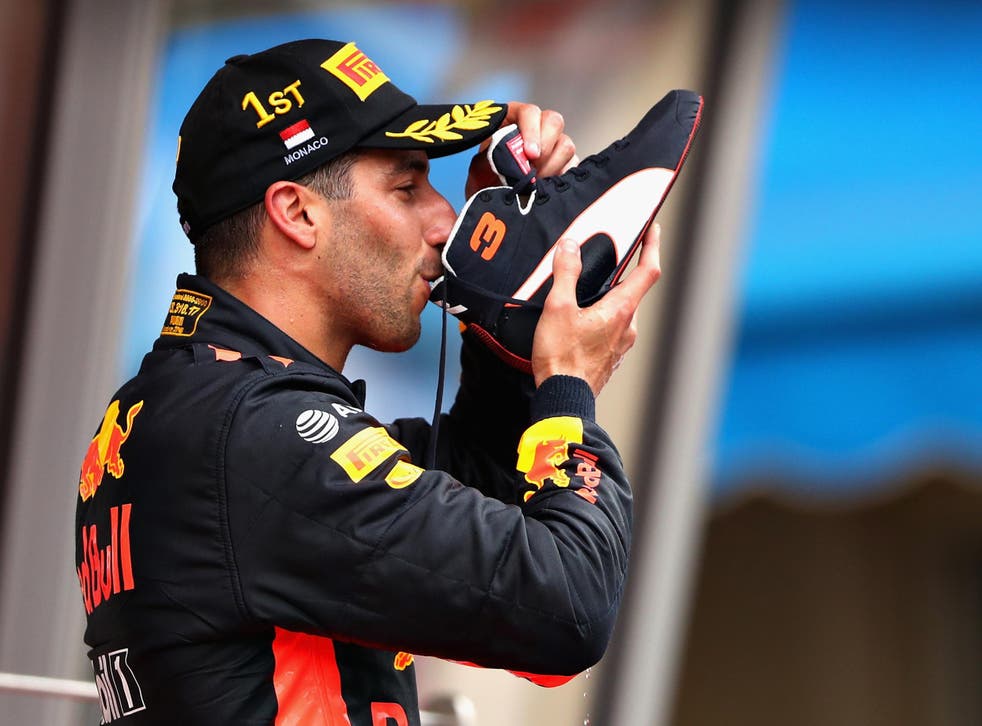 When it comes to payback, there are no better ways of getting it in F1 than winning on the track where you were robbed. And this afternoon, under the most trying circumstances, Red Bull's Daniel Ricciardo hung tough and finally avenged his loss here in 2016 with a superb drive to victory from pole position.
Monaco so often throws up races that are outwardly dull. You can thank the track layout and the overall level of competitiveness of the leading cars for that. But the higher rate of degradation of Pirelli's tyres threw something else into the mix as the gaps between the top five drivers ebbed and flowed as they conserved their rubber to the point where by the 50th of the 78 laps Ricciardo, Sebastian Vettel, Lewis Hamilton, Kimi Raikkonen and Valtteri Bottas were all bracketed within six seconds. And, not so far back, Esteban Ocon was coming in on them like gangbusters in his Force India as they all sought to avoid having to surrender places making damaging late-race pit calls.
It was a false situation, of course. As early as the fifth lap the slow pace of the race was evident as tyre preservation was uppermost in all minds, and the sole pit stops that each of the leading runners made didnothing to change the order even though Mercedes had brought Hamilton in first to try and get the undercut, as he swapped Pirelli's hypersoft compounds for the more durable ultrasofts on the 12th lap.
Vettel lasted until the 16th, Ricciardo the 17th, Raikkonen and Bottas the 18th, but the younger Finn tried a smarter strategy by taking a set of supersofts in the hope that the others might have to stop again. They didn't, as it transpired, but only because they were all obliged by the track design to drive follow-my-leader races as if they were walking wounded.
Each of them must have considered stopping for fresh tyres, Hamilton most of all since his calls over the radio were the most vociferous. He was watching his tyres graining across the tread and losing more and more rubber, even when he was backed right off, but this was a game of brinksmanship, and anyone who pitted would have lost places they could never regain.
As if all that wasn't bad enough, however, Ricciardo had a much more serious problem that forced him to live with the fear of his redemption being snatched away yet again, as he reported a loss of power on the 28th lap. A series loss. The whole MGU-K system had shut itself down.
This generator unit harvests kinetic energy under braking and develops 160 bhp, but it was too risky to try rebooting it, so he just had to do without. Anywhere else he would have been eaten alive, but though the problem couldn't be fixed, it could be managed. He and his crew did a fantastic job of that as he was able to exploit the excellence of his Red Bull's chassis round the Principality's narrow streets and to eke out a small enough advantage to stay in front.
Vettel smelled blood in the water and tried to push his red shark closer, but his challenge stagnated.
"I think we had the pace but it was a tricky race and Daniel had all the answers," he said. "In the first stint I could follow him easily, then he started to push and it was hard to beat him. When I saw he had an issue I started to push, but as soon as I tried that I ran into trouble. The track here makes following difficult, which is a bonus if you are ahead. He was stronger and I couldn't follow him as I was starting to go through the tyres pretty quick."
He sensed a final chance when there was a virtual safety car deployment after local hero Charles Leclerc crashed his Sauber into the back of Brendon Hartley's Toro Rosso in the chicane on the 72nd lap.
"But on the restart [two laps later] it took a while to get the tyres up to temperature, so I couldn't keep the pressure on," he added. "I struggled for one lap and didn't want to take an unnecessary risk so close to the end, but I was sorry that I lost so much time. It would have been nice to finish the race close behind Daniel."getting a good start, that was really the key moment and then obviously, as I mentioned, the problems I had, that obviously threw a lot of doubt in my mind for a few laps. Every lap I got by with no extra problems was a little victory so happy to see the chequered flag.
"Obviously I had a lot less power, and then the rear brakes got really hot so I had to move the brake balance forwards to put less energy through them. And I was only using six of the eight gears. The pace was slow, because of the loss of power, to manage the tyres and then because I was managing brakes. Hence why it felt like a very long race.
"It two years in the making, this, so I finally feel like the redemption has arrived. We won Monaco! It feels good! There were a lot of Aussie flags on the in-lap, so thanks everyone. Awesome!"
Hamilton's whole weekend was predicated on damage limitation, because Mercedes knew that they would still have problems here on a track that
doesn't suit their long car as well as Barcelona did a fortnight ago, despite a great deal of work on the set-up.
"First congratulations to Red Bull and Daniel," he said. "They did a great job all weekend but especially today so I'm super-happy for him. It would have been nice to be second, especially after missing out on that in qualifying yesterday. But only losing three points, compared to what happened here last year, was okay. Not too bad. But we would have struggled to be second ahead of Seb and to stay there. My tyres suffered badly with graining, and it felt like longest race I've ever done. Even though we were all turned down and just cruising from lap six to the finish, literally cruising. That's not racing. I don't know whether that was great to watch, so I'm looking forward to the next races, which hopefully will be more fun."
Ricciardo knows a thing or two about that, and naturally enjoyed his now traditional 'shoey' libation as a prelude to a dunking (voluntarily, or otherwise) in the Red Bull energy station pool. Design guru Adrian Newey was a little more circumspect and held his nose when prevailed upon to take his turn to imbibe. Protocol probably forbade the offer of a sweaty Puma boot full of Carbon champagne for Prince Albert, but the ecstatic Australian offered both the Prince and his wife Charlene, a former Olympic swimmer, a swig direct from the bottle. Which at least one of them accepted convincingly.
A little bit of Hollywood didn't hurt anyone on a day that might have produced a dullish race, yet generated a fantastic and much deserved result and the subsequent illusion that it had been truly exciting.
Register for free to continue reading
Registration is a free and easy way to support our truly independent journalism
By registering, you will also enjoy limited access to Premium articles, exclusive newsletters, commenting, and virtual events with our leading journalists
Already have an account? sign in
Register for free to continue reading
Registration is a free and easy way to support our truly independent journalism
By registering, you will also enjoy limited access to Premium articles, exclusive newsletters, commenting, and virtual events with our leading journalists
Already have an account? sign in
Join our new commenting forum
Join thought-provoking conversations, follow other Independent readers and see their replies