Italian Grand Prix: Sebastian Vettel and Ferrari outpace Mercedes at Monza as F1 is once again grateful for halos
There was widespread relief as Marcus Ericsson walked away from a horror crash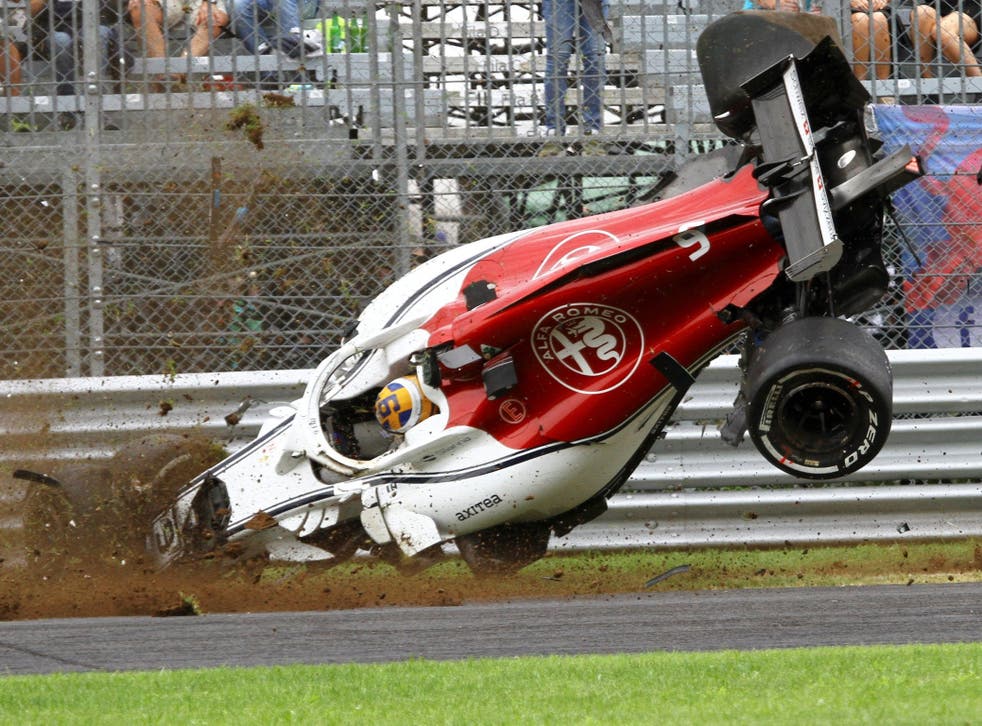 Formula One found itself grateful again for the inherent structural integrity of the modern monocoque chassis and the controversial halo device, when Marcus Ericsson emerged unscathed after a huge accident during this afternoon's second practice session.
Once again a Sauber car was involved, as the Swede lost control under braking from 320kmh for the first chicane. In an accident weirdly reminiscent of the one that befell Bernie Ecclestone's close friend Jochen Rindt here under braking for the Parabolica Curve back in 1970.
But where Rindt was killed as his Lotus was torn apart and he submarined in the shattered cockpit as he disliked wearing the crutch straps, the Sauber withstood the heavy impact as it turned sharp left and hit the tyre wall nose-first. But it was then launched into a nasty series of heavy rolls and flips as marshals on the outside if the track were lucky to escape injury.
There was widespread relief as Ericsson was heard to say: "I'm okay," and he was quickly released after a check-up in the medical centre. His car was badly damaged but its survival cell was intact and withstood the incident well, and all the tethers ensured that the wheels remained attached.
Ericsson's team-mate Charles Leclerc was most likely saved from injury by the halo last weekend when impact from Nico Hulkenberg's Renault launched Fernando Alonso's McLaren over the Monegasque's Sauber, and later this afternoon he reported difficulties with his similar car's rear wing. That confirmed the team's belief that the drag reduction system – DRS - in Ericsson's rear wing had malfunctioned and opened erroneously as he braked for the tight first chicane.
When that excitement had receded, and the large trail of debris had been cleaned away, Ferrari ruled the roost with Belgian GP winner Sebastian Vettel setting the pace with 1m 21.105s from team-mate Kimi Raikkonen on 1m 21.375s. But Lewis Hamilton, back on duty after being excused yesterday by Mercedes for undisclosed personal reasons, was only 0.287s off Vettel's pace in a promising first day for Mercedes. The reigning champion lapped in 1m 21.391s.
Vettel's afternoon was not without drama, as he spun in the fast 180-degree Parabolica corner that ends the lap and links the back and main pit straights, and touched the outer wall. He was able to drive off the gravel bed, however and head into the pits, where damage to his car was found to be minimal.
"I thought I managed it without touching but I had just a slight touch so we broke a little bit the rear wing endplate which we had to change," he said. "The car was fine. At least I got out of the sandpit, which was difficult as a child, but nowadays I don't want to spend much time there. I am happy that I can carry on.
"I wanted to run but we had to check the car first, it was good that we got out this afternoon. I was just trying a bit too hard." Hamilton was relatively satisfied with his day, considering that poor conditions lost everybody valuable track time in the morning session.
"We woke up to torrential rain this morning, which meant it was a less busy first session than normal," he said. "We did a few laps but after that it was like having a day in the office when you don't have too much work to do - I was even snoozing in the car at one point!
"But we did plenty of laps this afternoon in the dry and we could see that, like in Spa, we had a small gap to Ferrari on both the short and the long runs. My laps felt pretty good, but Ferrari was a little bit quicker today.
"We're all working flat out right now in every part of the team, and we have work to do tonight as well - but there are some areas where we can see deficits, so I hope we can make a little step for qualifying. It has been a big battle for a number of races now, and they have had a small advantage since the middle of the summer, but we are pushing as hard as we can to overcome that. Although we are on Ferrari's home turf, we have some great support out there and it's always a boost to see that in the grandstands. It will be a very close fight tomorrow and, like every race weekend, we will be giving it everything we've got."
Once again the Red Bull Renaults were left a little breathless on such a fast track, as Max Verstappen headed team-mate Daniel Ricciardo with 1m 22.154s to 1m 22.296s. But against their expectation of perhaps being prey to the fastest midfield, the leader of the close-matched bunch, Spa sensation Esteban Ocon, was a further seven-tenths of a second back. The Frenchman was fractionally ahead of his Racing Point Force India team-mate Sergio Perez as half a second covered the eight cars behind the Red Bulls.
As Honda were confirmed as the sponsor of the Japanese GP, and provisional 2019 F1 calendar was announced, F1 CEO Chase Carey revealed that there will again be 21 races as the German GP will remain thanks to backing from Mercedes.
"In Germany obviously Mercedes as our reigning team champion, clearly it's in a special place," he said. "We are thrilled that Mercedes stepped forward to play an important role, as the title sponsor, to help us find a path to bring the grand prix back."
Register for free to continue reading
Registration is a free and easy way to support our truly independent journalism
By registering, you will also enjoy limited access to Premium articles, exclusive newsletters, commenting, and virtual events with our leading journalists
Already have an account? sign in
Register for free to continue reading
Registration is a free and easy way to support our truly independent journalism
By registering, you will also enjoy limited access to Premium articles, exclusive newsletters, commenting, and virtual events with our leading journalists
Already have an account? sign in
Join our new commenting forum
Join thought-provoking conversations, follow other Independent readers and see their replies