Sebastian Vettel determined to play it cool after Canadian victory but stunning drive will have Mercedes sweating
Ferrari got everything right to exploit a new aerodynamic package and a great car in Canada, and celebrated with their first win here since 2004
David Tremayne
Montreal
Monday 11 June 2018 12:28 Comments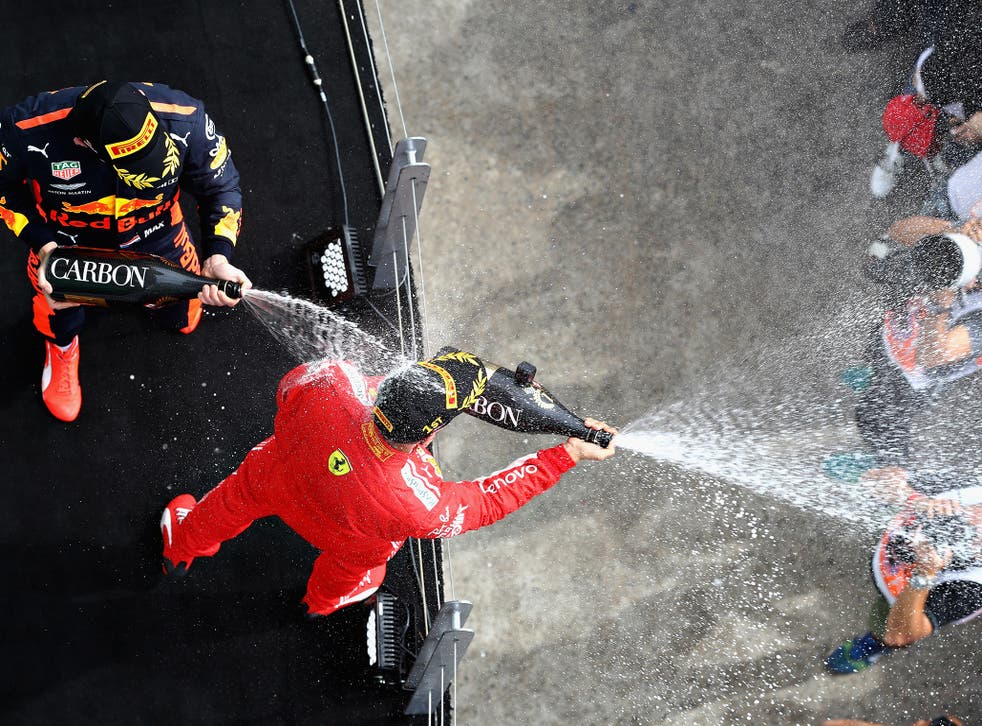 Though race winner Sebastian Vettel said he wasn't particularly bothered that he had moved back into the lead of the world championship by one point from Lewis Hamilton, thanks to his stunning victory in Sunday's Canadian Grand Prix, you can bet that Mercedes were.
Ferrari have been on their back foot lately, accused of running too many batteries and thus having too much power, then apparently struggling a little after their misfortunes in Azerbaijan, their tyre temperature issues in Spain, and being beaten by an underpowered Red Bull in Monaco. But they got everything right to exploit a new aerodynamic package and a great car in Canada, and celebrated with their first win here since 2004.
Mercedes must have regretted in some ways having to leave their own upgraded engines at home because of minor reliability concerns in final bench testing, but in an era when each driver's power unit has to last seven races, it was a wise, albeit enforced, decision.
As Lewis Hamilton had problems with his rear brakes in qualifying and struggled with power drop-outs in the race, Valtteri Bottas was again their lead runner.
"Since lap one Ferrari seemed to be a bit quicker," the Finn said.
"They were really pushing and we got into a bit of trouble at the end, running out of fuel. I think this was our maximum today. Yesterday qualifying was about a hundredth of a second, but today we maxed out. I'm happy for that, but not that we were behind.
"I think that Ferrari had the edge. Speaking with Seb afterwards he said he had been managing things and that he was doing his fuel saving in the early stages of the race when he had a cushion. We were running flat-out after him then, and had to do a lot of saving at the end. I had such a big lift as I crossed the line because it was so critical, that Max [Verstappen] was able to close right up."
Afterwards Hamilton, who had seen a 14-point lead turned into a single-point deficit in the title chase, said he was just grateful to have finished.
The first power drop-out happened as early as the second corner on the first lap. It transpired that an unidentified problem had caused his engine to start running too hot, and the problem was rectified by removing some bodywork louvres as he made an earlier than intended pit stop after only 16 laps. Thereafter his pace picked up but he had lost a place to Daniel Ricciardo who got the overcut, and spent the rest of the race convinced that his engine was about to break any lap.
"It was an unforeseeable issue," he said. "I was worried every single lap about the engine as I was pushing so hard after Daniel. You should have heard the things I was saying to him, Nothing derogatory, just aggressive racing talk. 'I'm chasing you, man. I'm gonna get you!'
"Then a backmarker would get in the way, or the car would slide a little bit. But I still love the challenge and I was driving like at 120 percent and taking risks today. It was fun in some respects but I wish I could just have been closer."
In any team a tough weekend when everyone feels that they have done everything right yet still don't get a result, creates a situation where every single person feels the pain. But he categorically denied any feeling that the title might be slipping away.
"There will be good days and bad days ahead, and you try to minimise the bad days, the losses, and focus on getting the results.
"Thinking something is slipping away is the first sign of weakness if your mindset is that you are not going to win the world championship. I am here to win. I put all my energy into that. Anybody who is involved in any sport, or even in business, shouldn't think that they might lose. You can't do that. Your mindset has to be, 'How can I win this? How can I do it better?'
"There is potential in this car, Last year a lot of you wrote that the Mercedes was the best car. You can't write that this year, that we are doing the best job. But there will be better races to come, and I'm grateful for that. I sit here sure that over the next couple of days I'll feel more pain after a poor weekend, but on the hand it could have been a DNF so I'm just grateful that the engine was okay and went the distance. Later in the season, in 10 races' time, I might be very happy that we finished fifth here."
The four-time champion isn't slowing down, as some like to think, but he is getting ever more philosophical about setbacks, while remaining just as determined to overcome them.
Register for free to continue reading
Registration is a free and easy way to support our truly independent journalism
By registering, you will also enjoy limited access to Premium articles, exclusive newsletters, commenting, and virtual events with our leading journalists
Already have an account? sign in
Join our new commenting forum
Join thought-provoking conversations, follow other Independent readers and see their replies