Lewis Hamilton extends lead in drivers' championship after victory is rain-soaked Singapore Grand Prix
The Brit is now heavy favourite to go on to win the Championship
David Tremayne
Singapore
Sunday 17 September 2017 16:13 Comments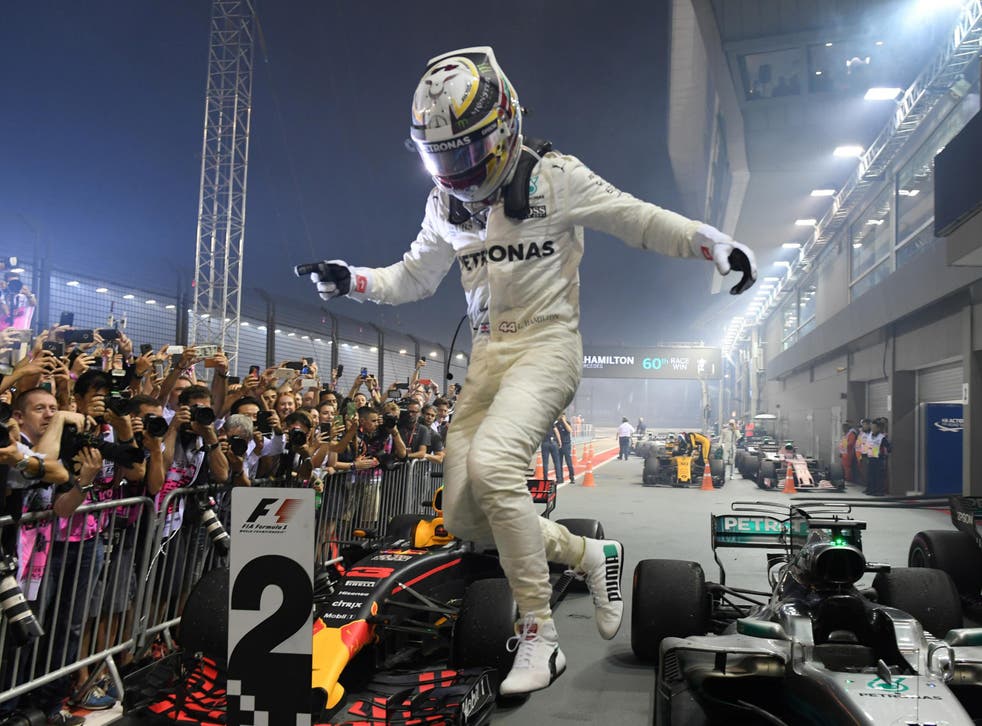 Lewis Hamilton left Singapore with his 60th Grand Prix victory, a points lead of 28 and only six races remaining, on an evening of disaster for Ferrari who saw polesitter Sebastian Vettel and team-mate Kimi Raikkonen eliminated at the start after a clash with Red Bull's Max Verstappen.
After heavy rain in the morning, the forecast for rain just before the start proved accurate, and the precipitation arrived as the grid was forming. Thankfully, however, the safety car's lights remained off, which meant that drivers could have a conventional grid start and go racing properly.
How bright lights, a slippery wet track and inconveniently hard concrete walls would mix remained to be seen as the night race experienced rain for the first time in its illustrious 10-year history.
The 2017 Formula 1 grid

Show all 20
Way down in fifth place on the grid, standing alongside Lewis Hamilton's car, Mercedes' non-executive chairman Niki Lauda's face beamed brighter than the thousands of arc lights around the track. As lifelines go, this looked like a good one. And it was.
And, boy, was there drama at the start.
Vettel got away well from pole position, but as Verstappen lagged slightly Raikkonen got a great run and eased alongside him on the left, by the pit wall. As Vettel eased over to take his line for the first corner, the Red Bull was the meat in a Ferrari sandwich, and the result was chaos.
Raikkonen hit Verstappen and then Vettel, pushing the number five Ferrari wide. But as Vettel just clung to the lead and Hamilton came up round the outside on the right-hand side to a very grateful second, Raikkonen and Verstappen's out-of-control cars collided again on the outside of Turn 1, also spinning the unfortunate Fernando Alonso's McLaren.
If Hamilton was thanking his lucky stars, he was even more grateful further round the lap, as Vettel side sideways in front of him before his Ferrari snapped right into the wall, removing its nose. He limped round in 17th place as the safety car was immediately deployed to lead the cars through the pitlane as the debris was cleared away, but stopped partway round the second lap, his race - and possibly even his title hopes - over.
"I had an average start and then went to the left trying to fend off Max and the next thing I get a bump on the side and see Kimi's car," Vettel said. "That's how this business is, and we'll move on. It doesn't change much."
The race went live again by the fifth lap, by which time the rain was easing. There was still plenty of standing water, however, but those who had opted for full wets tyres were beginning to struggle already. They included Nico Hulkenberg in third place for Renault, Sergio Perez in fourth for Force India, a flying Jolyon Palmer in fifth in the other Renault, and Stoffel Vandoorne in seventh for McLaren, chasing a struggling Valtteri Bottas in the second Mercedes.
Up front, Hamilton was giving Ricciardo a masterclass in wet-weather driving, steadily pulling clear with a series of fastest laps.
Then, just after both Toro Rosso drivers had told their engineers to leave them alone and cease needless radio communication, Daniil Kvyat crashed, triggering a safety car deployment when a virtual safety car might have been better suited, and multiple pit stops as those on full wets switched to intermediates. Up front Ricciardo dived in, taking fresh intermediates, as did Perez. Hulkenberg, Palmer and Vandoorne followed suit a lap later.
Hamilton, still in the lead, wasn't impressed.
"Has everyone changed tyres except me?" he asked his crew. "Note sure that's a good idea, is it? Everyone's had a free stop." He was right, as Ricciardo was all over him on the restart at the end of the 14th lap.
A fastest lap kept Hamilton clear, however, and he simply set about rebuilding his lead with another string of them as the track dried slower than expected. His advantage was out to 6.0s on the 24th lap when Haas's Kevin Magnussen and Williams' Felipe Massa were the first to switch to Pirellis ultrasoft slick tyre. They would be the guinea pigs, as others watched to see if they could generate sufficient tyre temperatures. A lap later, Massa reported that the track was now okay, but as Hamilton reported that his intermediates were still fine, he continued to set fastest laps. Then Magnussen set the best lap, on the 27th, only for Hamilton to better it on the 28th, when Red Bull brought Ricciardo in for ultrasofts. Bottas, Hulkenberg and Perez followed suit.
Hamilton finally stopped on lap 29, changing tyres easily without losing his lead. But as he and Ricciardo began swapping fastest laps, the race started to come alive.
And then Marcus Ericsson spun his Sauber on the bridge, giving officials another excuse for a full safety car even though the stricken car was only feet away from a safe place and it appeared that it could have been pushed away under a virtual safety car.
"Why another safety car?" Hamilton demanded to know. "Surely a VSC…"
But then a crane was sent on the track to effect the removal of the Sauber, and after Jules Bianchi's accident at Suzuka in 2014 the FIA had no other option. But up front, Hamilton was experiencing the recurrent problem that the safety car could not go fast enough to enable the race cars to maintain tyre temperature, something that surely needs addressing.
When the track went green again on the 42nd lap, 25 minutes of racing were left. And Hamilton managed them superbly, despite a couple of scares when Mercedes asked him to slow down to compress the field and give Bottas a chance, before he resumed at his own chosen pace. In the end he beat Ricciardo by 4.4s seconds, after a perfect evening.
"I can't win the bloody thing!" the Australian joked. "I'm disappointed not to win, but I'm grateful. I just watched the chaos unfold in front of me at the start and it was a good job I made a bad one otherwise I'd have been involved. It looked like three trying to go into one…"
"What can I say, what a turnaround!" Hamilton said. "Yesterday we struggled and I said I needed a miracle. We had no idea what would happen today, we just tried to stay focussed. I needed it to rain, and as soon as it began to I knew where I'd finish. Those are my conditions. It was very unfortunate for Ferrari at the beginning. God blessed me today, for sure."
Register for free to continue reading
Registration is a free and easy way to support our truly independent journalism
By registering, you will also enjoy limited access to Premium articles, exclusive newsletters, commenting, and virtual events with our leading journalists
Already have an account? sign in
Join our new commenting forum
Join thought-provoking conversations, follow other Independent readers and see their replies