A week with GameStick - the world's most portable TV games console
A console in your pocket with cheap and cheerful titles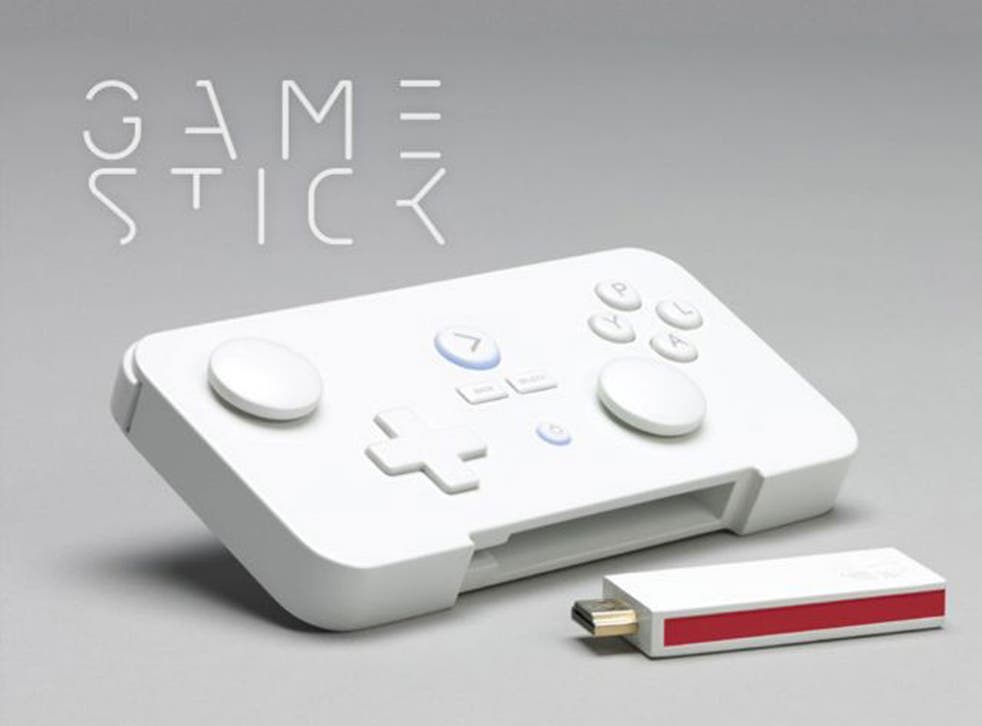 What is it? A big-screen gaming experience that fits in your pocket.
How does it work? The console is about the size of a USB stick and has the technical capacity of a mid-range smartphone. You keep it tucked into the back of the gamepad and plug it into a television and connect to the internet to download and play games.
What are the games like? Fun distractions built by indie game companies. They don't offer the sort of stunning visuals or detailed world-building you find on the big-name consoles, but they also don't cost the earth (prices range from free to £3) and have more heart and imagination than your average £60 title. Standout games such as Fist of Awesome show off the possibilities of mixing lo-fi graphics with popcorn gameplay, but the selection is still a mixed bag, and a half-empty one at that.
What about the hardware? The basic premise behind the GameStick – that you keep the games console inside the controller and simply plug-and-play whenever you like – is fantastic, but sticking to this portable form has some drawbacks. The rounded-rectangle shape of the controller means you can slip it into a backpack pocket, but it also feels awkward compared with the moulded contours of the PS4 or Xbox One controllers.
Similarly, although you are given two thumbsticks, a D-pad, four buttons and two shoulder buttons, it doesn't feel that responsive. It's fine for arcade games, but use it to aim in a first-person shooter and you feel like you're trying to steer a cow.
Are there any rivals? Yes, plenty. The rival Ouya is only £20 more and offers a wider selection of games. More expensive options such as the Nvidia Shield are also out there, but at the higher prices, you may as well plump for an Xbox One or PS4.
Who should buy this? The GameStick is cheap, easy to use, and offers some basic gaming fun without the dangers of losing a weekend to an addictive RPG or being sworn at by a 13-year-old over game-chat. However, the game library is limited, and most younger players will already be sold on Microsoft's or Sony's dream and are probably looking forward to swearing at someone over game-chat themselves.
Gamestick
Price: £79.99
Operating system: Android, but without Google's Play Store
Display: Plugs into any modern TV via an HDMI port
Hardware: 1.9GHz processor, 8GB storage, 1GB RAM
Register for free to continue reading
Registration is a free and easy way to support our truly independent journalism
By registering, you will also enjoy limited access to Premium articles, exclusive newsletters, commenting, and virtual events with our leading journalists
Already have an account? sign in
Register for free to continue reading
Registration is a free and easy way to support our truly independent journalism
By registering, you will also enjoy limited access to Premium articles, exclusive newsletters, commenting, and virtual events with our leading journalists
Already have an account? sign in
Join our new commenting forum
Join thought-provoking conversations, follow other Independent readers and see their replies