Alien: Isolation review - play if you dare
£59.99; Sega; PS4, Xbox One, Xbox 360, PlayStation 3, PC
Oliver Cragg
Tuesday 07 October 2014 14:42 Comments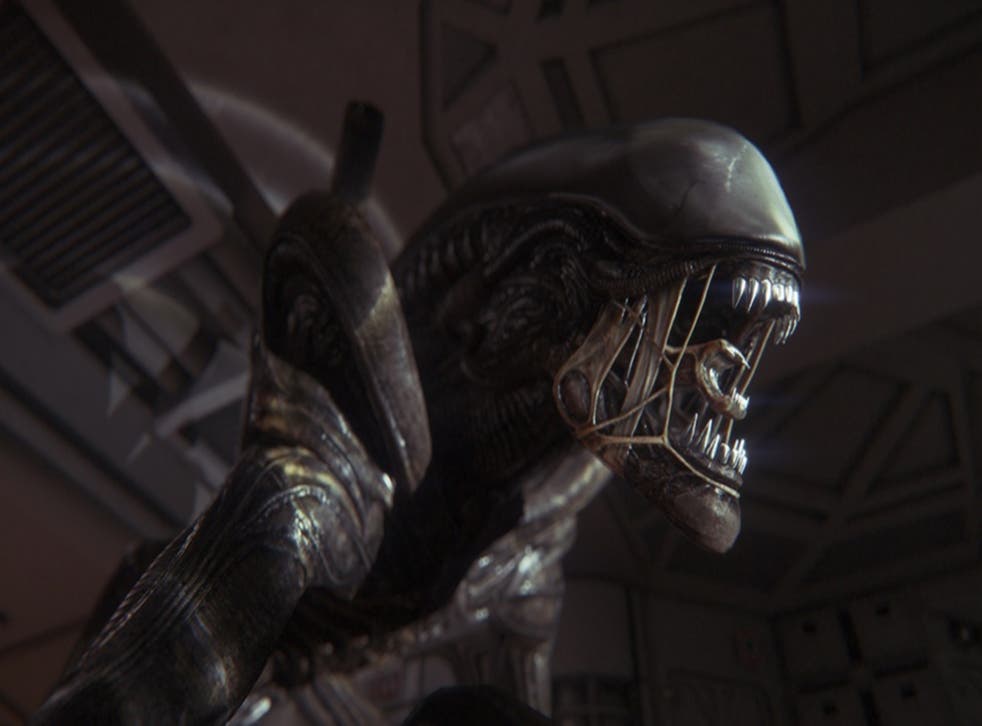 Cards on the table time: Alien is my favourite film, bar none. To me Ridley Scott's 1979 sci-fi horror masterpiece is the film my parents warned me was the most terrifying thing they'd ever seen; it's the film I wrote extensive essays about at university; and it continues to be the high watermark for any offerings in sci-fi genre that try to convey the unknown infinite of space as the realm of the monstrous.
By proxy, I cannot stand the majority of Alien-related video games. With a few minor exceptions – most notably the 'Metroidvania'-style DS title Aliens: Infestation – games set within the Alien canon have done their best to nullify the chilling aura of a creature iconically described as the 'perfect organism'.
When I sat down with Alien: Isolation's Creative Lead, Creative Assembly's Al Hope, he was adamant that previous attempts at recreating H.R. Giger's nightmare in the industry didn't factor into the development process, as their vision was clearly focused on one question: how do you survive against fear incarnate?
Alien: Isolation radiates dread due, in part, to its recognition of what made Alien so terrifying in the first place. Set on the Sevastopol, a space station in a state of total collapse through bureaucratic meddling, a desperate crew, rogue 'Working Joe' androids and whispers of a lurking predator, you play as Amanda Ripley, the daughter of Alien's famous protagonist, in search of answers about the events on the Nostromo 15 years prior and determined to discover her mother's fate.
Look if you dare: Alien Isolation screenshots

Show all 10
In a brave move, for the first hour the alien is largely absent, which ratchets up the tension and gives the stellar sound design and lighting engine its time to shine. But when it does show? It's beautifully terrifying. While the game guides you through a linear path of objectives with exits gated off until you find the correct tool, each new area is a playground where you gamble with mortality in game of cat and mouse, hunter and prey. You'll eventually gather resources for crafting devices and find weapons that fend off the alien or divert its attention to the other hostile inhabitants of the ship, but it remains impervious to any lasting harm.
After death – which will happen a lot – you'll have learnt a little more about your opposition, but its dynamic AI ensures no encounter is the same with spawn points and patrol paths differing on each new gauntlet run. It's an exhilarating feeling getting past that final locked door and scrambling for the fleeting safety of an elevator, knowing that the dot on the franchises' signature motion tracker is closing in on your position.
Out of necessity you find yourself progressing without truly taking in your surroundings, missing out on a multitude of audiologs and documents that often tell a better tale the Isolation's main cast which, aside from the stoic, yet vulnerable Amanda, often drift into monotone deliveries of dialogue that never waver, in spite of the dire situations they find themselves in.
Alien Isolation is an unforgiving experience, but one that stays true to its origins by recreating the feel, look and atmosphere of its source material. At between 15-20 hours on a normal playthrough the game begins to waver in focus towards the closing stages. Yet for those moments spent anxiously peering between the grates of a locker at a scouring embodiment of sheer horror, Alien: Isolation finally gives the video game world a definitive interpretation of the Alien mythos.
Register for free to continue reading
Registration is a free and easy way to support our truly independent journalism
By registering, you will also enjoy limited access to Premium articles, exclusive newsletters, commenting, and virtual events with our leading journalists
Already have an account? sign in
Register for free to continue reading
Registration is a free and easy way to support our truly independent journalism
By registering, you will also enjoy limited access to Premium articles, exclusive newsletters, commenting, and virtual events with our leading journalists
Already have an account? sign in
Join our new commenting forum
Join thought-provoking conversations, follow other Independent readers and see their replies