Flappy Bird taken down: App creator removes addictive smartphone hit from app store
But don't worry - the game is still available to play if you have already downloaded it
Richard Osley
Sunday 09 February 2014 18:45 Comments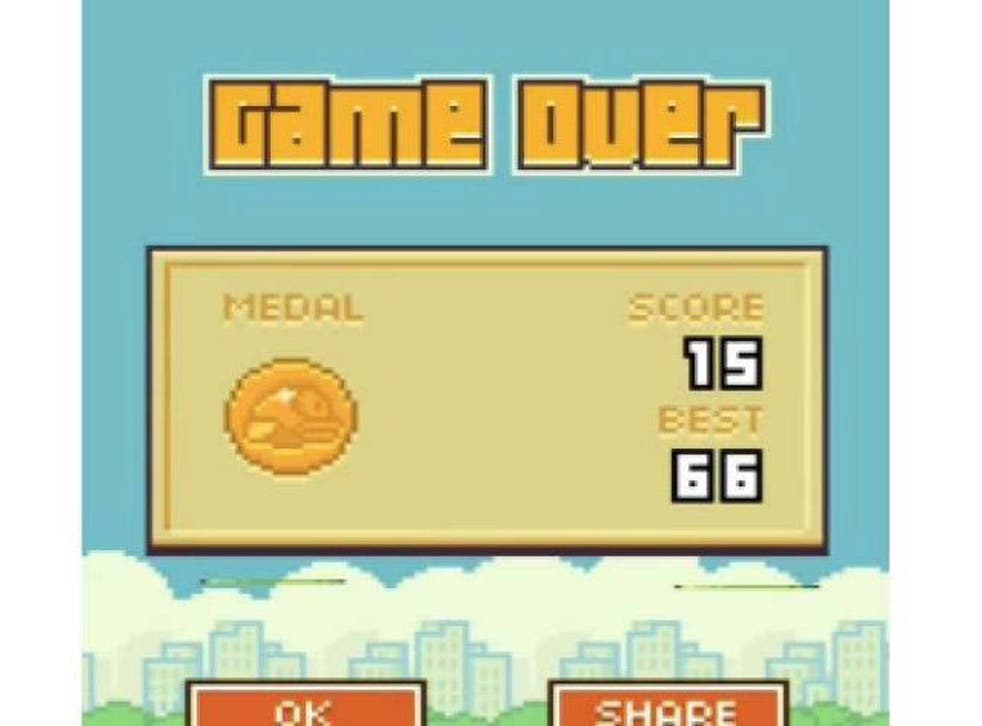 Addictive and irritating in equal measure, Flappy Bird has proved to be a surprise hit in the competitive mobile phone game market, attracting more than 50 million downloads and hooking users into a time-consuming challenge now renowned for its difficulty.
But its creator has now taken the game offline, after complaining with a choice of words that sounded more like one of its exasperated players than its maker: "I cannot take this anymore."
In a series of tweets yesterday, Vietnam based Dong Nguyen told fans of the game: "I am sorry 'Flappy Bird' users, 22 hours from now, I will take 'Flappy Bird' down. I cannot take this anymore. It is not anything related to legal issues. I just cannot keep it anymore. I also don't sell 'Flappy Bird', please don't ask. And I still make games." The timing of his messages would map out an apparent deadline of early on Sunday evening.
Sure enough, at 5.15pm the game became unavailable to download - first appearing on the app store with an error message, then gone from search results altogether.
Nguyen had previously suggested that his life had become overrun by the success of the game, which has achieved a global following despite its basic graphics – often likened to the old Mario Nintendo games – and simple premise of flying a bird past a sequence of pipe obstacles. The revenue from advertising in the game, which is free to download for iOS and Android users, has been estimated at close to £30,000 a day.
In loving memory of Flappy Bird: 10 of the hardest games to break your thumbs on

Show all 10
Flappy Bird was released last May and did not initially make a huge dent in the download charts. But it became known for its difficulty – a challenge which smartphone users found irresistible – and the number of players began to rocket.
With its booming popularity, however, Nguyen began receiving abusive messages from users who had become haunted by its trickiness. In one of the game's more light-hearted reviews, he was called an 'evil genius' for devising such a devilish game. Other messages were sent with an angrier tone as players became increasingly frustrated.
Meanwhile, on the Apple's app store, reviewers outlined that frustration. "It is a highly addictive game, I would recommend it for people who like retro and arcade games," one warned. "But beware you'll lose sleep, lose friends and destroy your life :) I've cut down on how long I play it, so now I get 8 hours sleep instead of 3."
In a previous tweet, Nguyen said: "I can call 'Flappy Bird' is a success of mine. But it also ruins my simple life. So now I hate it."
Register for free to continue reading
Registration is a free and easy way to support our truly independent journalism
By registering, you will also enjoy limited access to Premium articles, exclusive newsletters, commenting, and virtual events with our leading journalists
Already have an account? sign in
Register for free to continue reading
Registration is a free and easy way to support our truly independent journalism
By registering, you will also enjoy limited access to Premium articles, exclusive newsletters, commenting, and virtual events with our leading journalists
Already have an account? sign in
Join our new commenting forum
Join thought-provoking conversations, follow other Independent readers and see their replies