Quantum Break review, Xbox One: Laying the foundation for something astonishing
A convoluted story, not helped by a below average TV show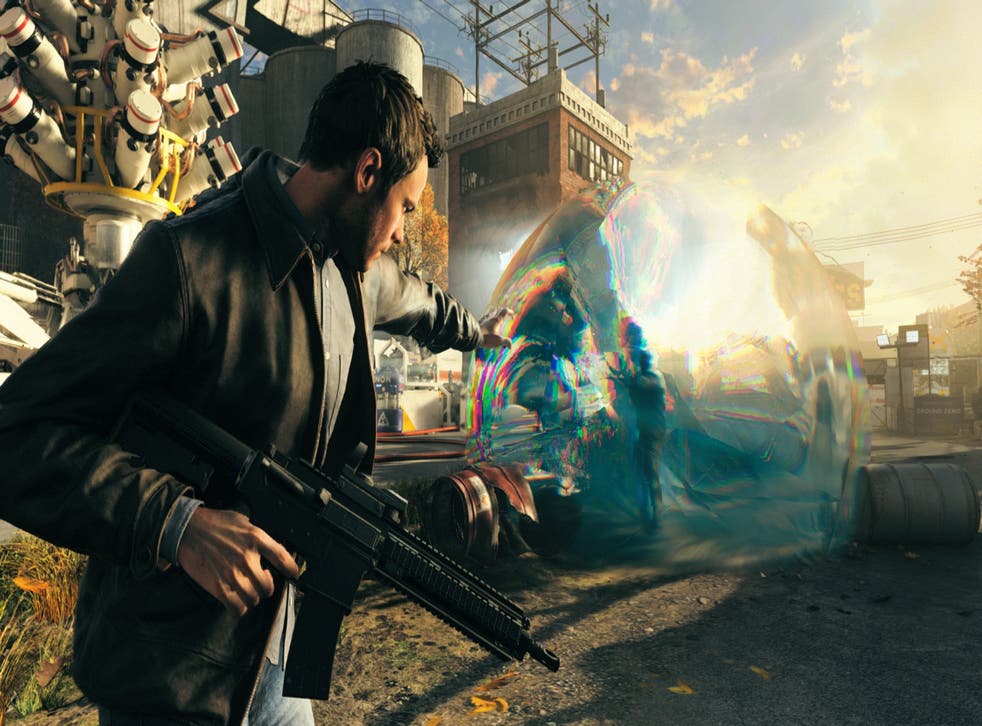 It's an interesting concept, blending together a TV show and a video game. It makes sense; both require sitting for prolonged periods in front of a screen; both are forms of escapism, taking us to exciting places while making us time-travellers, knights, and superheroes. With that in mind, Quantum Break shouldn't feel too different to other story-led games like Uncharted and Heavy Rain. Wrong.
Interspersing 20 minute filmed segments between interactive chapters feels estranged from other storytelling games. Not because TV and gaming shouldn't go hand-in-hand - if pulled off, it could be excellent - but because every time the active adventure was over, the episodes would begin and both me and my partner would sigh.
"Buckle up, another half hour of below-average acting telling a convoluted side-story I don't care about," we thought. With terrific actors such as Game of Thrones' Aidan Gillen, Shawn Ashmore and Dominic Monaghan, these episodes should be great. Unfortunately - minus one or two crucial minutes that focus on the main story - they tell a completely different tale, one that is cringe-inducing and, well, boring.
The main character of those segments, Liam, is a lifeless, soulless character, and the only reason we're given for caring about him is because his wife is pregnant. It becomes a chore to watch, especially when the main story, set around a fracture in time, is both compelling and interesting, if not somewhat convoluted.
So, what is the main story? Well, now I've got my main gripe out the way, I'll move on. Quantum Break tells the tale of an experiment gone wrong. Gillen's Paul Serene attempts to travel back in time, using calculations created by long-time friend William Joyce. Will has, however, disappeared, and Paul brings Will's brother, Jack, along to help with the final test.
As you may have suspected, things go wrong, with Jack and Paul receiving time-morphing powers. It then transpires that Paul is head of a shady organisation who are invested in surviving the ever approaching 'end of time'. That's very much the basics: Quantum Break's plot is entirely messy, with time-shifts, time-travelling, and long philosophical speeches branching out the story in a hundred different directions.
I would be amiss if I didn't say I was engaged, though; I really was. For all its faults, the main story was compelling and at times exciting - something I cannot say about the TV show's side-plot. The gameplay itself (yes, finally a word on playing the game) takes on a secondary role to the story. While many segments merely require you to walk a certain route and jump on a box, when the action sequences start they are often superb.
Slowing down time to stop bullets, running loops around enemies and generally doing cool-looking things is a treat. While your inability to choose when to duck and some of the controls take time getting used to, the paced introduction of your powers helps you gradually get to grips with things. Sure, it get a little repetitive later in the game - and there are a couple of glitches here and there - but overall it is a thoroughly enjoyable experience.
There are also moments when the 'fracture in time' causes everything to stop; time is broken (often for very coincidental periods). It is stunning to see. One thing you can't complain about is the graphics. If Gears of War was revolutionary for the Xbox 360, perhaps Quantum Break is that moment for the Xbox One.
So, where does this put Quantum Break on the spectrum of story-lead games? Well, it's no The Last of Us - one of my favourite games. Nor does it commit to allowing real choice like in The Wold Among Us. Instead, this game falls in a new place. With some breathtaking gameplay, compelling story and some almost ingenious ideas, Quantum Break has laid the groundwork for something truly astonishing but hasn't got there itself. If anything, it has made me very excited to see where developers will take story-led games in the future.
Register for free to continue reading
Registration is a free and easy way to support our truly independent journalism
By registering, you will also enjoy limited access to Premium articles, exclusive newsletters, commenting, and virtual events with our leading journalists
Already have an account? sign in
Register for free to continue reading
Registration is a free and easy way to support our truly independent journalism
By registering, you will also enjoy limited access to Premium articles, exclusive newsletters, commenting, and virtual events with our leading journalists
Already have an account? sign in
Join our new commenting forum
Join thought-provoking conversations, follow other Independent readers and see their replies