Marvel's Avengers' Sandra Saad: 'Kamala's not just Muslim. She's not just Pakistani. She's a three-dimensional character'
The voice actor plays Ms Marvel in the new high-budget videogame. She talks to Louis Chilton about representation, tokenism and ignoring the trolls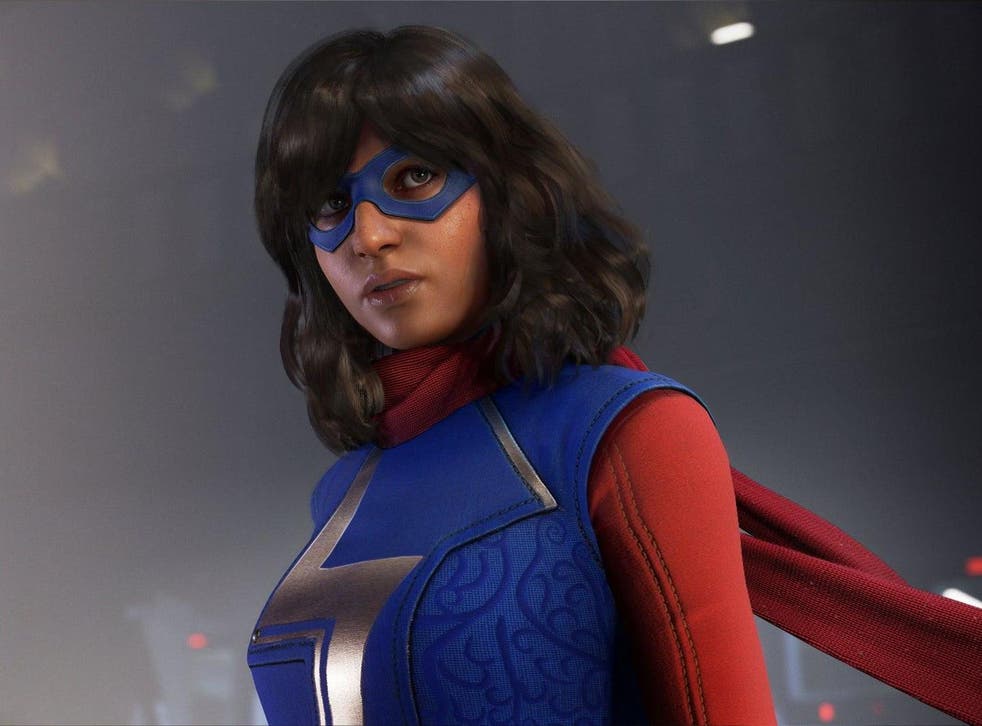 Leer en Español
I didn't quite understand the gravity of what I'd gotten into," says Sandra Saad. "Not until I showed up for the mo-cap [motion capture] stage for my first time." She can be forgiven for not getting it – for months, her latest project was shrouded in total secrecy. Not even her casting agent knew what she was auditioning for. Then she found out. Saad might not be as familiar a name as Robert Downey Jr or Brie Larson, but she shares with them a rare distinction: as of this week, she's officially an Avenger.
At least, she's playing one in Marvel's Avengers – the character of spirited newcomer Kamala Khan, who becomes the stretchy-limbed fighter known as Ms Marvel. An ambitious, high-budget videogame from publishers Square Enix, Avengers is, nominally, an ensemble piece, but to all intents and purposes, Kamala is the game's star.
Saad has acted in games before – in Fallout 76 and Call of Duty: Modern Warfare, among others – but Avengers represented a significant step up. Like her character, Saad had a point to prove, performing alongside more established voice actors like Nolan North (Uncharted), Troy Baker (The Last of Us) and Laura Bailey (The Last of Us: Part II).
She is like her character in other ways, most strikingly in her sense of breezy positivity. It seems this is no accident. "All of us actors are very similar to the characters," she says, "so it's easy to just keep it rolling with our own input. Working with Troy and Nolan, and all those guys, you definitely get a lot of improvisation between the lines – just kind of like, 'Do what you feel.'"
While the freedom to improvise is a luxury – especially when making a videogame, in which creative conditions are often rigidly controlled – the game still hewed closely to the vision of the original comics. Throughout the motion-capture filming, representatives from Marvel were present on the stage, and the game's writers remained easily accessible.
The first Kamala Khan Ms Marvel comic debuted less than a decade ago. Compared with some of the other Avengers – the Hulk, for example, who has been iterated what feels like dozens of times down the years – she feels like a breath of fresh air. What's more, Kamala is Muslim. While Saad insists that "if you really, really look for representation, you can find it", it's clearly a big deal for an Egyptian-American woman to be fronting a game as big as Avengers.
"Kamala's not a token – she's a real person," explains Saad. "I feel like, all too often, when you do see Muslim characters – or specific characters that have something about them that's different – they focus really heavily on that and that's all that becomes of the character."
"The great thing about Kamala Khan is she's not just Muslim. She's not just Pakistani. She's not just hopeful. She's a fully actualised three-dimensional character with a life, a background and a family. She's a first-generation American – she's a lot."
This year has seen a widespread re-evaluation in the way that non-white characters are cast, across all media, with series like The Simpsons announcing they will no longer cast white actors in non-white roles. I suggest this is a change that's long overdue, and Saad agrees. "I feel like: why not?" she says. "If we can make an effort to look for actors of colour, you can find them. I know that this is a really big thing with casting offices. You might like to play it safe and stick with the same people that they're used to, whatever their background is from. But just taking that extra step to look for a new talent can be very important for those people watching who are that same race."
Saad has received a certain amount of abuse from bigoted internet commenters, but she declines to dwell on it. "There will always be trolls," she says. "Everyone's got an opinion, and you can't give too much energy to that."
When Saad's character and casting was first announced, at New York Comic Con last year, it was to a jubilant crowd in Madison Square Garden. Now, as the game is released, the fanfare is softened, with the world still disrupted by the pandemic. "I feel like the time that we're in right now might have me a bit disconnected," says Saad. "Actually seeing crowds react was really cool – that's what I'm missing."
Nonetheless, her takeaway from the experience is resoundingly positive. "I've always wanted to be in a role that inspired somebody," she says. "I landed a role that inspired me."
Marvel's Avengers is out on PC, PS4 and Xbox One now
Register for free to continue reading
Registration is a free and easy way to support our truly independent journalism
By registering, you will also enjoy limited access to Premium articles, exclusive newsletters, commenting, and virtual events with our leading journalists
Already have an account? sign in
Register for free to continue reading
Registration is a free and easy way to support our truly independent journalism
By registering, you will also enjoy limited access to Premium articles, exclusive newsletters, commenting, and virtual events with our leading journalists
Already have an account? sign in
Join our new commenting forum
Join thought-provoking conversations, follow other Independent readers and see their replies