Super Smash Bros, Hyrule Warriors, Bayonetta 2: First look at the upcoming Nintendo releases at Hyper Japan
Taking centre stage was the latest Super Smash Bros title, playable for the first time exclusively in the UK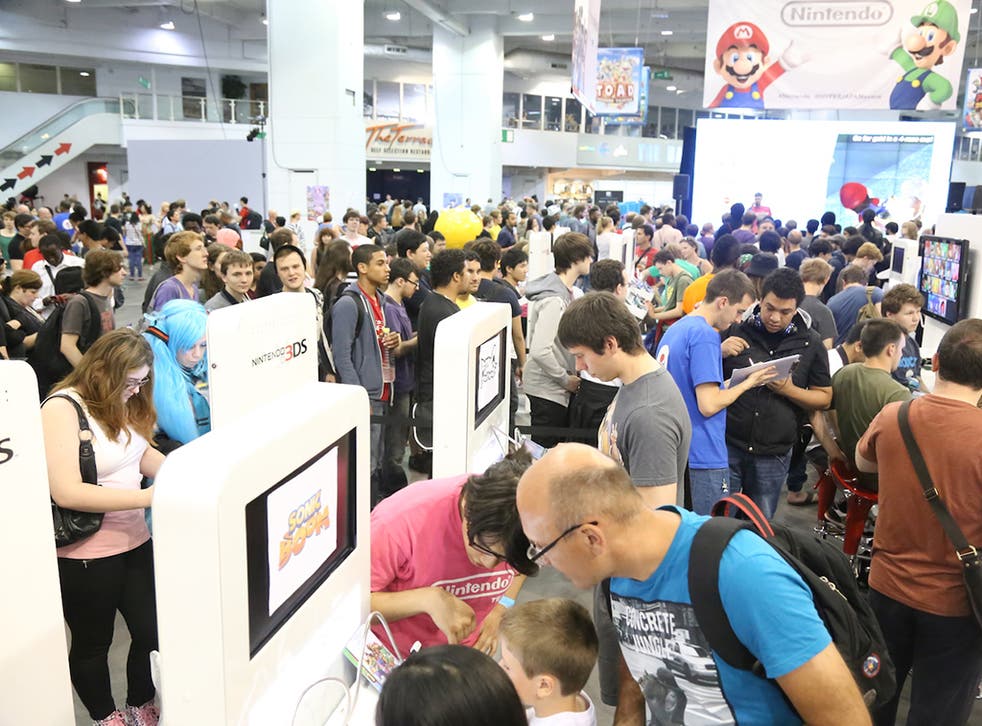 Between the 25-27th of July, Earls Courts' gloomy interior was doused in shades of bubblegum and parma violets as it played host to Hyper Japan, the venue's annual celebration of anime, art, Kawaii street fashion and everything that encompasses the term J-culture. Bursting with Japanese pop culture and infused with Asian street food Hyper Japan is an invigorating culture shock that brings cosplayers, creatives and gamers like myself from across the globe.
Whether it was the adorable plushies hanging from market stalls or the costumed Pikachu strolling around the show floor, videogames were in proud attendance at Hyper Japan 2014. While Bandai Namco had a notably large stall, most prominently showing off their upcoming JRPG sequel Tales of Xillia 2, it was Nintendo that was creating the biggest buzz with a bustling store and exclusive previews on the show-floor.
Taking centre stage was the latest Super Smash Bros title, playable for the first time exclusively in the UK. Both the Wii U and 3DS versions of the chaotic brawler were playable, with the home console version being cast upon a huge display made of multiple TVs for all to see. The 3DS version, due for release in October, had multiple stands including a set-up that gave four players the chance to face off against each other. Even under the strain of multiple combatants the slowdown in battle was negligible proving that Nintendo's dual-screened handheld can withstand even the most hectic kerfuffles.
Challenging as the latest Pokemon mascot to hit the fighting crossover, Greninja, I was treated to the manic scrambles the Smash series has perfected over the years displayed with just enough graphical clarity to spot items being flung and special moves being unleashed. My rusty skills bagged me a place in an ad-hoc tournament on its HD Wii U counterpart, although I'll have to blame my nerves for the humiliating defeat I suffered, because I certainly can't blame the game itself which runs at a blistering frame rate even at this early stage. With returning favourites like Sonic, Link, Samus and new characters like the Animal Crossing villager and even the Wii Fit trainer in the fray, Smash Bros looks ready to refine an incredibly popular formula come its winter release.
The longest queue of the day belonged to the much-hyped Zelda and Dynasty Warriors mash-up, Hyrule Warriors. Unsurprisingly, this adaptation of Dynasty Warriors' hack and slash formula is as bizarre in reality as its concept initially sounded on paper. Whether or not the button mashing combat can translate to a 'legendary' series known more for its puzzling dungeons and exquisite world building will only be fully revealed in September when it hits shelves. For now however, repetitively plowing through gigantic hordes of swarming Bokoblins sits at odds with a series characterized by fantastical grandeur and a gradual fulfillment of Link's heroic destiny. Seeing a playable Zelda don a sword or magic staff is a welcome sight though and with a multitude of returning characters already announced this spin-off will hopefully provide enough fan service to counteract the slight disappointment I felt after slaying the King Dodongo to close the demo.
On the third party front, a solitary Bayonetta 2 stand was looking to show its ambition of being the first truly essential third party Wii U game. While it didn't appear to stray too far from the established formula of the original, the graphical upgrade from its last-gen outing is remarkable with a noticeable increase in environmental detail.
Capcom's Monster Hunter 4 Ultimate spearheaded an impressive showing for the 3DS' upcoming release schedule that also included the effortlessly charming Animal Crossing/Final Fantasy-esque hybrid Fantasy Life, the re-release of the original Ace Attorney trilogy with improved 3D graphics and Persona Q: a spin off of the Persona series that is itself a derivative of the Megami Tensei games while also adding gameplay elements from the Etrian Odyssey series.
Aside from showcasing the Wii U resurgence with recent hits Mario Kart 8 and Super Mario 3D World, Nintendo also gave attendees a sneak peak at Amiibo, the newly revealed NFC figurines that the Kyoto-based giant has promised will be compatible with a number of future titles.
While Amiibo looks set to be a guaranteed revenue stream for the 'house of Mario' the real highlight of the show was a game quietly revealed at E3 with little to no fanfare.
My painfully brief demo time with the Wii U puzzle platformer Captain Toad: Treasure Tracker was an absolute delight, although this should be no surprise to anyone who played the original minigame in 3D World which this full release is based upon. Again starring the excitable fungi mascot, Treasure Tracker likely won't hit the headlines upon its release in January 2015 in spite of its heritage, but it undoubtedly has the potential to be a cult gem worth tracking down.
Register for free to continue reading
Registration is a free and easy way to support our truly independent journalism
By registering, you will also enjoy limited access to Premium articles, exclusive newsletters, commenting, and virtual events with our leading journalists
Already have an account? sign in
Register for free to continue reading
Registration is a free and easy way to support our truly independent journalism
By registering, you will also enjoy limited access to Premium articles, exclusive newsletters, commenting, and virtual events with our leading journalists
Already have an account? sign in
Join our new commenting forum
Join thought-provoking conversations, follow other Independent readers and see their replies