Watch teenager Collin Burns break the Rubik's Cube world record by solving puzzle in just 5.25 seconds
Burns' accomplishment is met with elation and excitement and extremely loud screams in the video
Loulla-Mae Eleftheriou-Smith
Monday 27 April 2015 11:05 Comments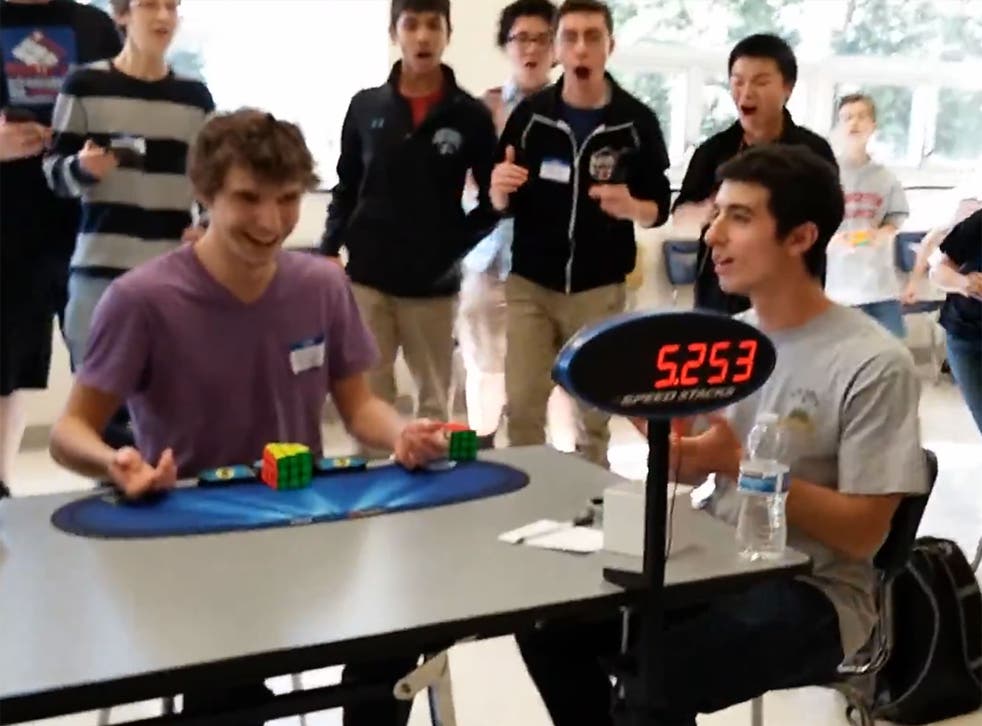 The Rubik's Cube has puzzled people for more than 40 years. In most cases, it takes a person longer than five minutes to solve the game, let alone five seconds, and for some people, it is easier to simply move the stickers around to make the coloured squares match up.
But at Central Bucks West High School in Doylestown, Pennsylvania, this weekend, a teenage boy set a new world record for completing the 3x3x3 Rubik's Cube.
At an official World Cube Association (WCA) event Collin Burns solved the puzzle in 5.25 seconds, breaking the record set two years ago by Mats Valk from the Netherlands, when he completed the game in 5.55 seconds.
Teenagers are seen milling around a cafeteria while Burns concentrates on the cube, flipping its sides around with great speed, before dropping it onto a pad connected to the official timer.
Instantly people realise the significance of the number on the timer, which has been frozen at 5.253, and begin to shout and scream extremely loudly. The person filming the event starts to shout: "What? What? What? World record! What the heck? What the heck?"
The WCA told Mashable that while the result has not yet been uploaded to the WCA database, the body was able to confirm this is "the new official WCA world record for the 3x3x3 single solve category".
"To our best knowledge, it has been performed in an official competition, with all the rules being followed, even the scramble has been checked for its correctness," an official said.
Register for free to continue reading
Registration is a free and easy way to support our truly independent journalism
By registering, you will also enjoy limited access to Premium articles, exclusive newsletters, commenting, and virtual events with our leading journalists
Already have an account? sign in
Join our new commenting forum
Join thought-provoking conversations, follow other Independent readers and see their replies