New artwork to pay tribute to women's role in the First World War
The Coffin Jump by Katrina Palmer will be unveiled next month in Yorkshire Sculpture Park to celebrate the all-female First Aid Nursing Yeomanry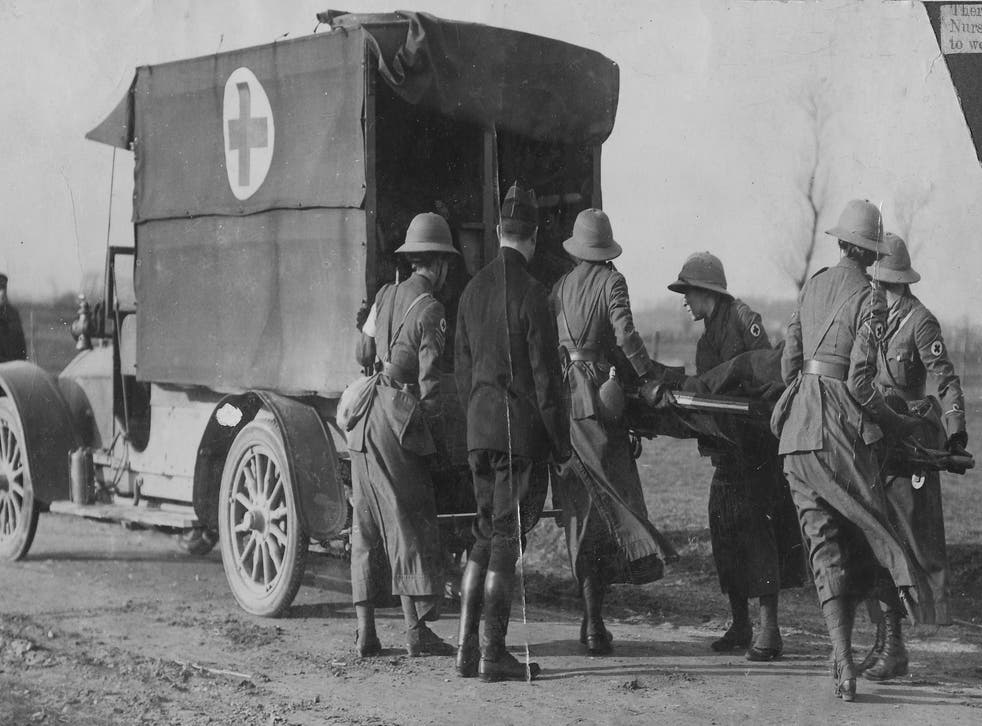 Everyone who lived through the First World War had a unique story to tell. Some of these stories have reached us clear as day – in poems and diaries, interviews and memoirs, photographs and even films. But many remarkable tales of courage and bravery have been lost to history – especially when it comes to the role in the war played by women.
With that in mind, 14-18 NOW, the UK's national arts programme marking the First World War centenary, and Yorkshire Sculpture Park (YSP) invited artist Katrina Palmer to create a major new work at YSP. Set to be unveiled on 16 June, The Coffin Jump pays overdue tribute to a pioneering group whose hidden but heroic wartime service represents the quintessence of women's changing roles during the war, and tells a fascinating story.
The all-female First Aid Nursing Yeomanry (FANY) was founded in 1907 to provide urgent medical assistance to soldiers on the battlefields. When the First World War broke out in 1914, the British Army turned down the FANY's offer of support on account of their gender, so the women instead volunteered alongside Belgian soldiers.
In 1916, the British Army belatedly acknowledged the value of the FANY's work, at last enlisting their assistance. Along with providing first aid, the FANY ran medical convoys and drove ambulances everywhere from Amiens to Brussels, serving with distinction and winning multiple military medals.
The FANY performed an invaluable role during the war – and continues to play one during today's national emergencies. Between March and June 2017, for example, the unit provided more than 1,800 hours of vital assistance in the wake of the Grenfell Tower tragedy and the terrorist attacks in London and Manchester.
I was first told about the FANY by philanthropist Sir David Verey, one of 14-18 NOW's great supporters. Sir David has a direct family connection to the FANY through his cousin, Celia Washington, whose grandmother, Pat Beauchamp, served in the unit during the war.
Pat began her war work in France in January 1915 and served until May 1917, when the equipment lorry she was driving was hit by a train. Pat lost a leg – but returned to service a year later wearing an artificial limb. She told her story in Fanny Goes to War, a remarkable memoir published in 1919.
Celia has kept Pat's collection of wartime diaries and letters, a unique treasure trove that sheds new light on the organisation. The roles played by women on the home front, from the buses to the munitions factories, are well known – but the story of women on the front line has been told much less often.
Inspired by what we heard, 14-18 NOW and YSP invited a number of artists to consider creating a work inspired by the FANY. We were captivated by the proposal we received from Katrina Palmer, and invited her to develop it further.
As part of her research, Katrina met Celia and went through her FANY archive, and was also invited by the FANY to study their own records. This extensive research has helped inform The Coffin Jump, providing a tangible link between the wartime battlefields and today's society.
One thing that has come out of Katrina's research is the modesty of those who served. They didn't think there was anything special about what they did – but when we look at it now, especially in the context of the male-dominated society of the time, it looks very special indeed.
Installed in YSP's deer park, The Coffin Jump consists of a fence installed above a trench. From time to time, a horse and rider canters through the landscape and jumps the fence. Combining sculpture, soundtrack and live performance, the work is inscribed with such phrases as 'Nothing special happened' – words taken from Celia's diary that emphasise the FANY's commonplace heroism.
The Coffin Jump is part of the final season of 14-18 NOW. Over the last five years, my colleagues and I have worked with more than 200 artists to present more than 70 new art projects across the UK – all inspired by this century-old conflict.
Through such projects as the iconic Poppies sculptures, by artist Paul Cummins and designer Tom Piper, and Jeremy Deller's We're here because we're here Somme tribute, which saw more than 1,400 volunteers in First World War uniform appear unexpectedly all over the UK, we have aimed to pioneer new ways of marking national moments through the arts.
From Gillian Wearing's statue of suffragist campaigner Millicent Fawcett, recently unveiled in Parliament Square, to PROCESSIONS on 10 June, a nationwide celebration of the first British women winning the vote 100 years ago, the changing role of women in society is a theme of this year's programme. In such a historic year, it is appropriate that The Coffin Jump will remain installed at YSP after the end of the First World War centenary, serving as a powerful permanent memorial to this group of unsung heroes.
For more information visit www.1418now.org.uk and www.fany.org.uk
Join our new commenting forum
Join thought-provoking conversations, follow other Independent readers and see their replies