Feeling low? Get high
How did a shy novelist with vertigo become a trapeze artist? Will Davis tells Tim Walker how aerial circus helped him beat depression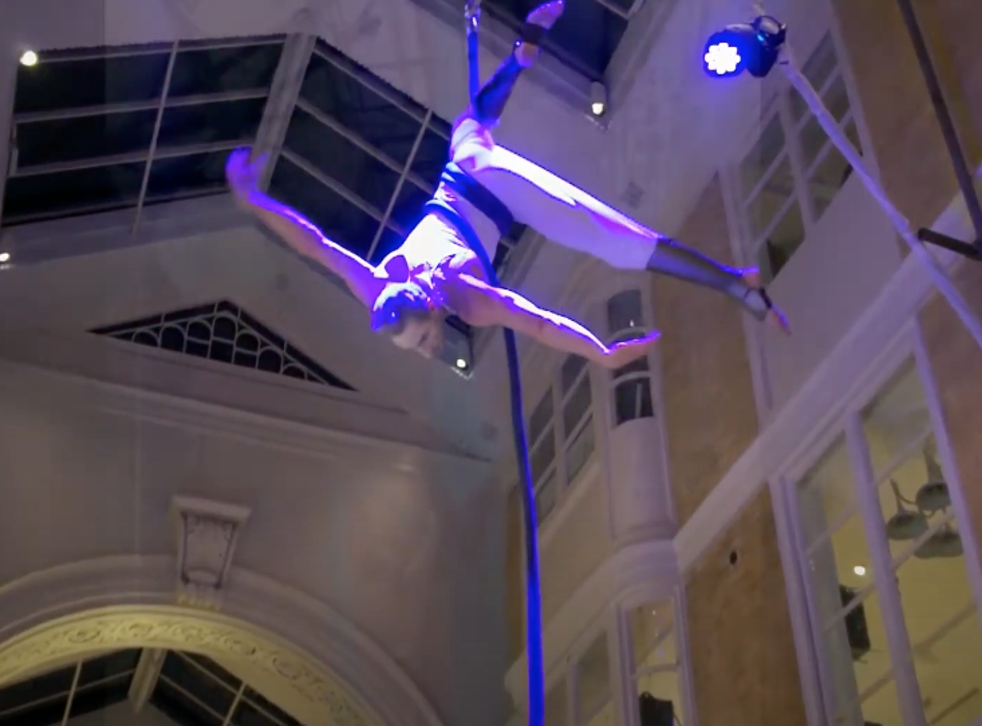 Most novelists need a second job to help pay the bills. Few of them choose to run away with the circus. For his new novel The Trapeze Artist, however, Will Davis conjoined his twin passions: writing, and aerial acrobatics. It's the story of an awkward gay man who, in his struggle to overcome teenage trauma and an adult breakdown, begins a tumultuous relationship with a performer in a travelling circus, then obsessively trains himself in trapeze artistry.
The author's own background is less dramatic, but he nonetheless attributes a new-found contentment to his time spent swinging through the air.
"Writing is cathartic," he says. "You channel your emotions on to the page and put them into a format that's worth something, like a monument to whatever you've gone through. But circus helps you to compartmentalise it and to put it in a place where it can be dealt with later."
Davis was born in 1980 and brought up in Hungerford in Berkshire. As a shy child he hated sports, suffered from vertigo and feared the circus. "Like a lot of people," he says, "I saw the film of Stephen King's It, and I developed a massive phobia of clowns."
After studying film in London ("film degrees don't qualify you for anything, not even working in film"), he applied himself to fiction. His first novel, My Side of the Story, was a coming-out and coming-of-age tale about a gay teenager in London, published in 2007. In his mid-20s, Davis had seen some experimental, contemporary circus productions by the likes of Cirque du Soleil and NoFit State Circus. Away from the traditional big top, he encountered a side to circus that incorporated other disciplines, such as dance and theatre.
"I thought: 'That looks amazing and I'll never be able to do it.' But I'd always wanted to do a backflip and I thought maybe that much was possible. So I went to Circus Space [the circus conservatoire in Shoreditch] to try it. I didn't manage a backflip, but I saw other people training on rope and silks and I decided to try aerial circus instead."
Suitably svelte, tall and flexible, he took to the trapeze with surprising ease – not to mention silks, the rope and hoop, all elements of aerial circus. But the training was gruelling, each climb or trick complemented by a regime of muscle stretching and flexing. "It takes a long time before you can hold on with one hand and do a trick without having to come down immediately and stretch."
One common problem for trapeze artists is tendonitis. "I don't know a single aerialist who hasn't got some recurring injury: pulled muscles or rotator cuffs or hamstring. They're ongoing, because you can't afford to take six months off to let it heal because you'll lose strength and flexibility."
The book describes in painful detail its protagonist's brutal self-education on the ropes. Davis himself has fallen once, but only a short distance and on to a crash mat. He has pulled a rotator cuff and even broken his nose – but he did that with his own knee, during a roly poly.
Despite his youthful vertigo, he no longer fears heights. "Once you're familiar with the equipment, it feels very safe. It's like walking, it's so natural and comfortable. Climbing a ladder would make me a lot more nervous."
Before long, Davis found himself performing professionally. His first solo show came at the height of the credit crunch and he played the role of a businessman spinning on silk ropes and spilling money as he went.
Among his current acts are routines based on James Bond and Pulp Fiction. By sheer coincidence, his is the first title published by Bloomsbury's new imprint, Bloomsbury Circus. He performed at the launch party, naturally.
In London, circus is booming as part of a wider cabaret revival and he has plenty of gigs, but also plenty of competition. So he has taken up teaching trapeze, too, at the Gravity Aerial Academy in north London.
Many former sportspeople, dancers and gymnasts try circus when their first careers come to an end, but its benefits, says Davis, are not merely physical. "As a child I was extremely depressed and I often got depressed in my 20s as well," he says.
"But since doing circus I feel more relaxed and when I hit setbacks I'm less neurotic about it. It's partly physical: constant exercise releases endorphins and afterwards you feel better about yourself.
"But I also forget my problems when I'm training; you have to be focused and disciplined, and you can't be thinking about bills or relationships issues when you're on the trapeze – you have to think about staying alive."
The Trapeze Artist is published by Bloomsbury Circus on 17 May, £12.99
Join our new commenting forum
Join thought-provoking conversations, follow other Independent readers and see their replies