How to waterproof absolutely anything
It's easy enough to make a jacket water-resistant. But what about a shoe, a hearing aid or even a paper tissue? Hal Hodson meets the researchers taking waterproofing into the future
Thursday 26 April 2012 10:33 Comments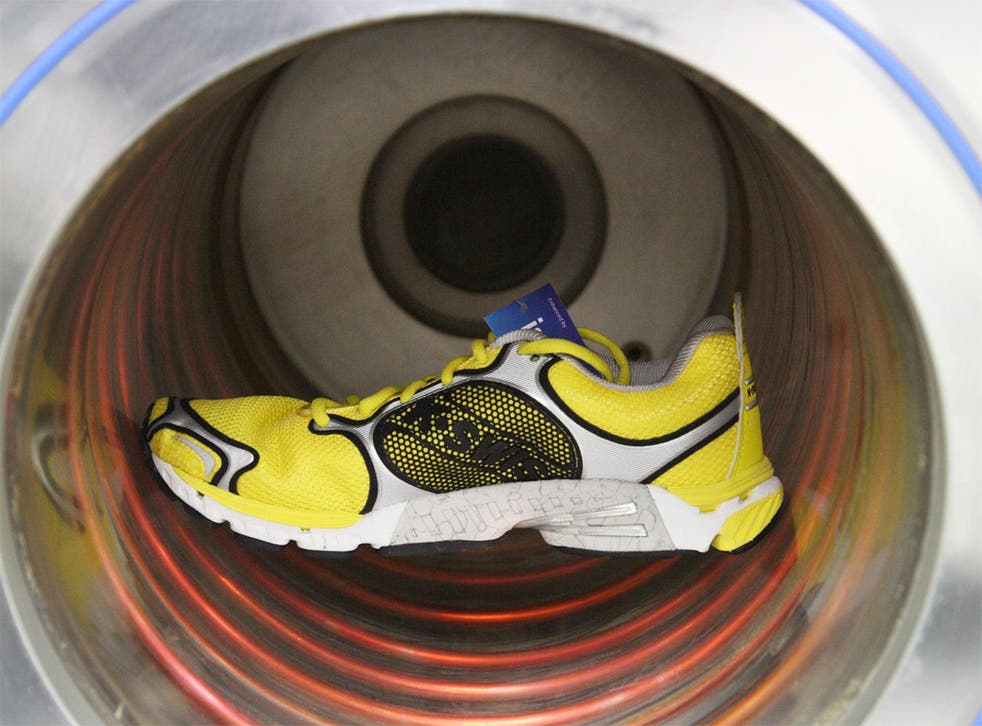 Water is pervasive. Thatching, waxed canvas, plastic bags over bike saddles, and even Gore-Tex: there's a long history of humans trying to keep water out of our homes, clothes and equipment. But while thatching can keep a cottage dry, it's not much use with hearing aids. Wrapping your phone in Gore-Tex is going to be limiting. There's never been a ubiquitous technology with the potential to protect any object from one of earth's most common substances, but one British company is changing this.
P2i's technology is built on its chief technical officer's PhD project. Funded by the research arm of the Ministry of Defence, Stephen Coulson was originally aiming to create a coating for military clothing which would protect the wearer from toxic agents, part of a programme called Crusader 21. The technology was spun out commercially, and the science that Coulson worked on as a student is now incorporated into millions of products worldwide, from hearing aids and shoes to smartphones. Water, not battlefield chemicals, is now the company's primary adversary.
I find P2i's headquarters buried in a maze of industrial estate about 20 minutes south of Oxford. Paul Prince, P2i's applications-and-processing manager, leads me to a lab bench with an assortment of normal-looking shoes, gloves and hats, and a fish tank full of water to dunk them in. I fill a running shoe to the brim with water, then pour it out through the laces. No water squishes out of the sole when I dig my thumb into it afterwards. It's dry.
Even more uncanny are the tissues. I'm given two, one with P2i's coating, and one without. Both feel, smell and look identical. I guess that the one in my right hand is coated, and plunge it into the fish tank. It turns to gloop in my fingers. The other tissue behaves more like plastic than paper in the water, letting me scoop up a fistful of liquid and hold it there, in cupped hands lined with tissue. The tissue is still dry when I pour the water out. I put it in my pocket.
P2i's technology, a bit like Teflon, is used to make non-stick frying pans. It makes a surface, any surface, more slippery. But the coating isn't a layer sitting on top of the shoe or hearing aid, preventing water from passing. Rather, the water-resistant material is chemically bound to the surface – inside and out – using a technique called pulsed plasma deposition. It's nanotechnology, and it doesn't wear off.
One of the deposition chambers is running a test during the visit. A white, milky light glows through a porthole – about the size of a saucer – set into the foot-thick aluminium door. To coat a shoe, it is placed inside the chamber and the air is sucked out, creating a vacuum. A tiny amount of the vaporised coating material is then squirted in, and a strong electrical current is passed across the chamber, switching on and off very rapidly. This strips electrons from the coating material, creating what's known as a plasma, or a soup of charged particles which can then bond, chemically and permanently, with every fibre over the entire surface of the shoe, inside and out. Because there are no air molecules to get in the way, the energy that the electric current gives the molecules of coating material allows it to bond with every surface – under the laces, in ridges of the soles, under the tongue. Any object can be coated, if you have a big enough chamber.
Peter Dobson, who is the academic director of Begbroke Science Park in Oxford, and advises Research Councils UK on nanotechnology, calls P2i the leading "nano-company" in Britain. "[P2i's success] has happened so quickly," Dobson says. "It's very unusual to find [a start-up] that gets out in less than 10 years." P2i is only eight years old.
But the British company is not the only one looking to protect the world's devices from water. Liquipel and HzO, based in California and Utah respectively, are P2i's main competitors, particularly when it comes to smartphones.
Liquipel lets consumers mail in their iPhones or Androids to undergo a similar process that P2i integrates into manufacturer supply chains. For $60, anyone can get a water-resistant phone, though this opens up Liquipel to the messy world of refund policies and terms and conditions, something P2i doesn't have to worry about.
HzO uses a different type of coating, one that is thicker and lets electronics last underwater for longer than P2i's does. "We're vastly different from P2i or Liquipel," HzO president Paul Clayson says. "We take a solid chemical, turn it into a gas and introduce it into a vacuum chamber to deposit on the electronics. Our coating is thicker, building layers on top of each other and providing a protection that can endure underwater for extended periods of time."
Motorola, Timberland, K-Swiss and Ecco all use P2i's technology in some form, and it even counts Bollman Hats, which claims to be the oldest hat maker in the US, among its clients.
The benefits of a smartphone that can survive being dropped in the bath or caught in a pocket during a rainstorm are obvious, if uninspiring. Some of P2i's other applications are far more imaginative: pipettes treated with the nano-coating don't hold a final drop of liquid in their nozzle, making for more accurate drug delivery. Air filters can be treated, meaning the water and oils which they pull out of airflows just slip off, extending the life of the filter. "If you can reduce the frequency which you have to shut down a gas turbine to change the air filters, for example, that's a big saving," Paul Prince explains.
P2i also claims that its coating is now applied to 60 per cent of all hearing aids produced worldwide. The ear and hairline are not a hospitable place for electronics, with sweat corroding circuitry and damaging what can be essential technology for the hard of hearing. The world's largest audiology trade show, AudiologyNOW!, has named P2i "Best in Show" for two years running.
As the tour of P2i's lab in Oxfordshire ends, I take the treated tissue out of my pocket and blow my nose. It's not a great experience. The snot slips across the tissue, rather than staying conveniently absorbed and contained. Slippery, liquid-repellent tissues aren't much use, but when it comes to phones, filters and footwear, P2i's technology is changing the market.
Register for free to continue reading
Registration is a free and easy way to support our truly independent journalism
By registering, you will also enjoy limited access to Premium articles, exclusive newsletters, commenting, and virtual events with our leading journalists
Already have an account? sign in
Join our new commenting forum
Join thought-provoking conversations, follow other Independent readers and see their replies