King of the digital swingers
Can Peter Jackson's Weta studios allow anyone to play a gorilla? David Phelan dons a motion-capture suit to try to ape CGI superstar Andy Serkis
Thursday 15 December 2011 11:00 Comments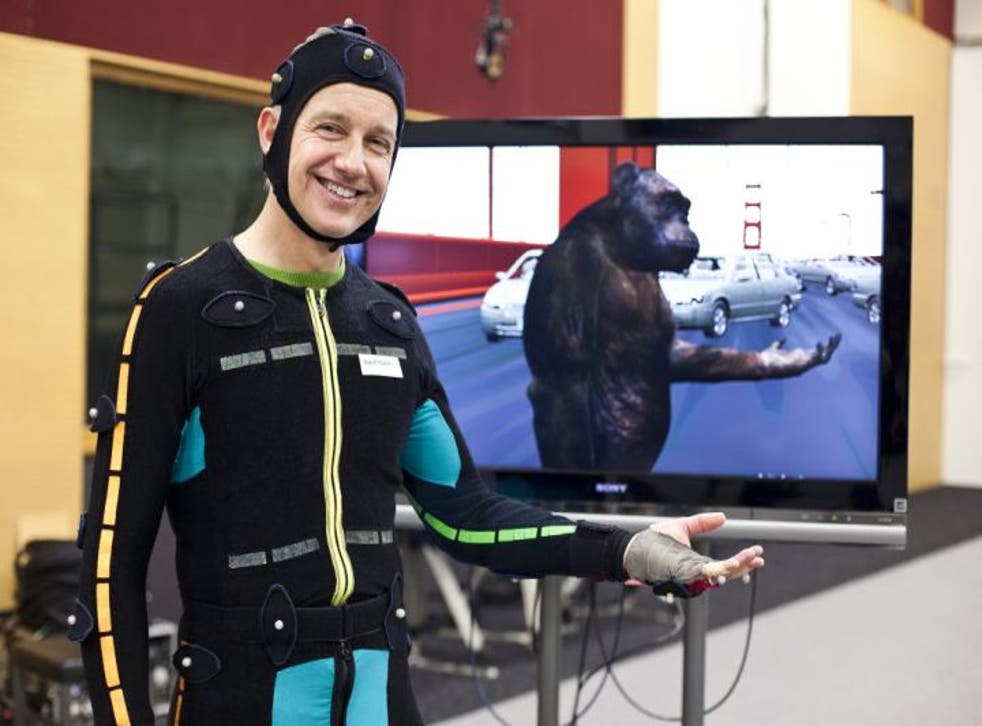 In the breezy but temperate streets of Wellington, New Zealand, between one anonymous warehouse and another, sits a piece of Hollywood. Weta Digital, the effects house created by Sir Peter Jackson, has its headquarters in a sumptuous but understated mansion with spacious rooms and an elegant terrace. There's also a stunningly equipped screening room with flickering starlit sky above and super-comfy seats.
Weta was set up in 1993 and is responsible for the special effects on movies from Jackson's Lord of the Rings trilogy and King Kong, as well as the recent Adventures of Tintin and Rise of the Planet of the Apes. It's earned them five Oscars, most recently for Best Visual Effects on James Cameron's Avatar.
In one of the rooms, I'm talking to Andy Serkis, supremely relaxed and affable, leaning comfortably into a voluminous leather sofa. Serkis rose to Hollywood prominence for his digitally enhanced performance as Gollum in The Lord of the Rings, a role he's reprising now in The Hobbit movies, filming now in New Zealand.
Right now, industry gossip is turning to next year's Oscar nominees and a campaign is under way on Twitter and elsewhere to get Andy Serkis nominated for his performance in Rise of the Planet of the Apes. He played Caesar, an ape with artificially enhanced intelligence, a central character in the movie. It's an arresting, detailed, utterly convincing performance. If the nomination happens, it will be a first for a motion-captured role.
Mocap, as it's abbreviated, is that process where an actor is poured into a form-fitting suit with tiny white balls attached and has his every movement digitally captured. Usually this is filmed separately to the main action, in a special studio called The Volume. However, Rise of the Planet of the Apes broke new ground by shooting mocap action outdoors, and with Serkis on location with the other actors, instead of being added in post-production.
Before speaking to Serkis, I tried on a mocap suit myself. My body was scanned as I performed basic movements and then my actions were recorded in the Weta Digital volume. It's a big, brightly-lit room with banks of desks creaking under the weight of computers, a carefully marked floor and scores of special cameras on the walls to register the mocap balls which were stuck to my every joint.
The new techniques used on Rise of the Planet of the Apes mean there's much more interaction between the actors than previously, as Serkis explains. He differentiates between motion capture and the latest techniques called performance capture.
"At first with Gollum it wasn't even performance capture, it was motion capture and then the facial performance was shot on 35mm film. Then the animators rotoscoped – basically painted frame by frame over my expressions, match-framing every facial expression I made.
"The main difference now is this: I still filmed Gollum on location – I was in every single location and with the actors on real sets – but the performance capture then had to be created months down the line in The Volume separately. So my performance was filmed on 35mm as Gollum. Then I repeated some of it for the motion capture. But with Rise of the Planet of the Apes, there's no disconnect. You're filming the live action actors and you're filming the performance captured performances in one hit. So it's all absolutely in the moment, everything happens on location, all in one beat and then we never have to go back and reshoot. And the same with Gollum this time."
The effects are so sophisticated and realistic now – there's not a real ape in the entire movie – does he think Hollywood will one day be able to manage without actors?
"That's entirely nonsense. Who is going to provide the emotional content to those scenes, who's going to drive that digital puppet if it's not an actor? Performance capture lends itself to live-action film-making.
"You can always tell the difference if you see a computer-generated character in a live action movie because it never has the right weight, it never feels its connected to the environment, there's never any messiness about it, it's too perfect."
So should a performance capture role be nominated for an Oscar? Serkis is too modest to suggest his own candidacy, but says: "For me as an actor there isn't any difference between playing a performance capture role or a live action role. I don't approach them any differently.
"For anyone who has been through the process of doing performance capture, it's just no more than acting. If I was wearing prosthetic make-up you wouldn't even be asking this. There are different ways of approaching performance capture but it's just digital make-up, basically."
Rise of the Planet of the Apes is out now on Blu-ray Triple Play
Register for free to continue reading
Registration is a free and easy way to support our truly independent journalism
By registering, you will also enjoy limited access to Premium articles, exclusive newsletters, commenting, and virtual events with our leading journalists
Already have an account? sign in
Join our new commenting forum
Join thought-provoking conversations, follow other Independent readers and see their replies