Asterix movie has the Gaul to poke fun at the British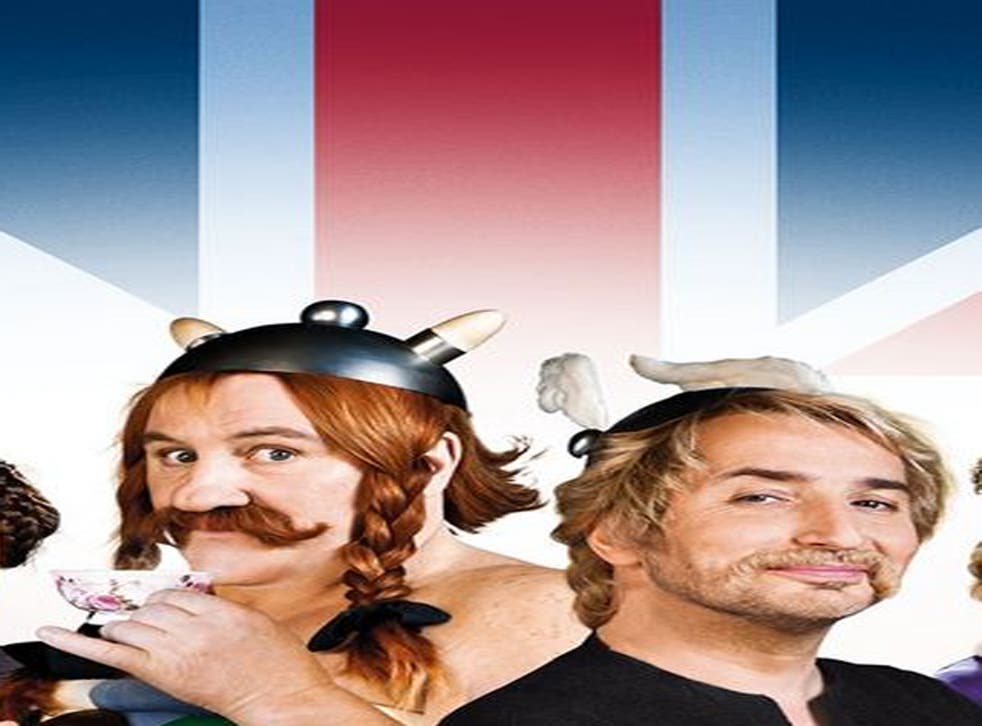 However much the island now governed by Davidcameronix may have changed over the years, the indomitable French clichés about Britain will always, and forever, resist.
At 5pm all Britons, even women giving birth, stop for tea. All food is served in mint and cod-flavoured sauce. Both men and women find it impossible to talk freely about sex – or anything else. Every recorded French cliché about Britain is joyously served up in a new Asterix movie released in France yesterday.
In Astérix et Obélix: Au Service de sa Majesté (Astérix and Obélix: On Her Majesty's Service), the indomitable Gaul and his gigantic buddy, Obélix, take their resistance to Roman rule across the Channel. They are called ato the rescue by the besieged Queen of the "Bretons", played with a delightful English accent by the queen of French cinema, Catherine Deneuve. The director of the movie, Laurent Tirard, says he intended to make an affectionate tribute to the "unpenetrable" character of Britain, not just a cliché-ridden mockery. Perhaps.
A "British joke" is told by Astérix as he rows across the Channel (with an illegal immigrant in the boat). "Question: What do you call a good looking man in Britain? Answer: A tourist."
The "Bretons", just as in the original comic-book from 1966, have an inexplicable love of drinking warm water. The illegal immigrant in Astérix's boat turns out to be an Indian, who happens to have a tea plant with him. When the Gauls' magic potion is lost, the tea leaves are added to the warm water and a new magic potion is born.
When they reach a British pub, the emissaries from Gaul are served wild boar in mint and cod sauce. Obélix, who usually eats 10 wild boar at a time, is unable to manage more than a mouthful. The script-writers have evidently never heard of "Jamieoliverix".
Much of the fun – to a French audience at any rate – is to hear Ms Deneuve talking in a British accent. Imagine 'Allo, 'Allo in reverse.
Join our new commenting forum
Join thought-provoking conversations, follow other Independent readers and see their replies