Middletons and Chelsea Clinton were targeted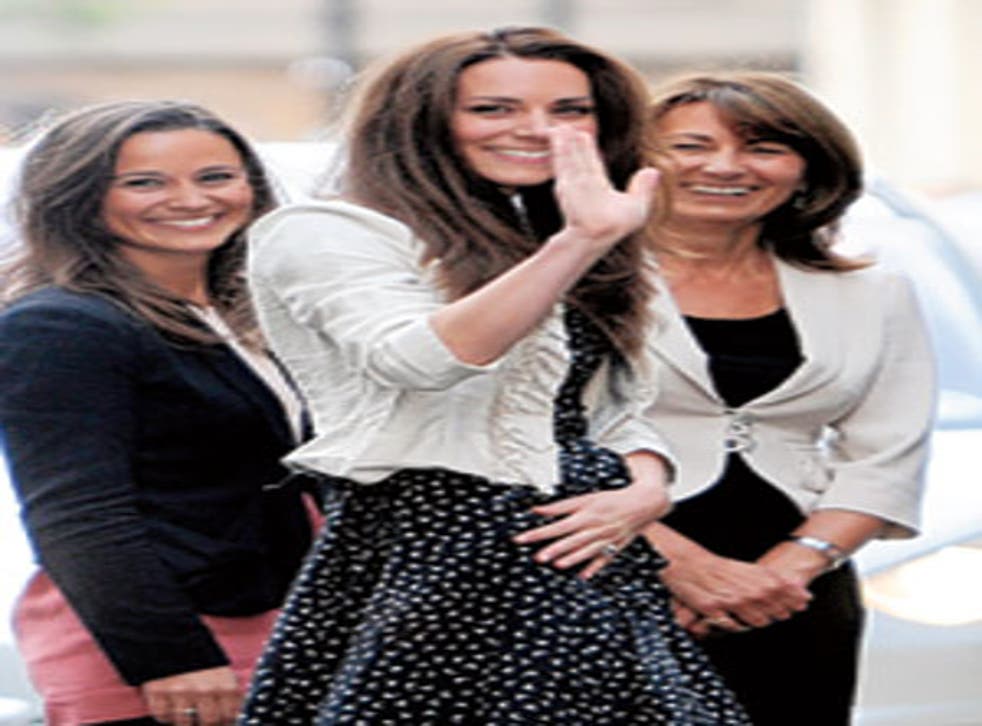 The tabloid press hired private detectives to investigate Catherine, the Duchess of Cambridge, when she was still a student in Scotland, and Chelsea Clinton, the daughter of the former US President, when she was studying at Oxford. The same detective agency was hired to investigate Philippa Middleton, the Duchess's younger sister, when she was a teenager.
i and its sister paper The Independent have examined files seized as part of Operation Motorman in 2003 and been told by the lead investigator on that inquiry that his team were forbidden from interviewing journalists from a wide range of media organisations who hired a private detective agency to track down personal information. More than 17,000 searches were carried out, many of them in breach of data protection laws.
In a signed witness statement given to this newspaper, the former police detective inspector who led Operation Motorman, accused the authorities of serious failings. "We weren't allowed to talk to journalists," said the investigator, who was working for the Information Commissioner's Office (ICO). "It was fear – they were frightened."
JK Rowling
The files show that the Harry Potter author, who was named yesterday as one of the core participants in the Leveson inquiry into media standards, was targeted by the private investigator Steve Whittamore in the summer of 2000. The private detective charged £655 for his unspecified inquiries.
Kate Middleton
Whittamore was asked to obtain confidential information on the Duchess of Cambridge in April 2002, when she was a 20-year-old student at St Andrews University who had been linked with Prince William. The "yellow book" file, one of four colour-coded A4 books kept by Whittamore detailing his business dealings with journalists, reveals that the private eye was given her mobile phone number and asked to locate her family home. He was then required to provide the "Family & Friends" numbers for the Middleton home address in Berkshire and returned with 10 numbers.
He charged £500 per number to obtain, using those details, the names and addresses of the family's close circle. The book then records separate inquiries for "Catherine Middleton" and her 18-year-old younger sister Philippa, known as Pippa.
In total, the operation to target the Middleton sisters would have involved more than 50 breaches of the Data Protection Act 1998. Each time a number is passed on or converted, another breach of the law is committed. To justify its actions, a newspaper would have to demonstrate that its inquiries were in the public interest.
Chelsea Clinton
Subject to a Whittamore investigation while studying for a Master's degree in international relations at Oxford. In October 2002, the investigator was hired to locate Ms Clinton and her boyfriend Ian Klaus, a Rhodes scholar at Jesus College. The private investigator was then hired to conduct something he recorded in his files as the "Peak Fitness Blag", which is understood to have been an attempt to procure information from the Oxford gym where the couple were members.
Jonathan Ross
Investigated in 1999 when Whittamore's company, JJ Services, demanded a fee of £480 for inquiries which were simply headed "wife". At that time, the tabloids were reporting that the couple had briefly split up and that the presenter's wife had been suffering from depression.
Ken Livingstone
The former Mayor of London was the subject of an invoice from JJ Services, first under the heading "love child", when rumours of his earlier children surfaced in 1999, and then in 2002 under the heading "Com Cab blag".
At the time, in 2002, the mayor was being criticised for his use of taxis and the Greater London Authority had an account with a firm called Computer Cab.
Mark Lawrenson
The BBC Match of the Day pundit was the subject of at least three vehicle checks and a bizarre attempt to discover if the former Liverpool defender had had any business dealings with the television presenter Lionel Blair. Whittamore was also asked to conduct ex-directory searches for various papers on such well-known figures as Newsnight presenter Jeremy Paxman, Fawlty Towers star, John Cleese, actress and model, Elizabeth Hurley and former Olympic sprinter, Linford Christie. The award-winning charity worker Camilla Batmanghelidjh, founder of Kids Company, was similarly targeted.
The majority of Whittamore's work came from the tabloids, but broadsheets also used his services. One title hired him to make inquiries into bank payments as part of an investigation into renovations at the home of a government minister. The private investigator came back with details of a private company's bank balance and overdraft facility.
Register for free to continue reading
Registration is a free and easy way to support our truly independent journalism
By registering, you will also enjoy limited access to Premium articles, exclusive newsletters, commenting, and virtual events with our leading journalists
Already have an account? sign in
Register for free to continue reading
Registration is a free and easy way to support our truly independent journalism
By registering, you will also enjoy limited access to Premium articles, exclusive newsletters, commenting, and virtual events with our leading journalists
Already have an account? sign in
Join our new commenting forum
Join thought-provoking conversations, follow other Independent readers and see their replies