Ruling Egyptian generals suspected of making power grab despite election
Tuesday 19 June 2012 11:16 Comments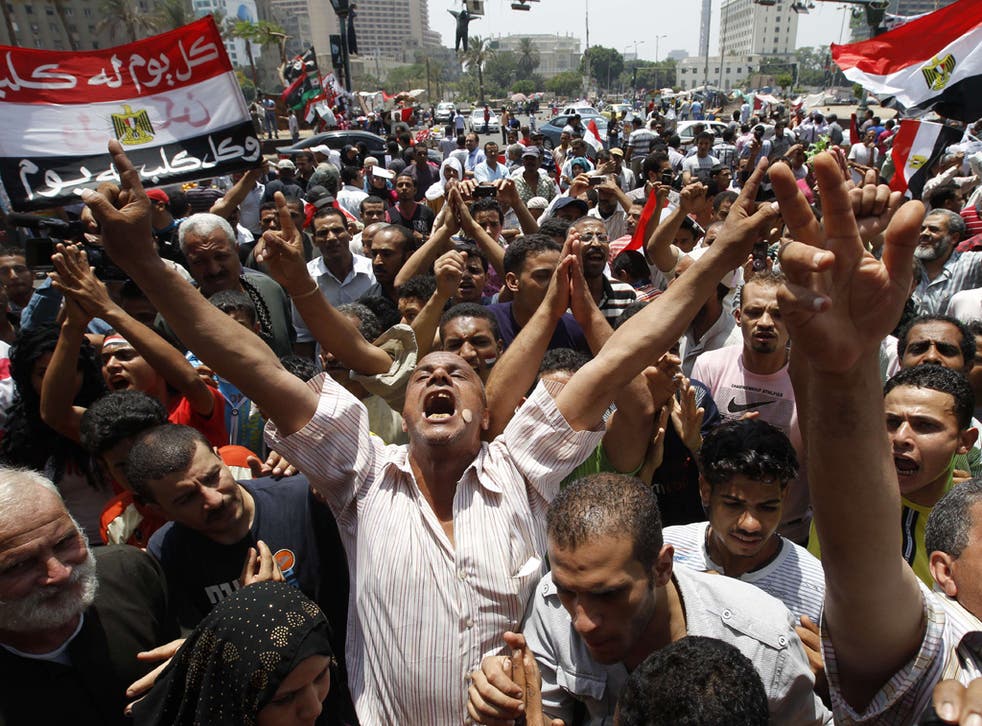 Egypt's ruling generals were yesterday accused of mounting a "soft coup" by assuming sweeping new political powers even as the Muslim Brotherhood claimed a dramatic victory in the weekend's presidential run-off – the country's first since the toppling of Hosni Mubarak last year.
Egyptians living in downtown Cairo awoke to the sound of honking car horns as supporters of Mohamed Morsi, the Brotherhood's candidate, rushed towards Tahrir Square to celebrate what they believe is an epoch-making victory after the close vote. Arriving at his central Cairo headquarters yesterday morning, Mr Morsi assumed the mantle of the victor with a triumphant speech to the nation.
But even as he spoke, proclaiming a democratic victory, there were fears about the creeping hand of the ruling generals, who took over in the wake of Mubarak's removal to oversee the transition to an elected government. In a grim augury for the future of the country's revolution, the military council issued a decree late on Sunday night granting itself sweeping new powers, including oversight of legislation and the ability to appoint a committee drafting the new constitution. It has led to suggestions from some political groups that Egypt's generals remain intent on undermining the country's transition.
Meanwhile, the Brotherhood was accused of pre-empting the official results, which are not due out until Thursday. "Thank God, who successfully led us to this blessed revolution," Mr Morsi said in his victory speech. "Thank God, who guided the people of Egypt to this correct path, the road of freedom, democracy."
His supposed triumph – which was announced by the group just hours after the polls had closed – was immediately disputed by officials working alongside his opponent Ahmed Shafik. Speaking on Egypt's ONTV channel, Mr Shafik's spokesman condemned the Brotherhood for pre-empting the official count. He accused the Islamist organisation of engaging in "pathetic media manipulation" by announcing preliminary figures on its website.
In an interview with i yesterday, another official working for Mr Shafik suggested that the Brotherhood was subverting the democratic process.
Whoever won did so by a whisker. Figures released by Mr Morsi's team – based on private tallies by campaign workers which were obtained from judges overseeing counting stations – claimed their man had triumphed with 52 per cent of the vote, just four points ahead of Mr Shafik.
On the flip side, the Shafik campaign said its candidate had his nose ahead with between 51 and 52 per cent of the vote. Despite the uncertainty clouding the final result, hundreds of chanting Brotherhood supporters flocked to Tahrir Square yesterday claiming victory for Mr Morsi.
Register for free to continue reading
Registration is a free and easy way to support our truly independent journalism
By registering, you will also enjoy limited access to Premium articles, exclusive newsletters, commenting, and virtual events with our leading journalists
Already have an account? sign in
Join our new commenting forum
Join thought-provoking conversations, follow other Independent readers and see their replies